Glimpse history through fascinating old images of Spalding in Lincolnshire, England.
Old Postcard of Ascoughfee Hall in 1906
Ascoughfee Hall is a popular destination both for local residents and visitors to Spalding. This old postcard captures this important local landmark well over a century ago.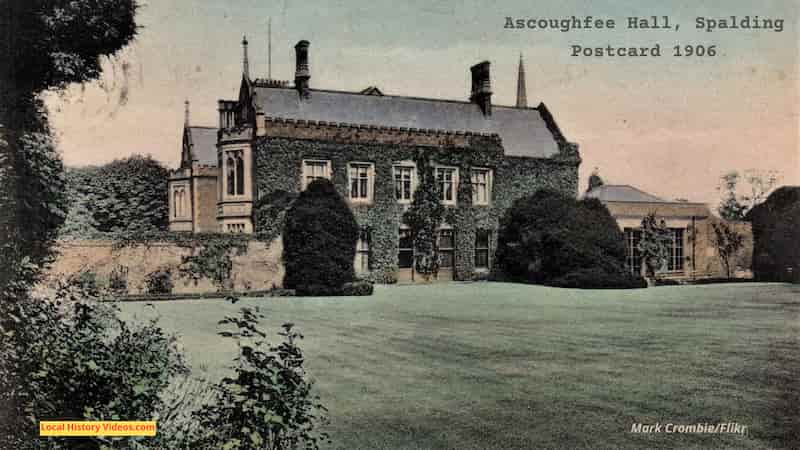 Old Photos of Spalding
This video of old photos of Spalding take us back to the 1920s.
The old images show
Hall Place
W.Fletcher, Outfitters at 6, Market Place
New Road
Blackburn Cycles at 16, Sheep Market
Then there's 2 minutes of drone footage from 2020, filming the town and its environment from above.
They're back the 20's – 1920 photos and 2020 FPV of Spalding Lincs -Airborne Geek FPV on YouTube
Tulips & Daffodils in 1940
Britain may have been at war in 1940, but that didn't stop the flower trade.
Here the newsreel visited the fields and extensive heated glasshouses of Spalding's flower farms.
The female pickers wear smart uniforms with berets.
Spalding Issue Title – Growing Up (1940) – British Pathé on YouTube
Spalding's Dad's Army in 1941
On the 15 October 1942, the ARP and Home Guard carried out defensive exercises, which also involved many local women and children.
Large numbers of people came out to watch from behind a rope, too.
Amazingly, silent newsreel footage of this event still exists.
And because it happened in the middle of town, several streets, a number of homes and multiple businesses were included in the footage background.
You'll love this for the places you know and recognise, but also for the astonishing dramatic exercises taking place on the streets of a small market town.
SPALDING DEFENDED IN REALISTIC EXERCISE – NO SOUND – British Movietone on YouTube
Spalding Flower Parade 1968
The last Spalding Flower Parade took place in 2013, 55 years after it started.
But when the Spalding Flower Parade was filmed for this newsreel in 1968, the fairly recent tradition was in its heyday, as was the Lincolnshire flower industry.
Millions of tulips, grown on 3,000 acres of local land, adorned the parade floats.
One of the floats rushes through the crowd of spectators with surprising speed as two people run to keep up.
Hundreds of people appear in this newsreel, and we see the occasional home in the background too.
Flower Power (1968) – British Pathé (YouTube)
More pages about Lincolnshire