Glimpse history through old images of Skegness, Lincolnshire, England.
Old Photos of Skegness
If you want to see a larger version of any of these thumbnails, press the TOP half of the image and it will open the media file, so you can see more detail.
---
Skegness in 1898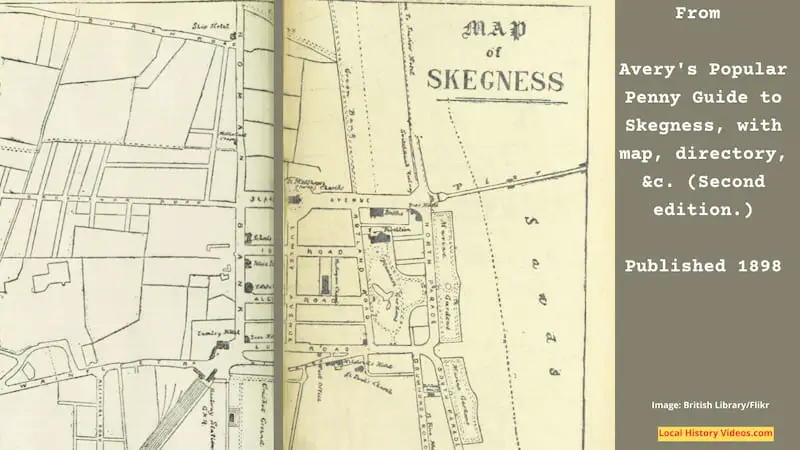 ---
Lumley Road
These old photochrom images of Lumley Road were taken sometime between 1895 and 1905.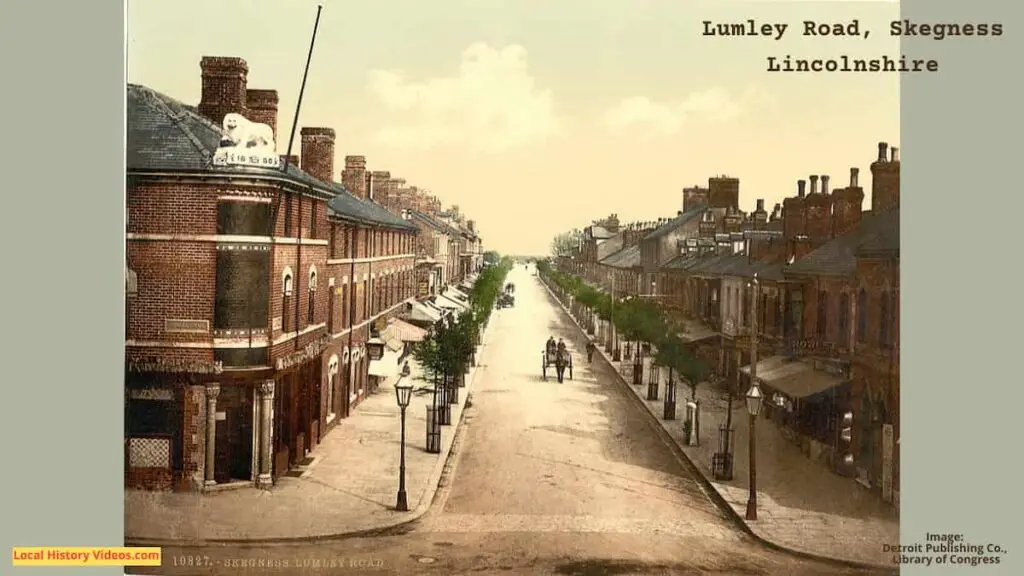 ---
The Seafront
Old photos of the seafront include the Tower and Parade, as well as Skegness Pier and the Pier Station of the Skegness Miniature Railway.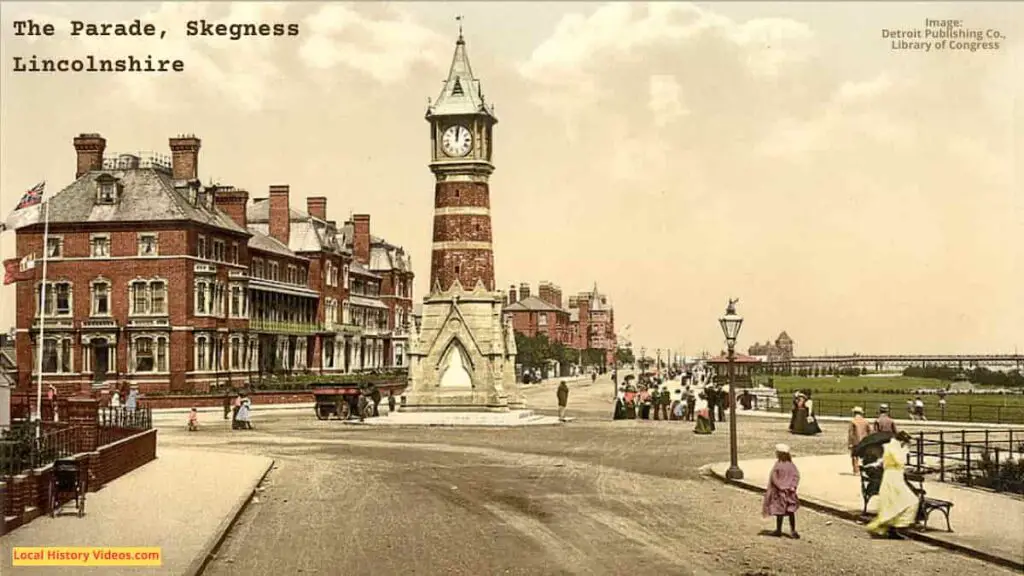 ---
The Gardens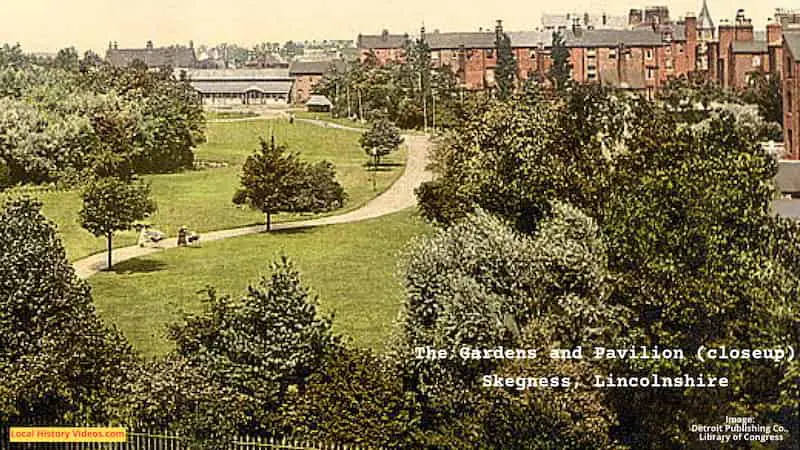 ---
Other Local Sites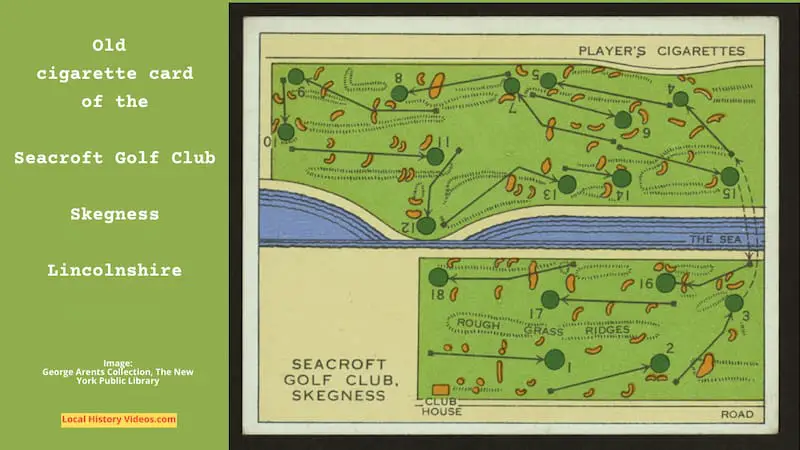 ---
Old Films of Skegness
---
Beach Motor Race (1925)
The strange lime tint of this 1925 footage gives it an eerie quality. You can see an impression of the seafront buildings as the cars race along the beach, though sadly with very little detail.
Miss Ivy Cummings was the only female driver, but she won the silver cup. She was drivig a Bugatti, and there's a very nice closeup of her sitting in this prestigious car.
Brooklands By The Sea Tinted (1925) – British Pathé on YouTube
---
Cycle Race (1947)
A 1947 newsreel about the week's events starts with the Nottingham to Skegness Cycle Race. It includes glimpses of Nottingham, Lincoln, and Skegness. Scates of London received the cup, at what looks like the Butlins holiday camp building.
One Minute News (1947) – British Pathé on YouTube
---
Trampoline at Butlins (1959)
Holidaymakers at Butlins in 1959 seem to be very happy watching a trampolining show.
In the background we can see the swimming pool, a local bus going by, and the passing of a biplane.
Trampoline Story (1959) – British Pathé on YouTube
---
Holiday Crowds (1960)
This silent, black and white footage shows local school boys working as porters at Skegness railway station, including some great shots of the railway station from different viewpoints.
What strikes modern viewers are the huge crowds of holidaymakers, including the old and very young, who were arriving for their traditional seaside holiday or stay at the Butlins camp.
At the end there's a nice shot of the garage over the road from the station, and a building across in the other direction.
Schoolboy Porters (1960) – British Pathé on YouTube
---
Royal Scot Steam Train (1963)
The Royal Scot steam train was being transported on a trailer by Pickfords, accompanied by the police and the Royal Scots Pipe Band, to its destination at the Butlins holiday camp.
Includes many houses and businesses in the background en route, along with crowds of local people who came out to watch this unusual procession.
Royal Scot (1963) – British Pathé on YouTube
---
The Beachcomber Bar (1964)
The Butlins camp at Skegness hoped their new Beachcomber bar, along with the hula girls dancing competition, would draw in the holidaymakers. Along with the false trees and plastic alligators in a pool, there's even a hilarious tropical storm and and lights effect.
The Beachcomber Bar (1964) – British Pathé on YouTube
---
Fibreglass Factory (1965)
Workers at a Skegness fibreglass factory create Britain's first ever monorail. Following the ride around the Butlins site gives a nice view of the many activities on offer.
Monorail (1965) – British Pathé on YouTube
---
Local Factory (1965)
This newsreel focuses on the activities offered by a dry ski slope at Minehead in Somerset. But it begins in Skegness, where a small group of workers manufacture fibreglass dry slope toboggans.
Summer Ski-Craze (1965) – British Pathé on YouTube
---
Butlins Models 1966
In 1966, a newsreel was made about the fibre glass animals made for the vintage car ride track at the Skegness Butlins camp.
Artists work on sketches in their design studio, before sheets of melted and shredded glass, known as fibre glass, are stuck onto moulds and coated with polyester resin. This sets the material into a very hard and strong surface.
Then begins the spray painting, followed by the final paint touches to complete the model.
According to the narrator, fibre glass started off as a gimmick in the 1890s, to make evening gowns that you could not sit down in! By 1966, glass fibre was used to make boats, cars and planes.
And it was clearly creating a lot of employment. The Skegness factory in this film seems to have about ten men working on the models.
Fibre Glass Menagerie (1966) – British Pathé on YouTube
---
A bit of Skegness history
Extract from "The Gentleman's Magazine, and Historical Chronicle, for the Year …Volume 203"
Published in 1857
Pages 178 – 179
But I must return to the neighbourhood of the sea at Skegness.
It was now the finest weather imaginable; yet all the marsh was full of intermittent fever, ague, and measles. I ascertained these diseases at several points of my day's ride, and had reason to believe them very widely spread.
There is a good beach at Skegness, and we just arrived as the tide was retiring, leaving brond, dry, level sands plentifully covered with marine animals, plants, and shells.
The low coast of Norfolk was just visible across the water, said to be seventeen miles distant; and it seemed to me so much like the shore of a foreign country, that I had some difficulty in persuading myself that I was only looking across the Wash.
Skegness is becoming a kind of watering – place, and now attracts a considerable number of summer visitors, who frequent it for its sen – breezes.
But the salubrity of this marsh in general is something more than questionable; for if it is half made healthy and invigorating with sen – airs, it is more than half poisoned with the noisome vapours which exhale from so many leagues of stagnant dykes.
If anyone shall desire to see the " pestilence that walketh in darkness, " let him go and take a lodging in one of these marsh villages, and, some time in the early summer, let him rise up in the middle of the night, and look out of his window. He shall see the damp fog, white and fleecy like wool, enveloping the whole marshes with a mantle; and he shall remember the tale of the valley of Devno, and, hiding himself in bed, dream restlessly of the ague, and fancy he sees the fever – fiend.
Yet there is no lack of ancient men and women, who have spent their long lives in this marsh.
There were many young crabs on the sands at Skegness, and many star – fishes. Three examples of echinidae fell in my way, belonging to two distinct families, and one actinia, or sea – anemone. The shells were for the most part empty, (except in one or two instances of whelks and tellens,) and belonged to the following genera: -mussel, cockle, oyster, murex, solem, peeten, pholas, miya, purpura, astarte, trochus, tellina, fusus, balamus (attached to mussels), buccinum (rendatum, the common whelk), and perhaps others. Of these, some were very plentiful – assolens, peetens, cockles, tellens, and above all, whelks. On the other hand, certain common genera appeared to be wholly unrepresented bere; viz., cypraea (cowry), bulla, patella (limpet), dentalium, scalaria, arca, & c.
I paid no attention to the algae, or sea – weeds; but picked up certain common zoophytes, attached to the shells of mussels, and belonging to the families sertularia, flustra, and sponges.
There were also lying about on the sands empty eggs of whelks, skates, and other marine animals.
The pebbles on this low alluvial shore were few and small, both much fewer and much smaller than I had lately seen them on the diluvial shore at Withernsea, in Holderness, where they have contributed materials for the erection of churches. The opposite coast of Norfolk, across the Wash, being cretaceous, it was to be expected that chalk – pebbles would preponderate at Skegness; and so they are found to do.
I noticed, however, a fair proportion of fossils from the lias, which must have been brought down hither by strong currents from the coast of Yorkshire; cardiniae, belemnites, and very much worn gryphem incurvæ. I also picked up, amongst other things, a large and handsome piece of agate.
The sea gives up her dead profusely at this point, in wave worn skulls and thigh bones of men, and many remains of other animals.
On the whole, this Skegness is a very interesting place to visit; and, according to my experience, those lovers of nature who shall spend an hour upon its beach will have no cause to complain of the " unfruitfulness " of the sea.
More about Lincolnshire