Glimpse history through old images of Peterborough, an ancient cathedral city in Cambridgeshire, England.
Old Photos of Peterborough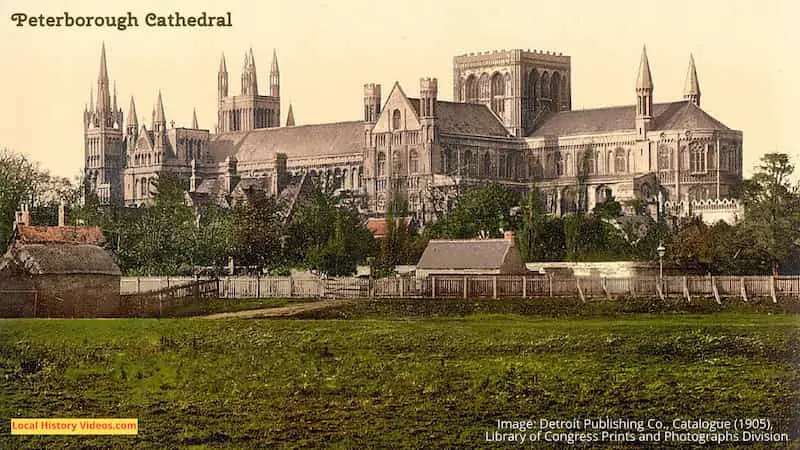 ---
Chimney Demolition (1926)
By the 1920s, the large industrial structures that dominated many skylines across England started to disappear. It's a shame we aren't give more details about this chimney, demolished in 1926.
Crash (1926) – British Pathé on YouTube
---
Prince George (1929)
In 1929, Prince George laid the foundation stone of the city's new town hall. Luckily, the cameraman filmed the approach of the cars, because the street is full of cheering people and bunting.
Royal Visit To Peterborough (1929) – British Pathé on YouTube
---
Peterborough Cathedral
In 1934, the young choirboys and a soloist were filmed singing in the cathedral, with many views taken of the ancient building's interior and exterior.
Peterborough's Noble Cathedral (1934) – British Pathé on YouTube
Peterboro' Cathedral (1930-1939) – British Pathé on YouTube
---
Jack Warner 1949
In 1949, the famous British actor Jack Warner chose Peterborough's regatta queen. He was one of Britain's most popular film stars, who would later be known for playing Dixon of Dock Green from 1955 to 1976.
Then we see some of the boat floats carrying people dressed up in national costumes.
Jack Warner attends regatta in Peterborough (1949) – British Pathé on YouTube
---
Tug of War Association (1959)
The second annual Tug of War association gathering, known as the Big Pull, took place in Peterborough in 1959.
The Big Pull (1959) – British Pathé on YouTube
---
Footballers 1960
In 1960, all Peterborough United Football Club players had to maintain full time jobs, and fit their football career around work.
The club, known as the Posh, also ran a swimming pool to bring in funds. But they were playing against First Division teams.
The captain, Norman Rigby, was a joiner. Billy Hails and Riy Banham ran an oil delivery business together.
Posh On Warpath (1960) – British Pathé on YouTube
---
Peterborough in 1963
This film, given by Lynne Dawkins to the Peterborough Images YouTube channel, shows the city centre market in 1963, on a site which is now Cathedral Square. Some of the nearby shops and buildings also appear.
Last Day of Peterborough's City Centre Market (1963) – Peterborough Images on YouTube
---
Peterborough in 1971
In 1971, the population of Peterborough was 88,000 people, with 50,000 jobs. But Peterborough's town planners were gearing up for an expansion of the cathedral city, expecting an extra 100,000 people to move there by 1985.
The children's drawings of what 1985 would look like included rocket cars and hoverchairs. The planners aimed to graft onto the city a new town with population and area equivalent to King's Lynn, Boston, Grantham, and Bury St. Edmunds, combined. It was expected to cost £350 million, with the loan repayed over the next 60 years.
Mr. Wyndham Thomas, the General Manager of the Peterborough Development Corporation, said "the houses can be expected to last 60 years, and perhaps more, the road system will last a great deal longer than that". He explains that they will source their new residents and businesses from London.
There are lots of film clips of the city and its streets before the developments, images of the fields and trees disappearing, the busy undercover market, the horrible modern buildings shoved next to the beautiful Cathedral, the Victorian shopping arcade, lots of smokers, factories with smoky chimneys, and a traffic policeman on duty to ease traffic pressures when the factory gates opened.
Kenneth Hutton, the Corporation's Chief Engineer, goes through a long list of transport possibilities they had considered, before settling on the bus system. Introducing a multi-journey ticket and single-man (it's 1971) operated buses, plus giving bus priority on busy junctions, and providing covered stands, were all identified as possible ways to increase bus use.
Then the film looks at the five country villages to be subsumed into the new town. Village property owners would see benefit here, with executives wanting a nice home. A £6,000 detached thatched country cottage might possibly hit a £20,000 sales price in 1985, for example!
Turning to the very different housing that ordinary people would live in, the Corporation's Chief Architect, John Cresswell, worried about cost as the biggest problem, both of land or buildings. He says they have to build at a density of 10-15 houses per acre, and thinks they could have done with bigger gardens. They are looking at creating interesting homes with bigger ground floors and smaller upper storeys, fitted with flexible walls that could be moved about later.
Robin Guthrie, the Corporation's Chief Social Development Officer, then talks about whether they'll eradicate all the slum housing in the Victorian terraces by 1985. He states there are few slum conditions, the houses could be improved, but that houses only have a finite span and can't be continued beyond that!
Lucky that the filmmaker drove around the Victorian terraces. The bulldozers were scheduled to remove a thousand of them. Some would be retained as cheap housing, "for those who cannot – or do not choose to – spend much on their homes, mostly immigrants finding their feet in the town." Then there's a very brief mention about the diverse communities that lived in the city, from across Asia, the West Indies, and Europe.
There's also to be lots of parkland at the Nene Valley Country Park, to get away from the places the planners have created. The park is used frequently in selling the new town, like "a girl in the motor car ad – a symbol of pleasure and freedom".
It might take more than 25 years to remove the millions of tons of gravel from the water meadows to make a boating lake, so it might not happen. There are no plans to pull down the huge power station next to the river.
The film ends with a couple of shots of buildings in the city centre, one of the pretty cottages, a row of Victorian terraces, and then the Cathedral seen through a stone arch.
Peterborough Development Corporation 1971 – Peterborough Images on YouTube
---
Peterborough Buses
These next two videos are trailers for transportation DVDs available for sale. Although they focus on the buses, cars, pedestrians, local streets and businesses also appear.
1995:
PETERBOROUGH BUSES 1995 – DaveSpencer32
1996:
PETERBOROUGH BUSES 1996 – DaveSpencer32
---
More about Cambridgeshire