Glimpse history through old images of St Neots, in the Huntingdonshire district of Cambridgeshire, England.
St Neots was once a centre of pilgrimage in the historic county of Huntingdonshire. But since 1974 it has been part of Cambridgeshire and both its size and population have been growing considerably. The town today is roughly four times larger than it was in the 1920s!
Old Photos of St Neots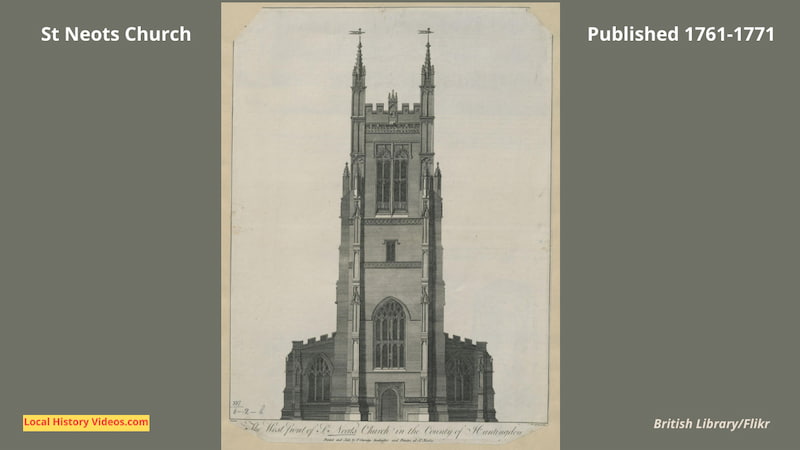 ---
St Mary's Church Fire 1930
The Amberley publication "St Neots Through Time" shows a wide array of old postcards of the town, including the remains of St Mary's Church in 1930 following a devastating fire.
Eaton Socon St Mary's Church Fire of 1930 – St Neots Through Time – Meredith Hadfield on YouTube
---
St Neots In The 1950s
This is a stop motion cine film of a journey from Bedford to St Neots in the 1950s.
Bedford to st neots. In the 1950s – Simeysmi on YouTube
---
The Quads Turn 21 (1956)
In 1956, the famous St Neots quads Ann, Ernest, Michael and Paul turned 21, which was a more celebrated 'coming of age' birthday than today.
Ann was now working in a chemist's shop, Ernest and Michael were mechanics in the same garage, and Paul was on leave from his service for the Royal Air Force (RAF).
The newsreel shows the young siblings at home and at work.
At the end they walk down a country lane.
The Quads Come Of Age (1956) – British Pathé on YouTube
Then in this second newsreel about the same family, we see the St Neots quads having a 21st birthday party at Grosvenor House, London, where the guests include several other sets of quads.
The quadruplets in line marching into the room;
Coles quads from Pimlico – Edna, Frances, Marie and Patricia.
Taylor quads from Edmonton – Paul, Kevin, Robert and Annette.
Good quads – Bridget, Jennifer, Frances and Elizabeth.
Miles quads, headed by Ann Miles.
Squads Of Quads (1956) – British Pathé on YouTube
---
St Neots Rowing Club
The cine film footage shows St Neots Rowing Club member in 1957-58 competing at Worcester, Evesham, Boxing Day married vs singles, club races and St Neots Regatta. The film was donated to the Rowing Club by the family of ex-treasurer Norman Moore.
St Neots Rowing Club events from 1957-1958: St Neots Rwoing Club on YouTube
---
St Neots In The 1990s
In the 1990s, the original Barford Power Tower was demolished with a controlled explosition, which featured on popular kids' TV show Blue Peter.
Barford Power Station, St Neots, Cambridgeshire getting blow up on blue peter – roger skillin. on YouTube
---
Leaving St Neots Railway Station 1990
This is a video made in mid-December 1990, sat immediately behind the cab of the Network SouthEast Class 317 (1) EMU.
Some of the sights out of the window include:
Valenta Paxman-powered swallow-livery Inter-City-livery HST can been seen heading north on the 'down fast' of the ECML
several tanker wagons can be seen in sidings that no longer exist
view down the A45 St. Neots bypass (now the A428)
roundabout in the distance, where there's now a big Tesco supermarket and large housing development to the right
remains of the original Little Barford Power Station
Leaving St. Neots – December 1990 – Network SouthEast Class 317 – TheRealmuzik on YouTube
---
St Neots in the 21st Century
Skateboarding Locations 2005
Skateboarding in different locations of St Neots, in 2005.
ST NEOTS SKATEBOARDING LINES 2 – Slamsection on YouTube
---
Market Square Snow 2009
A quick look at the light snow dusting in the market square in February 2009.
St.neots market square – chintzlidl on YouTube
---
Snow 2010
February 2010 brought snowfall and the chance to build snowmen.
St.Neots in the snow. – MrJames1st on YouTube
---
St Neots 2010
A home video of the historic town made on 17th September 2010.
St. Neots – Henryhvideofan on YouTube
---
St Neots Evangelical Church
This video was made in 2011 to show the building of the Evangelical Church thirty years earlier.
30th Anniversary Celebrations – St Neots Evangelical Church – Terry Rugg on YouTube
Huntingdon Radio Rally 2011
Video of the Huntingdon Radio Rally held at St Neots Community College on 29 August 2011.
St Neots Radio Rally August 2011 – g4shf on YouTube
---
Portas Pilot Bid 2012
With high streets across Britain suffering long term decline, in 2012 Mary Portas and the Local Government Minister launched a high street competition. 12 towns would be picked from national bids, which included a video made by local businesses, to become 'Portas Pilots', sharing a £1 million pot to put their plans into action and help turn around their high street.
This is the video made for the St Neots' Portas Pilot Bid, featuring the high street's local businesses and owners.
St Neots Town Team Portas Pilot Bid – Katie Hollingworth on YouTube
---
St. Neots' Half Marathon 2012
Moments from the annual Half Marathon race in 2012.
St Neots Half Marathon 18 Nov 2012 – Chris Connell on YouTube
---
St Neots 2012
A look at the high water levels in November 2012.
St Neots Little Flood Nov 26th 2012 – Zoltrix67 on YouTube
---
Barrett's of St.Neots
Barrett's of St.Neots – Meredith Hadfield on YouTube
---
More about Cambridgeshire
Who was Saint Neots?
St Neots is named after Saint Neot. He was a ninth-century soldier who became a monk and hermit based at Bodmin Moor, Cornwall, where he was visited by King Alfred. After his death pilgrims flocked to his shrine, so his bones were moved to Eynesbury, the new Priory of St Neots in Huntingdonshire, in 980. They disappeared during King Henry VIII's dissolution of the monasteries.
Is St Neots a town?
St Neots is a market town and civil parish in the county of Cambridgeshire, and is just 18 miles from the city of Cambridge. Its population is almost 34,000 people, making St Neots the largest town in Cambridgeshire, and it's set to grow another 26% by 2036.
Eynesbury is the oldest part of St Neots, and was where the Prioery of St Neots was built. Eaton Ford across the river to the west, and Eaton Socon, were once independent settlements. Over time, they have all merged to become a part of the town of St Neots.
What is St Neots famous for?
St Neots is famous for its attractive and historic market town centre and riverside walks, set in easy access of the A1 and major rail networks. As a result, this town is popular with commuters looking for a good selection of shops, restaurants and open spaces in which to enjoy their leisure time.
Is Huntingdonshire a county?
Huntingdonshire was a historic county in England which existed from the 10th century until 1965. It then merged with the Soke of Peterborough to form Huntingdon and Peterborough. In 1974, Huntingdon and Peterborough was absorbed into the county of Cambridgeshire.
Back to Local History Videos Home page