Glimpse history through old images of Gosforth, in Newcastle upon Tyne, North East England.
Newcastle's northern suburb of Gosforth covers what was once the settlement of Bulman Village. Although vintage films of the local area don't go back that far, we can step back a few decades a see what Gosforth looked and sounded like a few decades ago, thanks to several contributors to YouTube.
This page includes videos of Gosforth High Street, South Gosforth, and Gosforth Park.
Old Photos of Gosforth
1888-1939
Old Photos of Gosforth Part 1 (1888-1939) – Local History Videos on YouTube
1940-1969
Old Photos of Gosforth Part 2 (1940-1969) – Local History Videos on YouTube
1970-1998
Old Photos of Gosforth Part 3 (1970-1998) – Local History Videos on YouTube
Old Photo of Little Bridge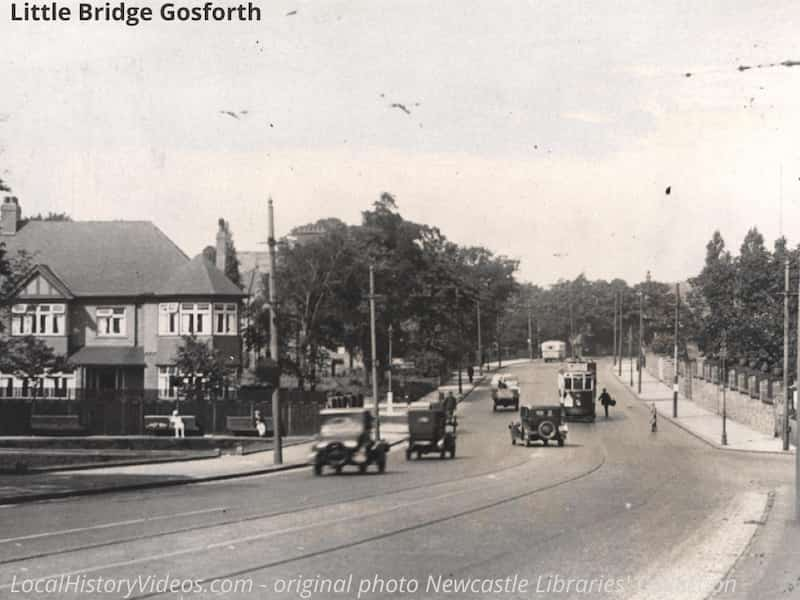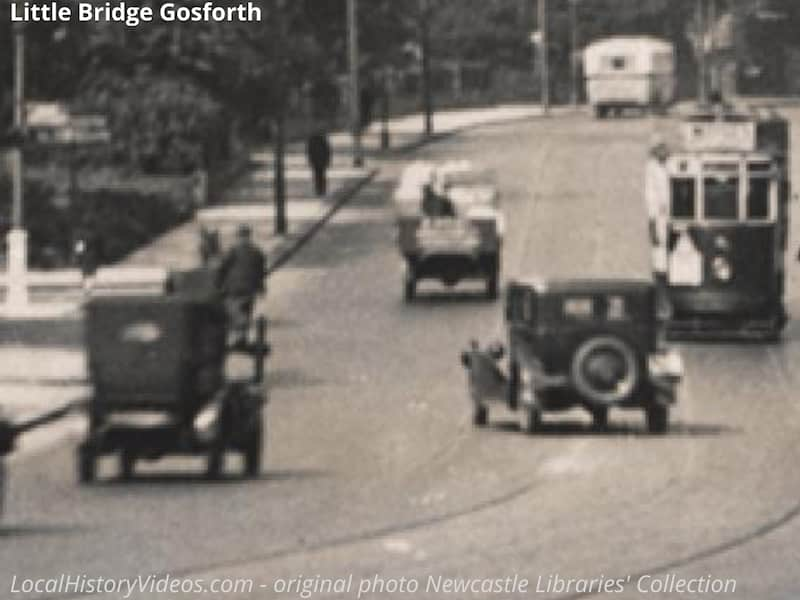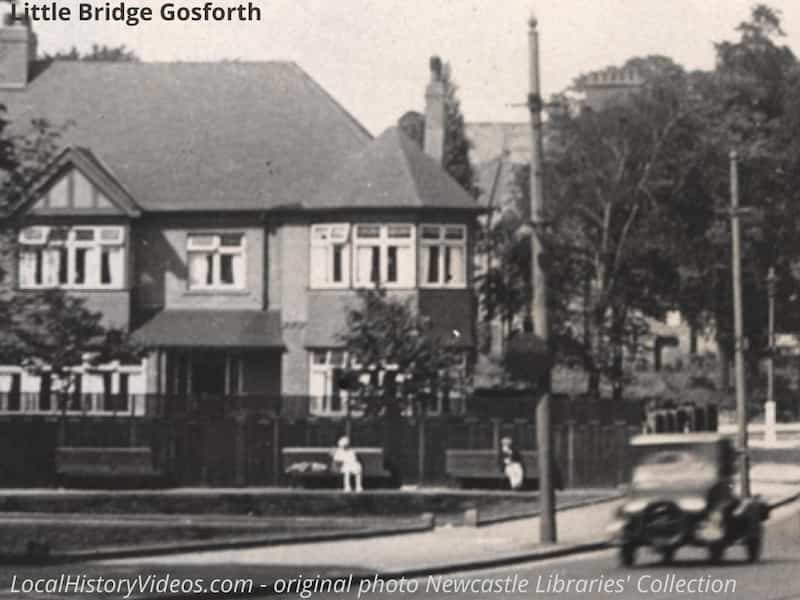 Gosforth Park Between the Wars
In 1924, an official event opened the extension of the tramway system through Gosforth Park.
A brass band played as Councillor Anthony Oates drove the first tram along, watched by a small crowd of well dressed people.
At the end, we watch the guests dismount the vehicle, with the men posing for the camera.
Newcastle's New Extension Of Tramways AKA Newcastle's New Extension Of Trams (1924) – British Pathé (YouTube)
In 1931, large crowds turned out to see men and women carrying Legion banners at a ceremony conducted by the Bishop of Newcastle.
Dedication Of Legion Standards (1931) – British Pathé (YouTube)
We open with a glimpse of racing life, with footage of the Pitmen's Derby at Gosforth Park in 1937.
Pitmen's Derby At Gosforth Park (1937) – British Pathé on YouTube
Nazi Map 1941
This image is an excerpt of a German map series made during the Second World War. You can see Gosforth marked.
I've added the German key in case you want to look up a translation for any of the symbols.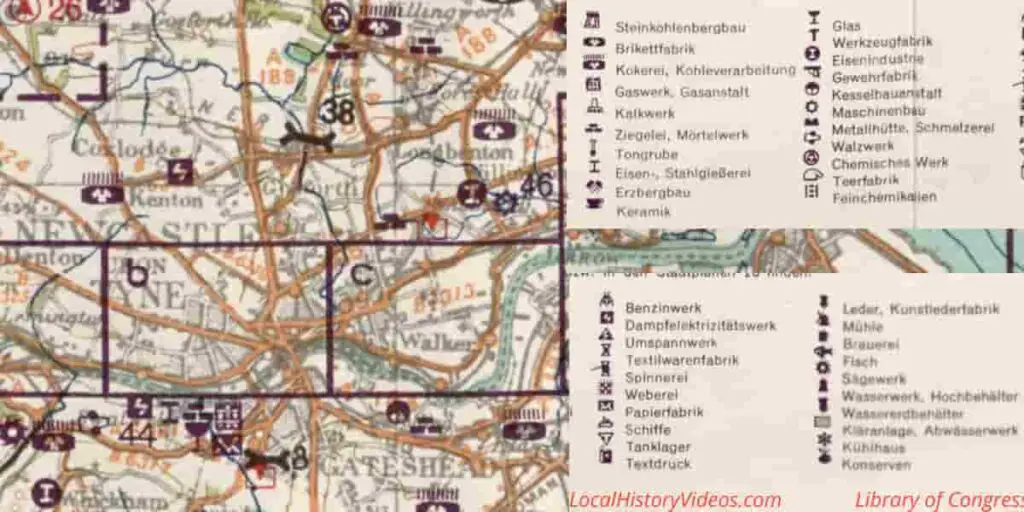 Excerpt of the Militärgeographische Einzelangaben über England : militärgeographische Objektkarten mit Objektbildern, held by the Library of Congress, Geography and Map Division
Old Photo of Gosforth High Street 1952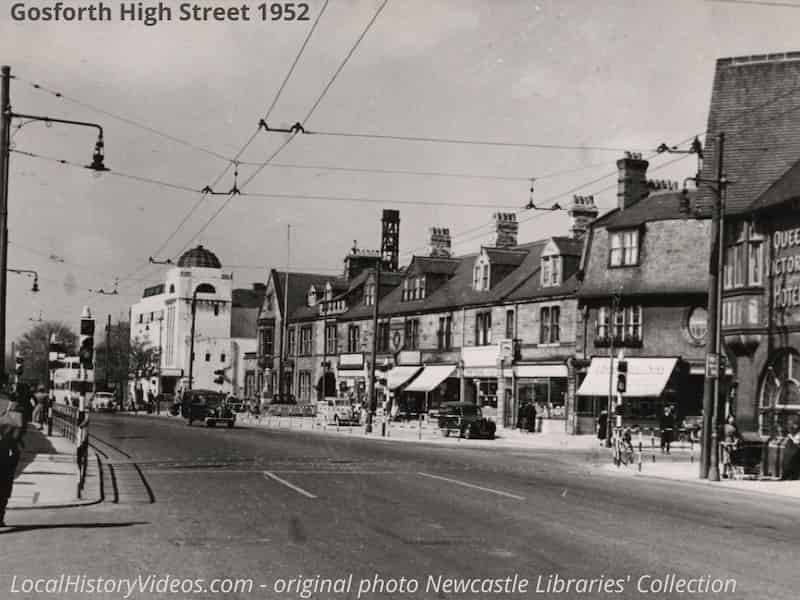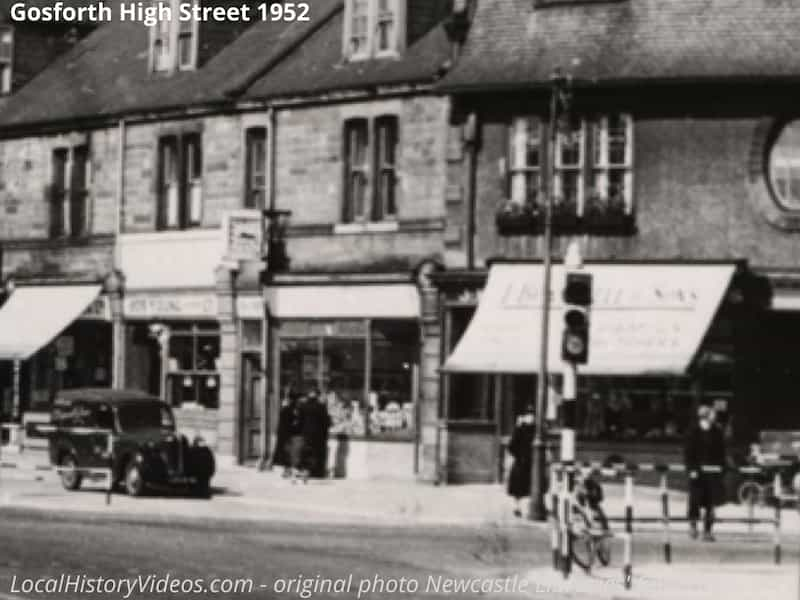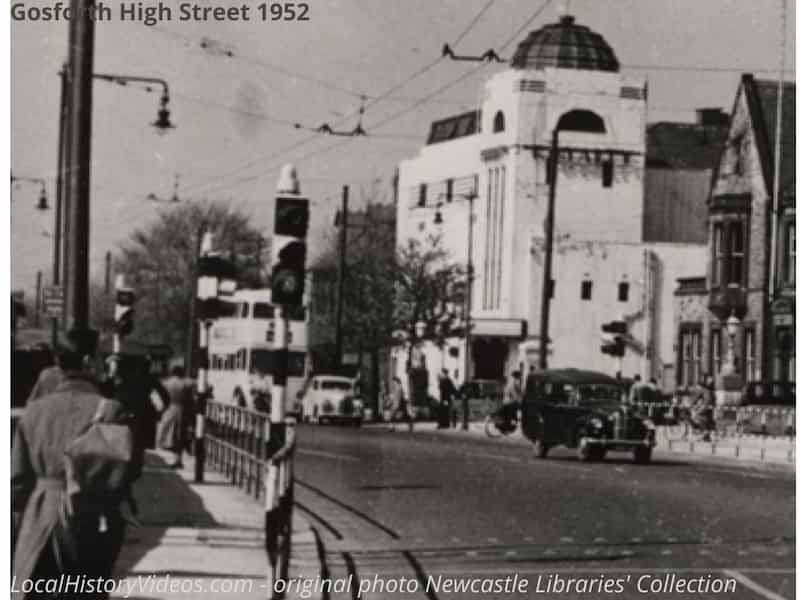 Gosforth in the 1980s
One Sunday afternoon in the run up to Christmas 1980, Bandmaster Bill Webb and his band entertained local residents.
NEWCASTLE CITY TEMPLE BAND 1980's CAROL PLAYING IN GOSFORTH – Geoff Platt (YouTube)
The next video takes us on a drive to Gosforth High Street in 1983.
---
Gosforth in the 1990s
This clip is just a few seconds long, but shows huge crowds across Gosforth High Street for the Newcastle United Promotion in 1993.
---
The Millstone pub, filmed in 1999, is located on Haddricks Mill Road, South Gosforth.
---
Old Gosforth
Discover what Gosforth looked like in the early part of the twentieth century, with two videos displaying old photos of local people and places.
If you enjoy looking at old photos of Gosforth, you may like to purchase 'Gosforth Remembered' by Andrew Clark and George Nairn. The book includes photos of:
Gosforth Parish Church of St Nicholas around 1900
A steam roller called Dora, owned by Gosforth road contractor William Bland & Son, and the workmen who used it
Fred Gee's horse-drawn hearse in Gosforth in the early 1900s
The corner of Church Road and the High Street in the early 1900s, with curious onlookers but not a single car
James Valentine's plane at Gosforth Park on 24th July 1911, having landed after a stage of the Daily Mail Circuit of Britain Air Race – and a glimpse of the crowds who turned out to see it
Colonel Cody leaving Gosforth for Edinburgh during the Daily Mail Circuit of Britain Air Race in 1911
A horse drawn vehicle struggling through the flood on the Great North Road in September 1913
Gosforth High Street around the time of the First World War, when pedestrians easily outnumbered the cars
Salters Road, busy with pedestrians but not a car in sight, with a lady cleaning the steps of the Globe cinema
Gosforth in the 21st Century
Gosforth West is the best, as they used to say. These days it's Gosforth Junior High Academy. Here's a collection of photos of the 2008 leavers, including a trip to Lightwater Valley and another to Paris.
---
A sudden storm and overflowing drains on 6 September 2008 left a cul-de-sac in Brunton Park flooded, with fire fighters using hydrolic pumps to clear the water away.
---
Downfall of Northern Rock
After the financial crash and the downfall of Northern Rock, an important part of the local economy, Newcastle City Council bought the recently constructed Northern Rock headquarters for about £22 million in early 2009.
---
Northern Rock's crisis meant government intervention and a 2009 half year loss of £472.2 million.
The Sanderson Hospital
It is perhaps surprising how quickly the Sanderson Hospital fell into disrepair. And frustrating for local residents how long it is taking for the site to become more than the local eyesore.
Opened on 30 September 1897 as a home for destitute children, the Sanderson Home for Destitute and Crippled Children was solidly built and set in spacious grounds. By 1914 it was extended to accommodate more patients as a private hospital, renaming itself the WJ Sanderson Orthopaedic Hospital and School for Children in 1935.
The NHS took over the site from July 1948, until its closure in 2005. They renamed it the Sanderson Orthopaedic Hospital in 1950, before the final change of Sanderson Hospital in 1964.
Between 1974 and 1996, the site was used for care of the elderly. The annex known as the Sanderson Centre was used for outpatients services until 2003.
By July 2009, the old site was in a terrible state, as shown in the following recording.
---
November 2010 saw the sudden appearance of heavy snow, worse than the UK had experienced for several years.
This mobile footage shows Gosforth High Street in the evening, with the occasional cars and pedestrians struggling through the difficult conditions.
---
On a cloudy day in December 2011, this next video was recorded in the cab of a Tyne & Wear Metro train, travelling from South Gosforth to Newcastle Airport. If you're familiar with the route, you may spot some changes from the past decade.
---
In 2012, as the UK struggled with the aftermath of the financial crash, High Streets also faced competition from emerging online retailers.
Business retailer and TV personality Mary Portas headed a national campaign and cometition to rejuvinate local high streets. The Gosforth Town Team made their case in the following video.
---
Just 12 seconds long, this tilt shift video gives a glimpse of one corner of Gosforth High Street in the summer of 2012.
---
On 28 June 2012, Gosforth wasn't as badly hit by the floods as the Quayside or Scotswood Road, but some properties were damaged and the worst affected roads caused serious traffic problems.
More about Tyne & Wear