Glimpse history through old images of Jesmond, in Newcastle upon Tyne, North East England.
For centuries, Jesmond was a destination for pilgrims. Coming to visit St Mary's Chapel in Jesmond Dene as early as 1272, the pilgrims were drawn by reports of an apparition of the Blessed Virgin Mary in the valley of the Ouse some time shortly after the Norman conquest.
Most of today's visitors and residents, however, see a landscape transformed by the Victorians. Now a suburb of Newcastle upon Tyne and home to 12,000 people, many of them students, this popular area continues to change and evolve over time.
Photo of Jesmond Road 1913
This old photo of Jesmond Road taken in September 1913 captured the flooding which local people gathered to witness.
I've also created and added three close up images of parts of the old photo, so you can enjoy more of the small details of the shops and local people in the old image.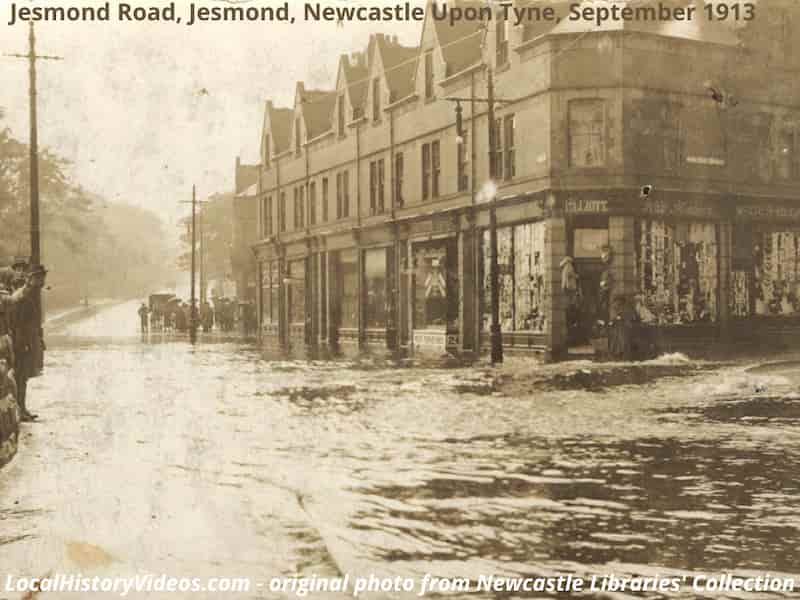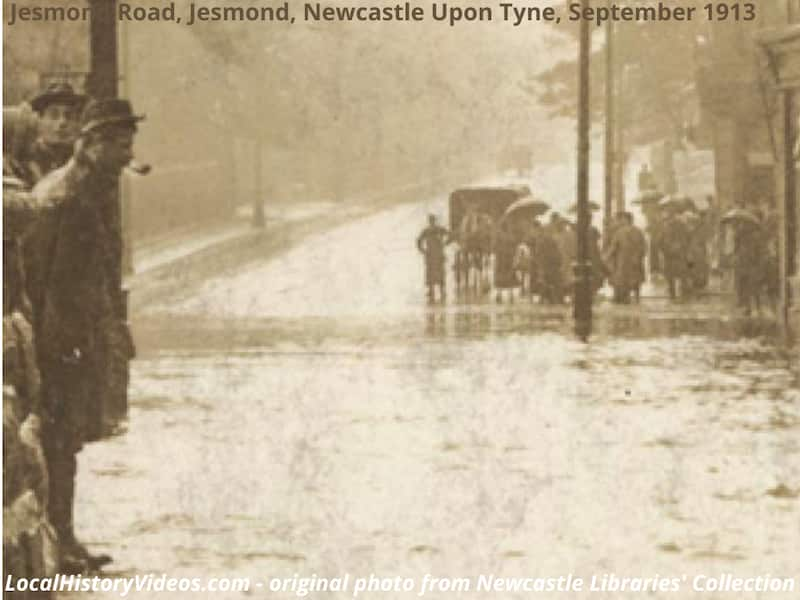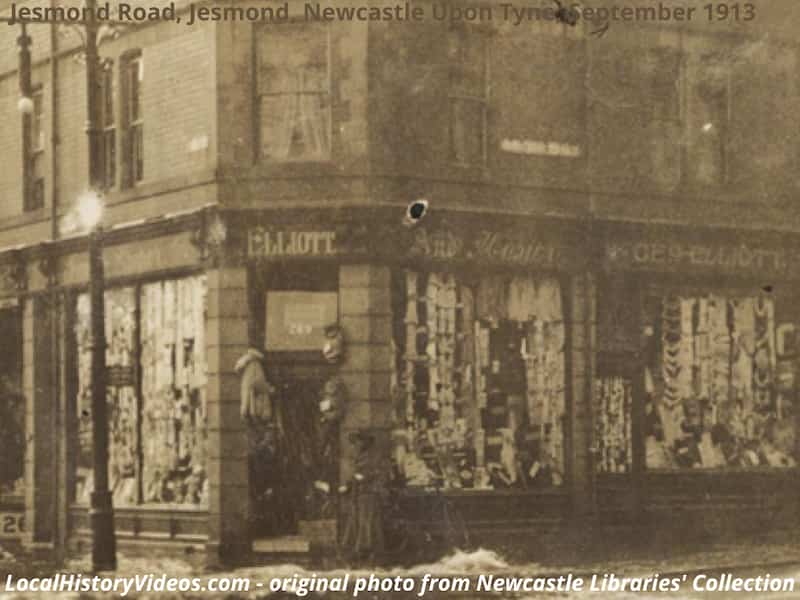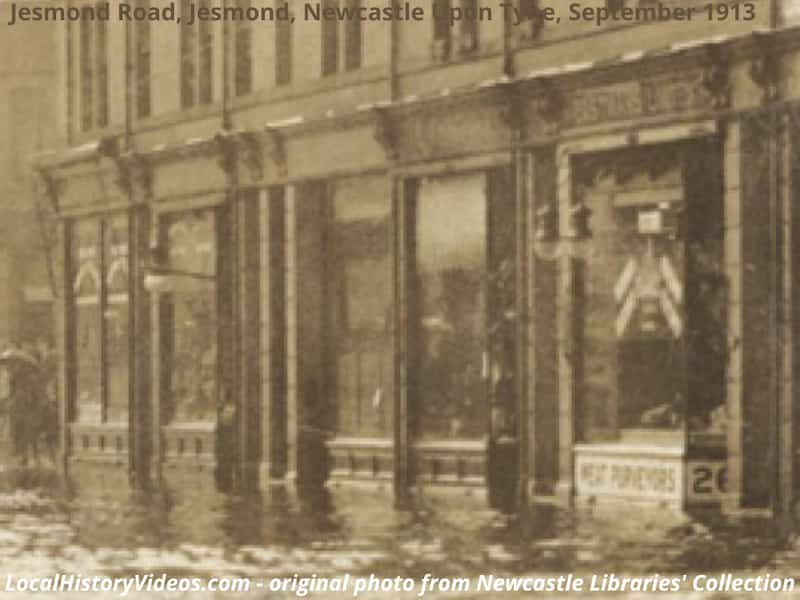 Jesmond Dene
Archive film from British Pathé made in 1927, admiring the beauty and tranquility of Jesmond Dene, which remains popular with local residents today.
"Beautiful Jesmond Pene Aka Jesmond Dene (1927)" – British Pathe on YouTube
Following a heavy snowfall, families living near Jesmond Dene in 1931 came out to enjoy sledging just as they do today.
"Winter's Icy Crown (1931)" – British Pathe on YouTube
Jesmond Cricket Club
The Jesmond cricket club is a popular sporting and leisure venue. This archive footage shows a minor counties match between Northumberland and Lancashire's second team many years ago.
"CRICKET – NORTHUMBERLAND v LANCASHIRE 2nd" – British Movietone on YouTube
Abandoned BT Building
Back in 1988 two teenagers picked up a video camera and went exploring. 
They went into the BT (British Telecom) Jesmond building, behind Manor House Road. It's now the site of the housing estate on Orchard Place.
"Summer of 1988 teenagers explore abandoned BT building in Jesmond Newcastle England"
Driving through Jesmond – 1980s
Some clips of Jesmond streets filmed back in the 1980s.
You'll notice this was before work started on the controversial Cradlewell Bypass in 1993. Public opposition to the £12 million road scheme built into the Dene included the arrival of the Flowerpot Tribe and direct action tree sit-ins.
Driving through Jesmond – 1980s – on YouTube
1991
This footage from 1991 shows a glimpse of 51 Osborne Avenue. Then there's a brief ride into town.
"51 osborne avenue, Jesmond, Newcastle Upon Tyne   England  1991" – YouTube
Changing Community 2009
Jesmond property prices are comparatively high for North East England given the proximity to the University and city centre, nearby cafes and boutique shops, and accessible transport systems. 
However, the dominance of middle class families in large houses has waned. Instead, the Victorian houses and flats are popular with students and young professionals.
Much of the area now contains houses of multiple occupation, late nightlife, and traffic clogged streets.
While this video was created in December 2009, there remains a disconnect between the reputation of the area, and the reality of living there, which often puzzles newcomers.
"Jesmond – what a dump!" – YouTube
West Jesmond Station 2010
The metro stations are a major reason why Jesmond is a popular area for young professionals. Here is a visit to West Jesmond Station in 2010.
"Tyne and Wear Metro – West Jesmond Station 2010" – YouTube
Empty Pet's Corner
In the winter of 2010, all the animals were removed from Pet's Corner. 
Major refurbishment then occurred, and the animals returned in the Spring of 2011.
This short clip shows photos of the empty cages, just after a snowfall.
"Pets Corner" – YouTube
Jesmond Dene Banqueting Hall
In 1860, industrialist and inventor Sir William – later Lord – Armstrong commissioned a banqueting hall to be built near his home on Jesmond Dene Road, so he could entertain guests. Architect John Dobson, responsible for so many of the beautiful buildings in Newcastle's city centre, received the commission.
Later, Sir William invited architect Norman Shaw to work on his now-famous Northumberland home at Cragside. Shaw also designed a lodge adjoining the Jesmond Dene Banqueting Hall, built in 1870.
The hall originally housed paintings, sculptures, and even a water-powered organ.
Then in 1883, Jesmond Dene, and some of its buildings including the Banqueting Hall and lodge, were gifted to the people of Newcastle upon Tyne.
Sir William's Deed of Gift instructed that the buildings were to be used for lectures, recitals, concerts, banquets and meetings under the themes of the arts, literature, science or education.
Over recent decades, as the buildings deteriorated into a controlled ruin, the hall became an artist's workshop run by the Armstrong Studio Trust. Meanwhile the lodge became a caretaker's residence, and was then abandoned.
This video shows the condition of the buildings as they were in 2011.
"Inside Jesmond Dene Banqueting Hall" – YouTube
Pet's Corner 2012
Pet's Corner again. This time it's the early summer of 2012, and the animals are back there to entertain visitors.
"Jesmond Dene's Pet Corner" – YouTube
Ouseburn River 2012
On 28 June 2012, 50mm of rain fell on Newcastle upon Tyne in just a few hours. Normally, it would take a month for 50mm of rain to fall on the city.
More than 500 hundred homes flooded, along with shops, schools and roads.
Along Scotswood Road, drivers were forced to shelter on top of their cars until help arrived. 
The Ouseburn River may not have been dramatic as the flooding along the Tyne, but those who know this tranquil waterway will recognise the impact of these unusual weather conditions.
"Flood and storm destruction in Jesmond Dene, Tyneside" – YouTube
Shiners Antique Store 2014
Shiners was a famous local antique store. So much so, that when the building was turned into flats, the building retained the name.
Megan Cunningham's footage from 2014, and her interview with Brian Gibbons, records the store shortly before it closed its doors forever.
"Shiners of Jesmond Closure" – YouTube
A Journey in 2014
Recorded in 2014, this video records a road journey from a hospital appointment in Newcastle through to North Shields on the North East coast, via Jesmond and the Coast Road.
"Braddazz Travels Episode 5 – Newcastle, Jesmond, Coast Road, Maccy Ds, North Shields" – YouTube
More about Tyne & Wear
---
Frequently Asked Questions
When was Jesmond built?
While Jesmond Dene saw the presence of St Mary's Chapel as early as 1272, and the site was a destination for pilgrims during the Middle Ages, the suburban streets of Jesmond as we know them today were built from the mid Victorian era onwards. Jesmond Dene House 1822, Jesmond Parish Church 1856, and Jesmond Synagogue 1914–15.
What does Jesmond mean?
Stan Beckensall's book 'Place Names and Field Names of Northumberland' (Fonthill Media) suggests the name Jesmond derives from the area's earlier name, Gesemue, meaning Mouth of the Ouseburn. The Ouseburn is a small river which starts near modern day Newcastle Airport, flows through a number of parks, including Jesmond Dene, and out to the River Tyne.
How far is Jesmond from Newcastle?
Jesmond is only a mile from the city centre of Newcastle Upon Tyne, and is served well by regular buses and the Metro trains. Consequently, it's close to Newcastle University, University of Northumbria, the RVI hospital, the Civic Centre, and the city's retail and leisure hub. That explains are area's popularity and high property prices.