Glimpse history through old images of Ely, Cambridgeshire, England.
Ely sits in the county of Cambridgeshire, which is in the region called East of England. The Cathedral and period buildings belie its relatively recent status as a city.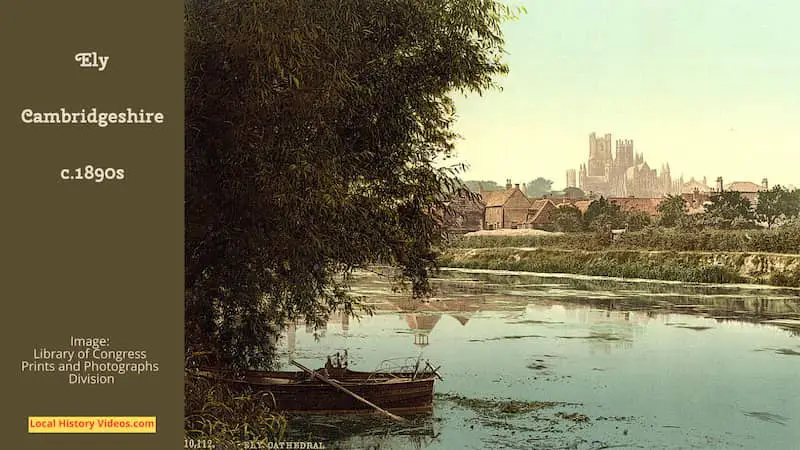 What is Ely famous for?
Ely is famous for its historic Anglican Cathedral. St Etheldreda built an abbey church on the site in AD 672. The current building was started in 1083, with Cathedral status granted in 1109. Ely occupies the largest island in the Cambridgeshire fens, a coastal plain of almost 200 square miles. 
Is Ely a city or a town?
Ely became a city with a Royal Charter in 1974. Before that, it was a town but often called a city because of its ancient Cathedral. The smallest city in England is Wells and has a population of just over 10,000 people. With 18,000 residents, Ely is England's second-smallest city and the UK's ninth smallest city.
Is Ely in Cambridgeshire a safe place to live?
Crime statistics show Ely is one of the safest places to live in England. Residents are friendly and generally enjoy a better quality of life than experienced in other British cities.
Ely In The 1940s
In 1943, film was recorded of Ely's Cathdral and its 12th century tower. Other shots included the Norman era Bishop's Palace, King's School, Cathedral Walk, the High Street, housing near the river, and Oliver Cromwell's house.
Ely (1943) – British Pathé on YouTube
---
Film recorded in 1949 captured both the Alms Houses in Stowbridge and Ely Cathedral in Cambridgeshire.
Alms Houses And Ely Cathedral (1949) – British Pathé on YouTube
Ely In The 1980s
From Ely's station platform in the Spring of 1987, a number of passenger and freight trains were filmed by a rail enthusiast.
Trains In The 1980's – Ely, Spring 1987 – MrDeltic15 on YouTube
---
This footage about restoration of the historic Cathedral, recorded in 1987, starts with a shot of a long line of schoolchildren.
Ely, Cambs (1987) – The Restoration of Ely Cathedral – Fenland on Film – Credit: BBC
Ely In The 1990s
Filmed on Monday, 3rd June 1991, we see passenger and freight trains from a platform at Ely's railway station.
Ely, Monday 3rd June 1991 – John C. Earwicker on YouTube
---
This home video footage of the Eclipse Outdoor Festival at Braham Farm, Ely, Cambs, was recorded in September 1992.
The Outdoor Dance Festival 92 – Deeman72 on YouTube
Ely In The 21st Century
The Folk Rock band Hedgepig played at the Ely Festival on 7th July 2006.
Hedgepig Ely Folk Festival 2006 – Hedge Pig on YouTube
---
Some of the scenes for the feature film The Other Boleyn Girl were shot at Ely Cathedral in August 2007. The filming drew the attention of the local news networks.
Other Boleyn Girl Ely Cathedral August 2007 BBC Local News – Edorm on YouTube
---
Recorded on 6th November 2008, this is a train trip approaching Ely, starting at the Potter Group sidings.
Approaching Ely, Cambridgeshire, southbound – turnoveraction on YouTube
---
Recorded on 2nd May 2009, this home video shows Ely's Annual procession. It was led by Ely Samba Band and featured a monster Eel, dancers, civic dignitaries and town criers.
Ely Eel Day procession 02 05 09 – SPROPOSITO on YouTube
---
2010 home video footage of the Cathedral, park, and the river.
Random filming of Ely – Matt Smith on YouTube
---
In this video from 2011, the curator of the stained glass museum, Sarah Robertson, talks about works from the collection.
CU-TV Art in Cambridge: Ely Cathedral – CU-TV on YouTube
---
This footage records the Eel Day parade, which starts at Ely Cathedral and goes to the Jubilee Gardens, passing by the Market Square.
Ely Eel Day Parade 2011 – K Bedingfield on YouTube
---
These clips of the main procession through the High Street and down Forehill were recorded on 5th May, 2012.
Ely Eel Day Procession 2012 – AndyKWilkinson on YouTube
---
Enjoy some of the floral creations made for the Flower Festival, beautifully laid out in the Cathedral.
Ely Cathedral Flower Festival – Jonathan Wainwright on YouTube
---
A 2014 BBC school project about the filming of Macbeth, starring Michael Fassbender and Marion Cotillard, at Ely Cathedral.
BBC School Report – Filming Macbeth at Ely Cathedral | With Sam and Jack – Flamebuster97 on YouTube
---
The city experienced some unusual weather on 10th August 2014.
Tornado forming south of Ely Cambridgeshire 10-Aug-14 – Andrew Weeden on YouTube
Historic Book
From page 168 of "Fenland Notes and Queries: A Quarterly Antiquarian Journal for the Fenland, in the Counties of Huntingdon, Cambridge, Lincoln, Northampton, Norfolk, and Suffolk · Volume 1", published 1891
"One winter King Canute went to visit the monks of Ely.
Then the nobles of his court said, ' We cannot pass the king must not pass on the slippery, unsafe ice, which may break and cause us all to be drowned in the fen waters. ' But Canute, like the pious and stout king that he was, said, ' Hold ice or break ice, I will keep the feast of the Purification with the good monks of Ely! An there be but one bold fenner that will go before over the ice by Soham mere and shew the way, I will be the next to follow ! "
Now there chanced to be standing amidst the crowd one Brithmer, a fenner of the Isle of Ely, that was called from his exceeding fatness Budde, or Pudding; and this heavy man stood forward and said that he would go before the King and shew him a way on the ice across Soham mere. Quoth Canute, who, albeit so great a king, was but a small, light man ; 'If the ice can bear thy weight, it can well bear mine ! So go on, and I follow. ' So Brithmer went his way across the bending and cracking ice, and the king followed him at a convenient distance; and one by one the courtiers followed the king, and after a few falls on the ice they all got safe to Ely. And for the good deed which he had done, King Canute made fat Brithmer, who was but a serf before, a free man, and gave unto him some free lands which his posterity held and enjoyed a long time afterwards. "

More pages about Cambridgeshire
Find other locations on the Sitemap for England