Glimpse history through old images of Sacramento, California, USA.
---
Old Pictures of Sacramento
---
Old Photos of Sacramento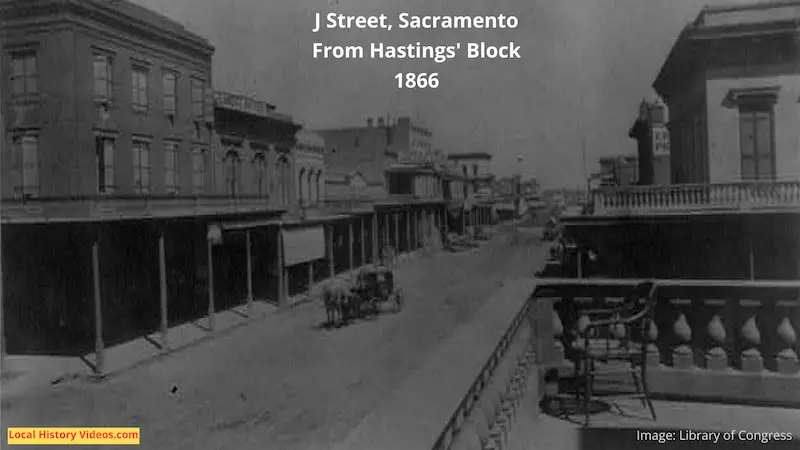 ---
Sacramento in the 1950s
1950s Color photos of Sacramento California buildings, stores, houses and cars Time Capsule – photographbuyer on YouTube
---
Historic Buildings in 1958
Produced by the Sacramento Bee and KFBK in 1958, this 27 minute film looks at and appreciates the beautiful old buildings still found in the city at the time.
Unfortunately, some of these buildings were later demolished.
There are lots of lovely pictures and old photos included in this archive film, along with lots of information about the city and its historic buildings.
Educational Film – "Old Sacramento: As It Was, As It Is, As It Could Be," 1958 – Center for Sacramento History on YouTube
---
Peace Pilgrim 1959
In 1959, 51-year-old Mildred Lisette Norman, known as Peace Pilgrim, made a statement at the Tower Bridge and then walked toward West Sacramento.
Born in 1908, the American spiritual teacher, mystic, pacifist, vegetarian, and peace activist walked across the United States for 28 years. She started at Pasendena on 1st January 1953, and was on her seventh cross-country walk to talk to others about world peace when she died in 1981.
Peace Pilgrim in Sacramento – 1959 – Center for Sacramento History on YouTube
---
K Street Mall 1969
In 1969, predestrianisation was seen as a way to revitalise central shopping areas.
Hundreds of people appear in this twelve minute video, many of them close up enough to recognise individuals, and some of them speaking to camera.
Redevelopment: Old Sacramento 1965 – Center for Sacramento History on YouTube
More Redevelopment: Old Sacramento and K Street Mall, 1969 – Center for Sacramento History on YouTube
---
Campbell's Soup 1989
The Campbell's Soup company opened its 136 acre Sacramento plant at 6200 Franklin Boulevard on 8th September 1947.
They were still at that location in 1989, and employing 1700 people, when George Reading presented a special feature about it on Newsline.
Along with clips of the production and canning operations, there are also interviews with John Staszewski, Jim Mork, and Joe Battaglia.
Unfortunately, the plant closed in July 2013.
Campbell Soup Sacramento – 1989 – Center for Sacramento History on YouTube
---
Sacramento in the 1990s
This advertisement for the Sacramento Convention & Visitors Bureau was made in 1991, and visits many locations around the city.
The man disco dancing in his shirt and tie is one of several gentle chuckles provided in these seven minutes.
Early 1990s promo for the City of Trees! – "Sacramento: Where California Begins," 1991 – Center for Sacramento History on YouTube
---
More about California