Glimpse history through old images of North Shields, on the northern banks of the River Tyne in North East England.
North Sea Fisheries 1901
The Mitchell and Kenyon collection includes this footage from 1901, of women filleting fish on barrels at the Fish Quay in North Shields. Some of them look very young, but seem excited and amused by the camera.
Then we see the fishermen and other locals listening to directions as they are persuaded to stage a mock battle to make the film more exciting.
North Sea Fisheries, North Shields (1901) – BFI on YouTube
---
Railway Station
This is an old photo of the railway station at North Shields, taken in 1912.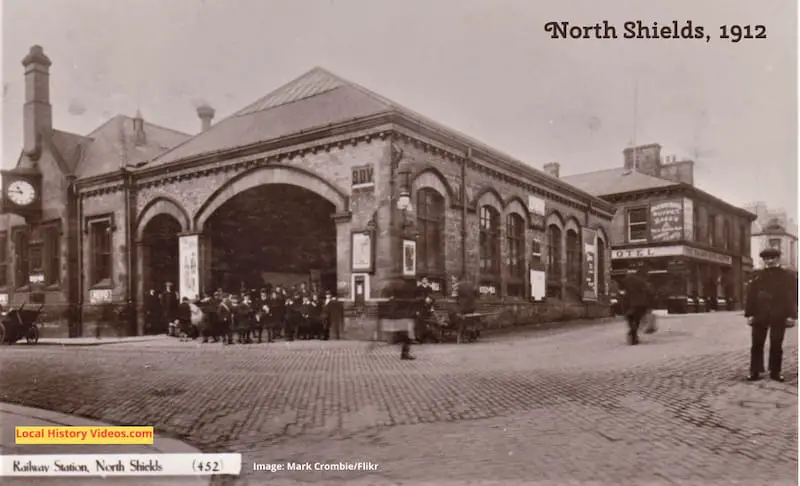 ---
Princes Theatre 1929
On 7th October 1929, the Princes Theatre was officially opened by Her Worsjip Mayor of Tynemouth, Dame Maud Burnett, J.P.
The venue on Russell Street had a fully equipped stage and fly tower, organ, and seating for 1,600 people.
During its history it has been damaged during the war, had a long period of closure, and operated as both a cinema for different chains and as a bingo hall.
Opening Of Princes Theatre (1929) – British Pathé on YouTube
---
Dock Blaze 1935
In 1935 during high winds, a lumber storage yard at the Albert Edward Dock caught fire, bringing out lots of children to watch the huge blaze.
Fire at Albert Edward Dock in North Shields (1935) – British Pathé on YouTube
---
New Dock 1954
The First Lord of the Admiralty arrived on H.M.S. Inglesham to cut the ribbon and officially open the new Smith Dock in 1954.
First Lord Opens New Smith Dock (1954)- British Pathé on YouTube
---
You may also like