Glimpse the past through old images of South Shields, at the southern mouth of the River Tyne in North East England.
Old Photo of King Street
Clicking on the top half of these photos from the 1890s will bring up a larger view of them.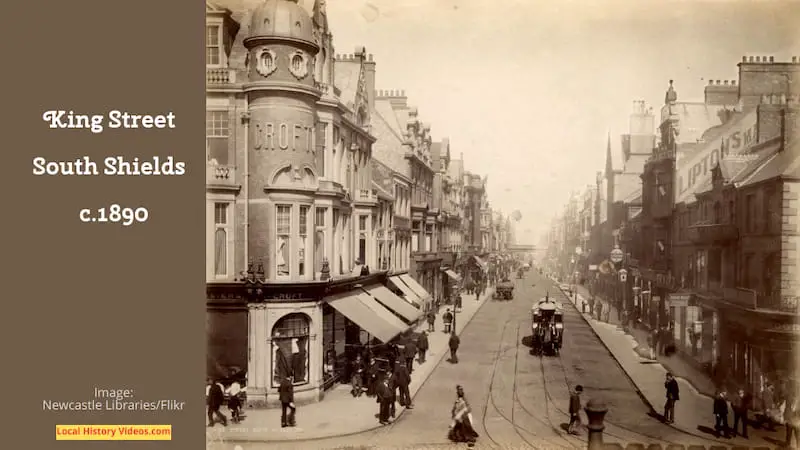 Carnival Week 1927
The multicultural community of South Shields was evident in this newsreel of the 1927 Carnival, although we can see a couple of participants blacked-up.
South Shields Carnival (1927) – British Pathé on YouTube
---
Yemeni Merchant Seamen
During the 1890s, many Yemeni seamen, doing jobs on British merchant vessels such as engine room firemen, settled in South Shields, Liverpool, Cardiff and Hull. The first Arab Seamen's Boarding House opened in the Holborn area of South Shields in 1909.
During the First World War, more Yemini merchant sailors were recruited at Aden, so by the end of the war, almost a quarter of merchant sailors living in South Shields were from Yemen. Somalia, African, Indian and Malaysian merchant sailors had also settled here.
Although the Yemini Muslims integrated and married into the local community, South Shields was the setting for Britain's first modern race riot, in 1919. Another race riot occurred in 1930, the subject of the play RIOT by Peter Mortimer.
Coal-burning ships declined in the period after the Second World War, so fewer international merchant seamen were attracted to the town, and many left. By 2013, the local Yemeni population stood at about a thousand people, according to a speech David Milliband gave to Parliament that year, which was a third of the Yemini population in 1918. The majority of the Muslim community in South Shields today are of Bangladeshi descent.
In 1937, footage was recorded of a parade through the streets of South Shields, probably celebrating the Festival of Ed-Afrifa or Eid-ul-Fitr.
South Shields (1937) – British Pathé on YouTube
---
Roller Coaster 1938
In 1938, a roller coaster opened at the funfair, opened by Lord Stabolgi. Joseph Montague Kenworthy, 10th Baron Strabolgi (7 March 1886 – 8 October 1953), was a Liberal and then a Labour Party Member of Parliament
At the time of this newsreel, the new name for this type of ride was a Gravity Ride, replacing the term Scenic Railway.
It's an amusing item to watch, because of the workmen clambering around at a great height with no safety equipment, and the ridiculous sight of Lord Stabolgi in his top hat along with his wife in her posh frock and furs, cramped into a little funfair cart.
Steel Gravity Ride Opened – S. Shields (1938) – British Pathé on YouTube
---
South Shields in the 1950s
In the early 1950s, a policeman recorded a busy Saturday afternoon along King Street.
His intention was to highlight the dangers of crossing busy roads without care and attention. What he actually did was create a very rare visual record of what it was like to be on King Street in the 1950s.
Narration has been added, identifying key landmarks and adding an amazing amount of small details.
South Shields, King street .Road Safety 1950`s – arbeia76 on YouTube
---
Queen Elizabeth II 1954
In 1954, Queen Elizabeth II and Prince Philip visited just about every Tyneside location that could be fitted in with just one day.
At 3:12 are the scenes at the Town Hall in South Shields, which is hopefully where this link will start when you press play.
Newcastle Area Only – Queen Visits Northumberland (1954) – British Pathé on YouTube
---
Good Friday Parade
Recorded in the 1970s or possibly as late as 1980, this silent home video shows the Good Friday Parade, with groups marching down King Street, watched by crowds of local people.
Good Friday Parade on King Street, South Shields 1970s/80s – South Shields 49 on YouTube
---
Busy Market in 1987
A home video from 3rd August 1987 records the busy market, the heaving pedestrianised King Street shopping area with the Woolworths store, a ship docked at the waterfront, and views across the parks to the funfair and seaside. I can't embed the video here, but if you want to watch it just head to YouTube.
---
Driving Through South Shields 1996
Filmed in September 1996 (although one of the YouTube comments suggests it may be 1998), this four minute drive takes us through Chichester, the Town Hall at Crossgate, across Beach Road to Anderson Street, and along Dean Road.
South Shields 1996 – Hotrodngaz on YouTube
---
South Shields Buses
Although this video from 1993 seems to be one empty bus after another travelling past, you do get a good glimpse of each end of the street, along with a few pedestrians, some fire engines, and lots of cars.
SOUTH SHIELDS BUSES 1993 – DaveSpencer32 on YouTube
The next bus video, this time recorded in 1995, shows a different street with lots of shops and more pedestrians.
SOUTH SHIELDS BUSES JULY 1995 – DaveSpencer32 on YouTube
Filmed at a time when Channel 4 was broadcasting "Secret Lives" on Mondays and "The Fragile Heart" on Wednesdays, this video from November 1996 shows doors stacked for sale next to the shop called Domestic Appliances, murals on the sides of buildings, and the market stalls selling their wares.
You can also hear some young lads pestering the filmmaker.
SOUTH SHIELDS BUSES JULY 1995 – DaveSpencer32 on YouTube
I don't know if this is just to do with the sound recording, but the buses in January 2001 seem much, much quieter than they were in 1995.
This video includes views of the Stag's Head and the Town Hall.
SOUTH SHIELDS BUSES JANUARY 2001 – DaveSpencer32 on YouTube
---
You may also like