Glimpse history through old images of Dunstable, in Bedfordshire, England.
Old Photos of Dunstable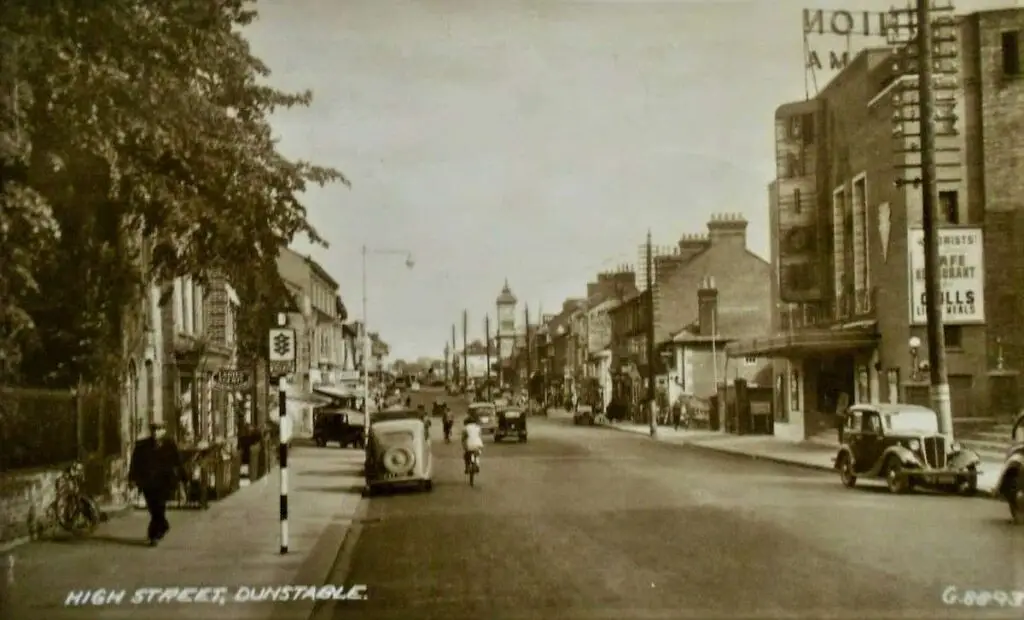 ---
Dunstable's Plans: 1965
A council planning movie from 1965 uncovers an extraordinary piece of history.
In demonstrating the problems the town was grappling with at the time, especially the exponential growth in traffic, the cameras capture what the streets, cars, people and businesses looked like at the time.
40,000 people lived in the town's catchment area then, and planners were forecasting a doubling of that figure by 1981. Shopping moving between Watling Street, Church Street, and West Street had to content with very busy roads.
The pedestrianised shopping centre at Stevenage is shown as a potential solution for the redevelopment of Dunstable's retail centre. But a consultation was to be done, to find out what people wanted for the town's future.
Dunstable, 1965 and it's plans up to the year 2000. – Dave Wood on YouTube
---
Child Workers: 1917
In Dunstable a short piece of footage recorded in 1917 shows some of the local children working in what seems to be a walled garden.
Even by the start of the twentieth century, Britain was heavily reliant on imports to feed the population. So the major interruptions to sea routes during the Great War, later known as World War I, had a very real impact on food supplies.
Perhaps these children are helping to grow food. Alternatively, they could be maintaining the walled garden, given that the country sent millions of younger men to war, and gardeners were not subject to the reserved occupation status that kept agricultural workers at home.
Even Children Help (1917) – British Pathé on YouTube
---
Motorway: 1958
In the later end of the 1950s, British planners set a target of 19 months to build the London to Birmingham motorway. It would become the M1.
In this footage, recorded in fields near Dunstable in 1958, the motorway concept is so new the narrator has to explain how it works.
Britain's "Autobahn" (1958) – British Pathé on YouTube
---
Leaving Dunstable: 1959
In 1959, Noel Lempriere and Sydney Meddings set off from Dunstable for a tour around Europe on a scooter, towing a foldable foldable fibre glass caravan.
It's worth watching this brief newsreel just to see the item they are towing, which looks like a giant suitcase. There's a big dent on one side, where the structure has already been damaged before they've even got going.
The local mayor, Alderman Louie Palmer, was there to send them off.
Motor News – Dunstable (1959) – British Pathé on YouTube
---
Thermo Plastics Factory: 1960
A 1960 newsreel shows men and women working in one of Dunstable's factories, making items from thermo plastics.
Thermo Plastics (1960) – British Pathé on YouTube
---
Bedfordshire Gifts
Gifts for the loveliest grandma in Bedfordshire, from Redbubble.
---
More about Bedfordshire