Glimpse history through old images of Brightlingsea, Essex, England.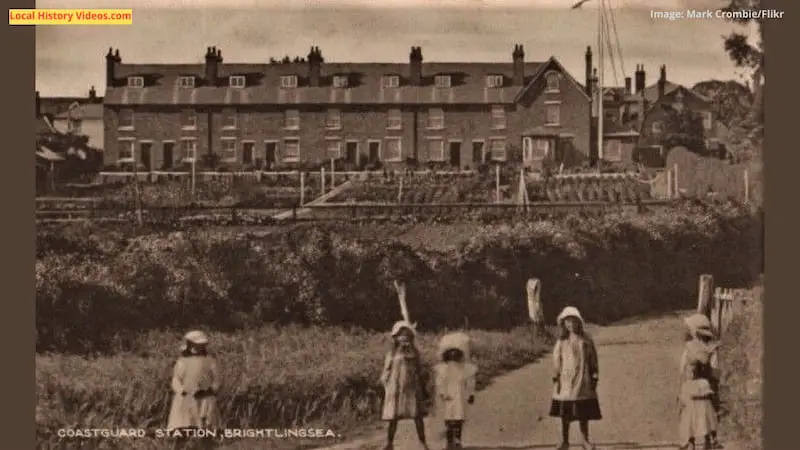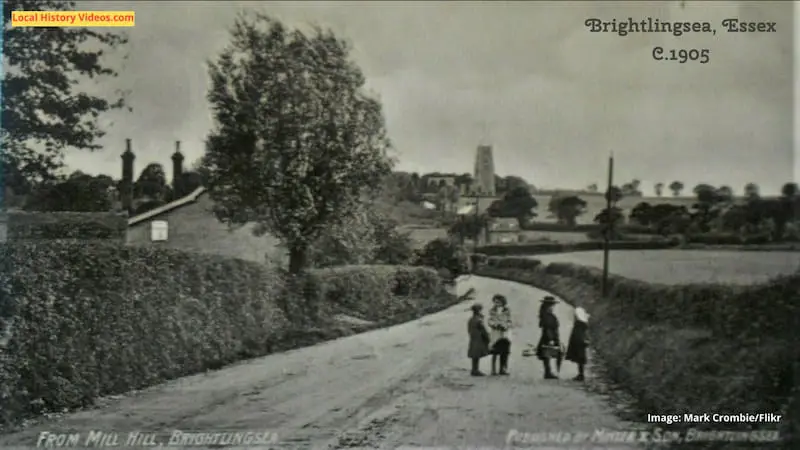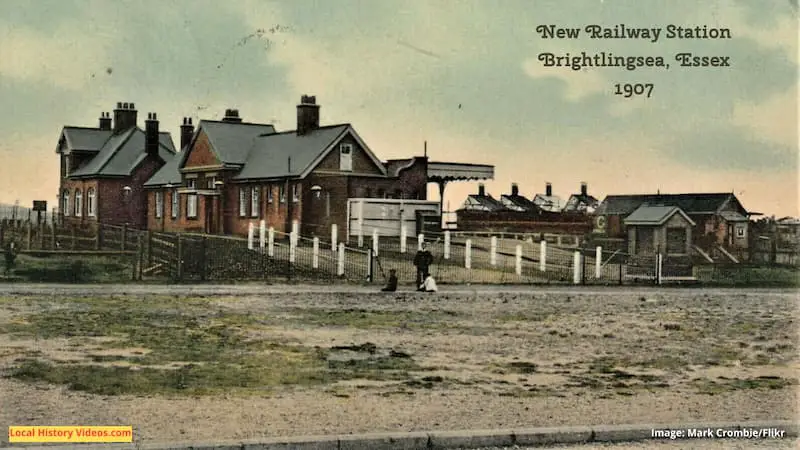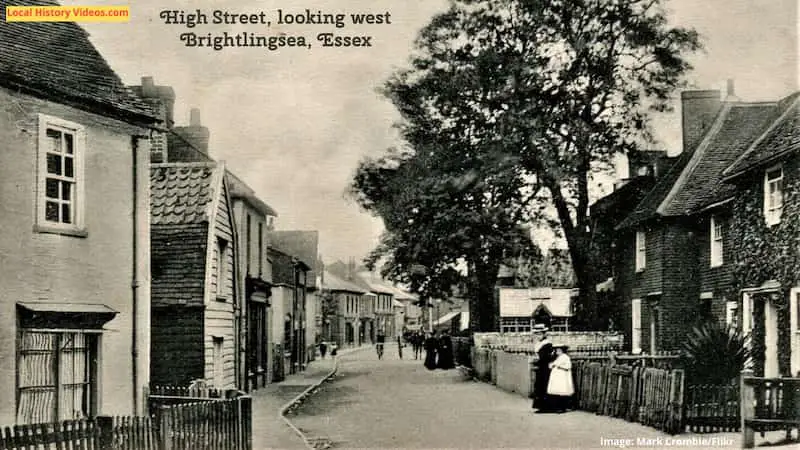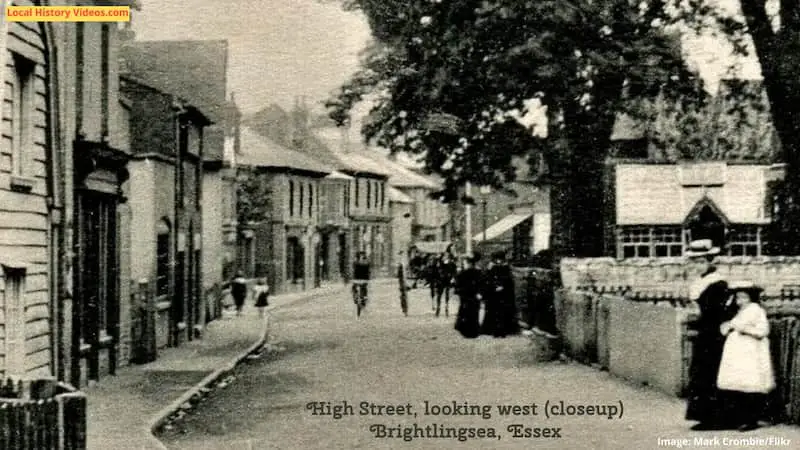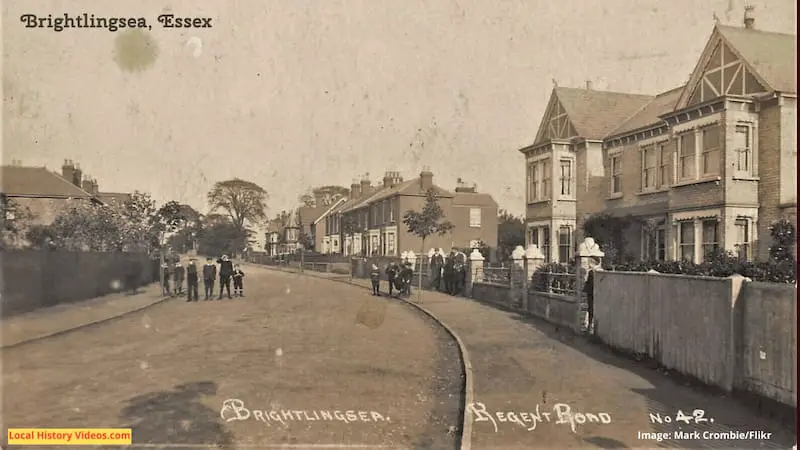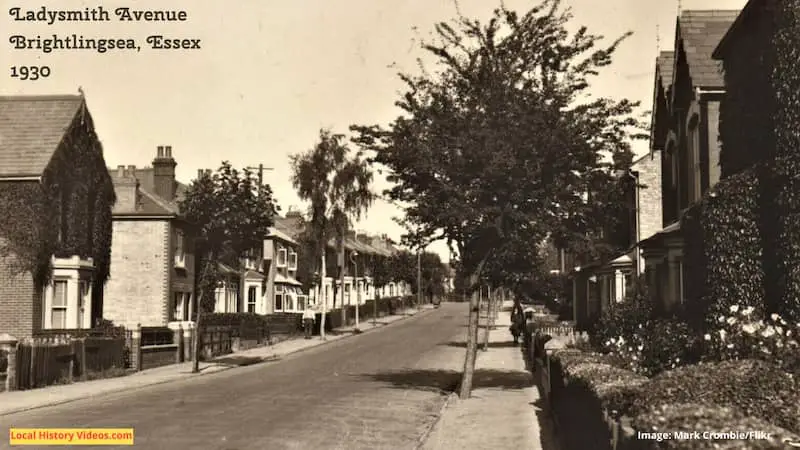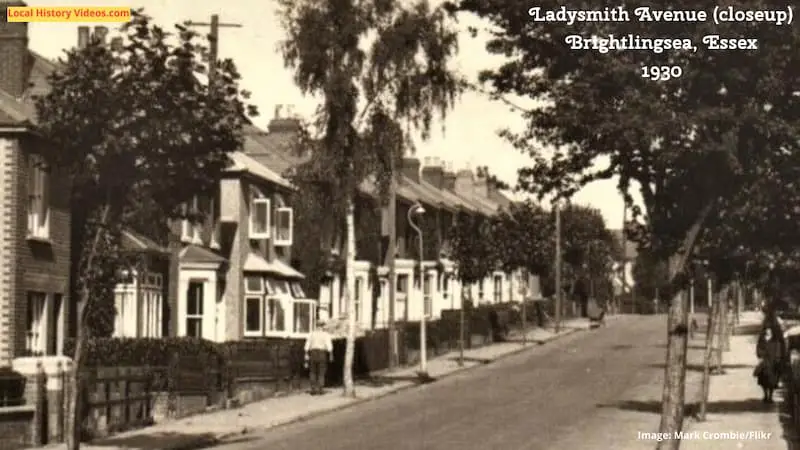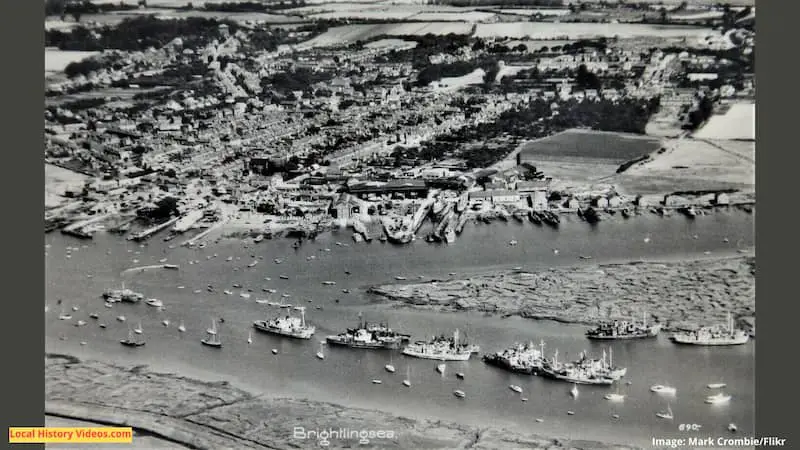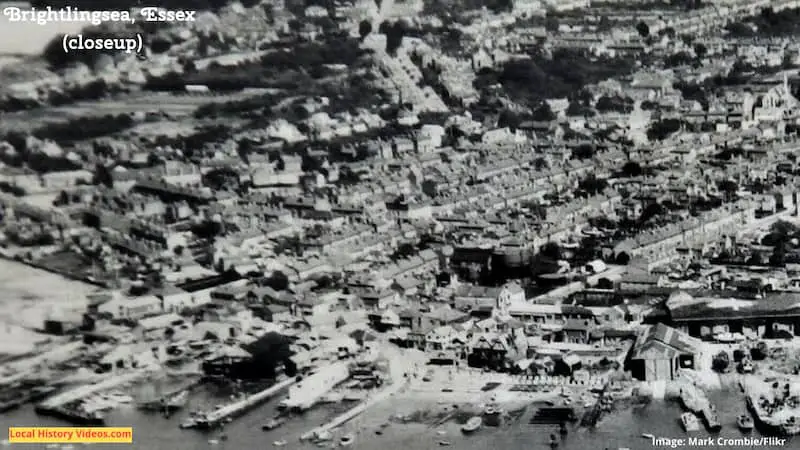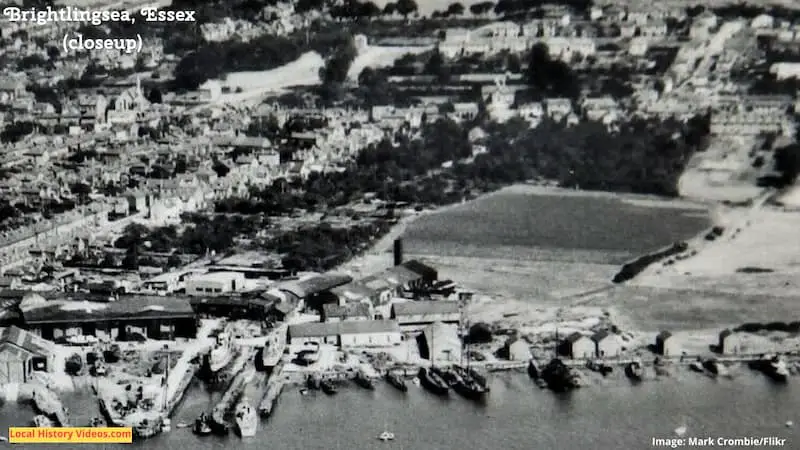 Historic Book
Extract from: Kelly's Directory of Essex, Hertfordshire and Middlesex
Published in 1890
Pages 55 – 56
BRIGHTLINGSEA is a town and parish , and as the
termination of the name denotes , was at one time an island ,
and it is still nearly surrounded by the river Colne and its
ereeks , having only one road to connect it with the main
land , in the North Eastern division of the county , Lexden
and Winstree petty sessional division , Tendring hundred
and ano , Colchester county court district, and in the
rural deanery of St. Osyth , archdeaconry of Colchester and
diocese of St. Albans .
The town is situated near the water
at the mouth of the Colne and is about 61 miles from
London , 6 south – east from Wivenhoe and to south – east
tren Colchester : it is connected with the Great Eastern
raway by a branch line from Wivenhoe .
Brightlingsea is a
member of the Cinque Port of Sandwich and as such is
eated to elect annually a deputy – mayor , but this ancient
distinction has been in abeyance since 1804 : from the
be connection the parish derives various peculiar rights
and privileges , such as exemption from county rates ,
from service on juries and from militia service .
Brightling
sea has from time immemorial been noted for its oysters , an
esteanve cultivation of which is carried on , partly under
the Corporation of Colchester and partly by private enter
prse : this industry employs a large fleet of smacks , which ,
in the winter months are chiefly occupied in the sprat
fasery : Brightlingsea is also becoming an important yacht
in station , upwards of 100 yachts being laid up here for
ther winter quarters , and there is a considerable amount of
ship and boat building .
The town is supplied with gas and
water by two companies .
A fair is held on St. Swithin's
day , or the Thursday before .
The church of All Saints
stands about a mile and a half north of the town and is , in
the words of Morant , " a lofty and stately structure " of
rabble and flint , consisting of chancel , north and south
chapels and vestry , south porch , nave of five bays , aisles and
a western tower of fine proportions , with large buttresses ,
se angle – wise and decorated with 32 niches : it is finished
with pinnacles , and has a height , including these , of over
too fet , forming a conspicuous sea mark : the ringing
ehamber presents some curious features ; in the belfry are
frames for 5 or 6 bells , but only one of the ancient peal ,
dating from about A.D. 1450 , now remains ; there is also a
En sanctus bell unhung , and is said to be the only one re
maning in the county : in 1889 a peal of to tubular bells was
presented by M. Bayard Brown esq . an American gentleman
visiting Brightlingsen in his steam yacht " Valfreyia : "
The
church is eniefly Perpendicular , but three of the five bays of
the arcades dividing the nave from the aisles are Decorated
and there are also remains of the Early English style , and
ese feature supposed to be either Early Norman or Saxon :
the cierestory has disappeared , haring , together with the
engmal roof , fallen down in 1814 : there are on the floor
brames with effizies , of which only one retains its inscription ,
but , with two exceptions , they can be identified as being the
memnals of John Beriffe , ob . 1496 , and his three wives :
Mary Heriffe , ob , 1505 : Margaret Heriffe , ob . 1514 : John
Beriffe , ob . 1521 ; and Mary and Alice , his wives : William
Berife and Joan , his wife , oh , 1527 ; John Beriffe , oh . 1542 ,
and Willam Beriffe , 1578 ; the two remaining brasses not
identified are those of two female figures , e . 1542 , inserted
is the room of two priests ' brasses on a bracket of the 14th
cestory : there is also in the Lady Chapel a curiously in
ced stone slab , which would appear to have been originally
the evening of a tomb , but afterwards perhaps the mensa of
an altar : in the chancel is an elaborate and costly monument
to Nicholas Magens esq . who died in 1767 : another peculiar
feature of the church is the number of niches that remain in
the walls and columns : one contains a small mutilated
state , soppsed to be that of St. Nicholas : a series of 87
small memorial tablets have been recently erected to parist
aers it at sea within the last 14 years .
This church was
acently rich in ecclesiastical ornaments , vestments & c . of
which a catalogue is extant : the church plate comprises two
silver chalices , both of 1560 : the church was carefully restored in 1878 , when an organ was erected at the expense of
F. C. Capel esq . of Wilmington , Kent , in memory of his
father , the late J. B. Capel esq . of North Cray , Bexley :
the east window was filled with stained glass in 1881 , in part
as a memorial to the late Mrs. J. C. Barnard , of Great
Dunmow , who died 6 June , 1881.
The register dates from
the year 1597.
The living is a vicarage , tithe rent – charge
£ 140 , net yearly value £ 250 , including 31 acres of glebe ,
with residence , in the gift of the Lord Chancellor , and held
since 1872 by the Rev. Arthur Pertwee M.A. of Pembroke
College , Oxford .
St. James's chapel – of – ease , situated in the
middle of the town and erected in 1837 , is a large and plain
building of brick , with a western turret containing one small
bell , removed from the church of All Saints , and a clock ,
placed in 1887 by publie subscription : there are sittings for
700 people .
Here are Wesleyan , Free Methodist , Congre
gational and Swe lenborgian places of worship .
The chari
ties comprise 2 128. yearly for the poor , left in the year 1632
by John Sympson , rector of St. Olave , Hart street , London ,
and a native of this place , and 6 a year for the repair of
the parish church , left by the late Miss Jolly , of Brightling
sea .
Edward Westwood and George Bradley esqrs , are
lords of the manor of Brightlingsea and John Bateman esq .
J.P. of the manor of Moverons . The Earl of Onslow and
John Bateman esq . J.P. are the principal landowners .
The
soil is gravelly and sandy loam ; subsoil , sand . The chief
crops are wheat , barley and oats .
The area is 2,873 acres
of land and 682 tidal – water and foreshore ; rateable value ,
£ 9.572 ; the population in 1881 was 3.252 .

EAST END GREEN and HURST GREEN are parts of the
parish .

CINDERY ISLANDS are two narrow islands in the river
Colne , about 1 mile long .

POST , M. O. O. & T. O. , S. B. & Annuity & Insurance Office .
-Samuel Minter , postmaster . Letters arrive from Col
chester at 7.15 a.m. & 12 noon & 7.30 p.m .; dispatched at
12.45 , 6,20 & 7.30 p.m.

PUBLIC ESTABLISHMENTS
Coast Guard , Adam Smith , chief officer
Custom House , Station road , Charles Collis , examining
officer ; James Frost Smith , out – door officer ; William G.
Bultitude , Willie Tracey , Charles H. Travers , Charles H.
Harris & Charles Coller , boatmen
Masonic Lodge ( 433 Hope ) , Swan hotel ; mon . on or before
full – moon monthly , 7.30 p.m .; John E. Wiseman , High
street , soc
PUBLIC OFFICERS :
Surveyor , Isaac Heigho , New street
Admiralty Surgeon & Agent , Medical Officer & Public
Vaccinator , Brightlingsea district , Tendring union &
Medical Officer of Health , Colchester Port , Charles Arthur
Squire Ling , High street
Lloyd's Agent , Albert Aldous Jefferies , High street
Water Bailiff & Port Sanitary Inspector , Joseph Ames ,
Queen street
Assistant Overseer , Assessor & Registrar of Marriages ,
William Folkard , High street
Registrar of Births Deaths , Wivenhoe sub – district ,
Lexden & Winstree union , George Parker , High street ;
deputy , Walter H. Parker

SCHOOLS :
National ( boys ' ) for 195 children ; average attendance , 120 ;
Stephen Spink , master ; ( girls ' & infants ' ) enlarged in
1888 , for 250 children : average attendance , 220 ; Miss
Mary Annie Rayner , mistress
Wesleyan ( mixed ) , for 340 children ; average attendanes ,
294 Edward T. Pawson , master ; Miss Kate Everett ,
infants ' mistress
Railway Station , Richard John Sargent , station master ;
Thomas Fuller , goods & parcels agent

CARRIER TO COLCHESTER – Benjamin Day , mon . wed . fri . &
sat . returning same day
PRIVATE RESIDENTS .
Aldous Edwin , Sidney street
Aldous Robert , High street
Barnes George , Station road
Baterman John J.P. Brightlingsen hall
Blyth Charles , High street
By les Rev. Gen , Vipond ( Weslyn . ] , John st
Closson John , Hurst green
Cobbold Arthur Thomas , Park road
Cook Thomas , Hurst villa
Folkard Robert , Hurst green
Francis Mrs. High street
Francis Robert , High street
Frodsham George Edward , Lower green
Griffiths Rev. Charles [ Swedenborgian ] .
Park road
Hook – Child Albert Theodore , Gresham
house , New town
Ling Charles Arthur Squire , High street
Orinan Henry , Sidney street
Parker George , High street
Pertwee Rev. Arthur M.A. Vicarage
Underwood Mrs. Hurst green
Watts William , New town
Wilkins Rev. Jn . [ Congregatnl . ] , High st
Wiseman John Edward , spring road

COMMERCIAL .
Aldous Albert Jefferies , yacht , gig &
boat builder , Waterside & Station rd
Aldous James , builder , New street
Aldous Robt.builder , High st . & Waterside
Aldous William , painter , Queen street
Alexander Arthur , boot maker , High st
Alexander Joseph , butcher & smack
owner , Sidney street
Alexander Joseph , jun . Star of Denmark
P.H. Sidney street
Ames Ernest , draper , New street
Ames Joseph , water bailiff & port sani
tary inspector , Queen street
Angier George , tailor , High street
Appleby John , boot maker , High street .
Ash George , Royal hotel , New street .
Atkins Ellis Charles , accountant ,
Trinity house , Queen street
Austin Albert Wm . pork butcher , High st
BaconChas . maltster , farmer & landownr
Bacon James , shopkeeper , New street
Bacon Morris , fariner , March farm
Bacon William , Anchor P.H. Waterside .
Bagley Albert , cabinet maker , High st
Bagley Thomas , baker , High street
Bagley William , baker , High street
Barnes Charles , shopkeeper , High street .
Barnes Joseph , jun . draper , New street
Barnes Joseph Hy , milliner , Hurst grn
BarnesSaml . ( Mrs. ) , smack ownr.John st
Bateman & Knatchbull's Farm Stores
( Richard Attkins , manager )
Bird William , White Lion P.H. High st
Bishop Wm . boot & shoe ma . Low grn
Blyth Arthur , plumber , Sidney street
Bowdell Joseph , master mariner &
smack owner , Station road
Bragg Alfd . Wm , oyster mercht . New st
Bragg William , oyster merchant , New st
Brasted Charles , smack owner , High st
Bridges Joseph , boat builder , New st
Brightlingsea Churchman's Club ( T.S.
Bagley , jun . see )
Brightlingsen Gas & Coke Co. Limited
( Ellis Charles Atkins , sec )
Brightlingsea ( The ) Oyster & Fishing
Smack Mutual Insurance Society
Limited ( A.A.Jefferies , sec . ) , High st
Brightlingsea Reading Rooms ( W. F.
Pattison , see )
Brightlingsea Water Co. Limited ( Ellis
Charles Atkins , sec )
Broom W'm . clothier , Wellington st
Brown Fredk.market gardener , High st
Brown Joseph , farmer , Hurst green
Button Richard , grocer . New st
Canham John , grocer & smack owner ,
New street
Chaplin Jas master mariner , Lower gn
Clark Benjamin , grocer , Lower green
ClemenceEdwd.smack owner , Sidney st .
Colchester Bank ( Round , Green , Hoare
& Co. ) ( sub – branch ) , open tues .
fri . High street ; draw on Lloyd's
Bank Limited , London x c
Collis Charles , principal eustom house
officer , Station road
Connold John Bagley , draper , High st
Cook George , sho , keeper , Spring road
Cooper Elizabeth ( Miss ) , ladies ' school ,
High street
CooperGeo , Brown , chem . & drgt . High st
Coppin Walter C. baker , Sidney street
Cousins George , pork butcher , Spring rd
Cracknell Fred , Victoria P.H. Spring rd
Cross John , smack owner , New street
Cross Robert , smack owner , Sidney st
Day Benjamin , carrier , John street
Day Sophia ( Mrs. ) , oyster mer . New st
Day William Ambrose , oyster merchant
& ship owner , High st
Death Isaac , beer retailer , High street
Dines Win marine store dealer , Queen sti
Downes John , master mariner & smack
owner , New town
Eade Edward Hy , baker , Wellington st
Eagle Alfred Wm . oyster mer . New st
Eagle Joseph M. smack owner , High st
Ellis Charles , stnack owner , Park road
Field John , grocer & draper , High street
& Hurst green
Fields George , tailor , High street
Fisher Caleb , smack owner , Sidney st
Folkard William , ironmonger & assistant
overseer & reg . of marriages , High st
Folkard Wm . Wesley , hairdresser , New st
French Isaiah , master mariner , Park rd
French Robert , master mariner & smack
owner , Park road
Frost Benj , master mariner , New town
Frost Benj jun.master mariner , New twn
Fuller Thomas , goods & parcels agent to
Great Eastern Railway Co. The Park
Gees John , Park hotel , & smack owner ,
Park road
Gilbert William , smack owner , Sidney st
Gilders Alfred , dealer . High street
Girling Frank , farmer , Lower farm
Goddard John , master mariner & barge
owner , Wellington street
Goddard Thomas , smack owner , Duke st
Goddard Thomas , jun . master mariner
& barge owner , Duke street
Gooch Charles , grocer , Sidney street
Goodwin James , master mariner , New st
Gould William Lewis , grocer , High st
Grimsey Isaac , beer retailer & black
smith , Park road
Hammond William Henry ( Mrs. ) , beer
retailer & baker , Queen street
Harmer Susannah ( Mrs . ) , Swan hotel , &
farmer , High street
Harmer William Clarence , tobacconist
& tea dealer , High street
Harris Anthony Joseph , seed grower &
florist , Hurst green
Harris Rebecca ( Mrs. ) , baker , High st
Hedgethorn George , oyster merchant &
smack owner , Sidney street
Hedgethorn Jn.smack owner , Hurst gn
Heigho Isaac , master mariner , New st
Hibbs Alfred , barge owner , Station rd
Howard Elijah , smack owner , Waterside
JeffLaly & May ( Misses ) , shopk prs . New st
Jefferies Albt . Aldous , oyster mer . High st
Jefferies Alfred Jn . oyster mer . New st
Jefferies James , oyster merchant , New st
Johnson MauriceSadler , butchr . High st
Keddington William , painter , Station rd
Keets Thomas S. master mariner &
smack owner , Sidney street
Kent George , beer retailer , High street
Lake Joseph , carpenter , & King's lead
P.H. Lower green
Lamb Chas.watch & clock ma.Sidney st
Lee William , smack owner , Park road
Ling Charles Arthur Squire , surgeon ,
medical officer & public vaccinator
for Brightlingsen district , Tendring
union , medical officer of health Col
chester , port & admiralty surgeon &
agent , High street
Littlewood & Son , cabinet mas.Sidney st
Lord Walter , tailor , High street
Lowns Thos . ( Mrs. ) , shopkpr . New town
Lungley Abraham , shoe maker , High st
Lungley Jn . boot & shoe ma . Sidney st
Major Jas , master mariner , Station rd
March Maskell , boat builder , Waterside .
March Eliza ( Mrs. ) , grocer , High street .
Martin Robt . Jas , smack owner , New st
Martin Ernest , shoe maker , New street .
MartinShadrach , master mariner , New st
Miller Fred & Son , brewers , wine &
spirit merchants , High street
Mills Arthur Richard , clothier , High st
Minter Edward , stationer , High street
Minter Frederick , blacksmith , New st
Minter Samuel , postmaster , High st
Musson & Co. oyster merchts . Waterside
Munson John William , Freemasons'Arms
P.H. Sidney street
Nurse Fredk . ( Mrs. ) , baker , New st
Orman ( eo , Freemasons ' tavn . New st
Ormes Herbert , butcher , High street
Osborn Wm . Isaac , grocer , Wellington st .
Pannell & Hibbs , sail makers , Waterside
Pannell William , grocer , Lower green
Parker Geo , surgeon , & reg . of births &
deaths for Wivenhoe sub – dist . High st
Parker Walter H. deputy registrar of
births & deaths , Wivenhoe sub – dis
triet , Lexden & Winstree union
Patrick James , beer retailer , Sidney st
Pattison William Fredk.sail maker , ship
chandler & smack owner , Sidney st
Peggs Cornelius , corn chandlr . Watersd
Pitt Robert , Duke of Wellington P.H.
Lower green
Polley Hazell , smack owner , High st
Pudney Abrhm . greengrocer , Lower grn
ReeveAdolphus William , boot ma . High st
Richardson Frank , butcher , High street .
Richardson Robt.oyster mer . Hurst grn
Richardson Thos , beer retlr . Hurst gra
Riches George , farmer , Queen street
Root Charles , Yachtsman's Arms P.H.
Waterside
Round , Green , Hoare & Co. bankers ,
Colchester branch ; open on tuesday
& friday , Sidney street
Ruffell Florence & Kate ( Misses ) , dress
makers , Wellington street .
Ruffell Fredk . smack owner , Sidney st
Ruffell Geo . land surveyor , Wellington st
Sadler Amelia ( Mrs . ) . shopkpr . Sidney st
Salmon John , smack owner , Sidney st
Salmon Frdk smack owner , New street
Salmon William , grocer , High street
Serutton Osmond Palmer , farmer &
miller ( steam & wind ) , Hurst green
Sellens Alexander , draper , Queen street .
Sellens Alfred , draper , Queen street
Skinner Jesse , baker , Lower green
Smith Adam , chief officer in charge
coast guard , Sidney street
Smith Edmond , smack owner , Sidney st
Smith George , shopkeeper , Sidney st
Southgate Daniel , Cherry Tree P.H.
Colchester road
Sparling Samuel , smack owner , New st
Stammers Joseph , oyster mer . Low.gra
Stammers Wm . oyster er.Low , green
Tabor Alfred William , oyster merchant
& smack owner , Duke street
Tillett James , snack owner , Sidney st
Tracey Rt . M. master marinr.Spring r
Tranham Benjamin , smack owner &
oyster merchant , High street
Underwood Jn . smack ownr . Rope walk
Underwood Joseph , beer retir . Hurst grn
Ward James , barge owner , Station road
Ward Thos . wholesale fruiterer , High st
Ward John , smack owner & ship smith ,
New street
Watcham Jonathan , enal dir.Station rd
Webber Edward , smack owner , New twn
Wellum Thos , smack owner , Sidney st
Wenlock Benj . smack owner , High st
Wenlock Caroline ( Mrs. ) , Railway hotel
Went Alfred William , ship chaniler &
smack owner , agent to W. & Gilbey ,
wine & spirit merchants , Waterside
Went Fred , stationer , High street
Went Jatnes , smack owner , Chapel rd
Wheeler James , beer retailer , New st
Wheeler William , smack owner . New st
Whislay William & Son , ironmongers ,
High street & Waterside
Whiten William , faruer , High street
Wilson Webb Thomas , builder & smack
owner , Sidney street
Woods Frederick , baker , New town
Woolvett Arnold , shopkeeper & smack
owner , High street
Woolvett John , smack owner , Hurst gra
Woolvett Wm . smack owner , Dukefield
Young Mariners Guild Room , Lower grn
More about Essex