Glimpse history through old images of Swalwell, in North East England.
River Derwent
We start with two images, with a closeup added to each for extra detail, which show the River Derwent peacefully meandering along a landscape which was already heavily industrialised by the early twentieth century.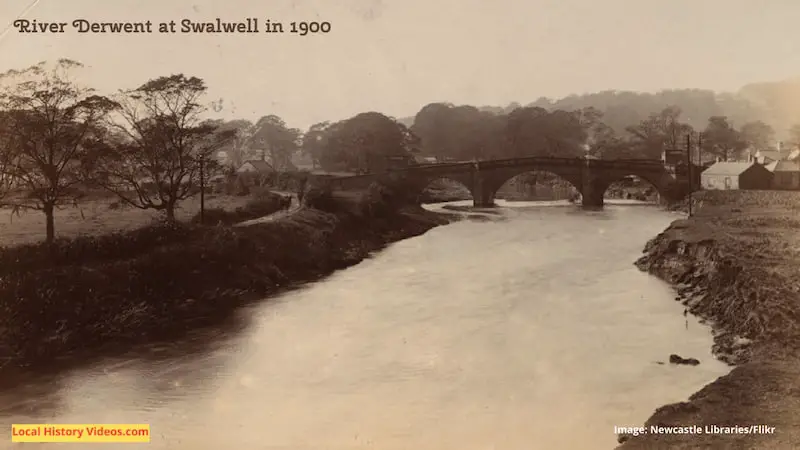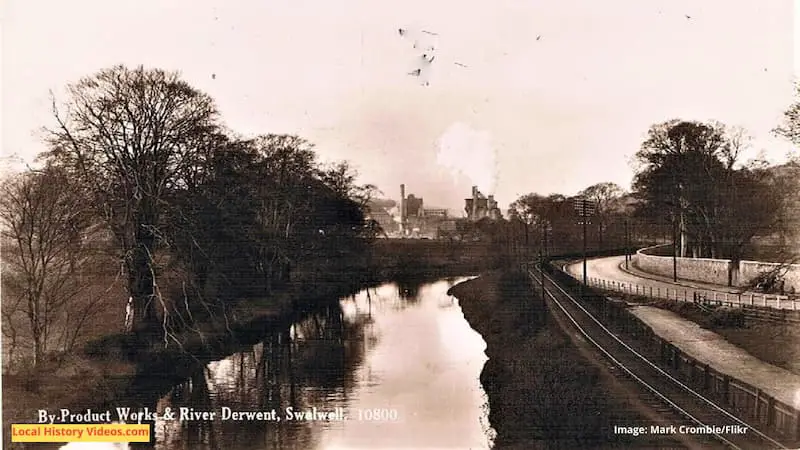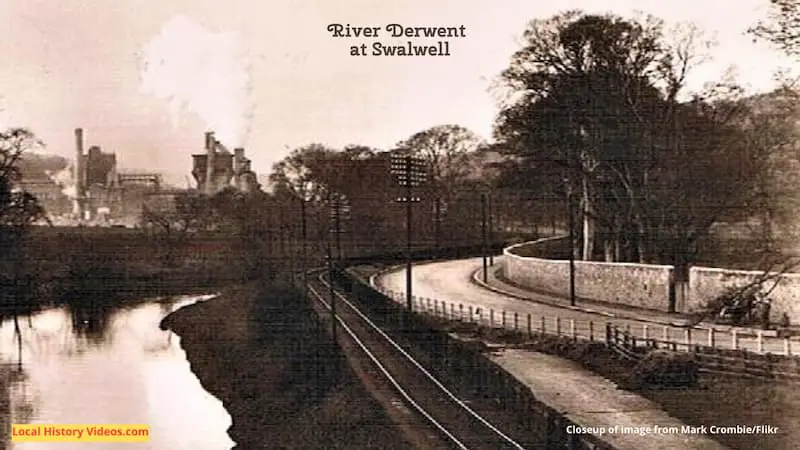 ---
Napier Road
Napier Road was photographed just as the whole street was under construction – without a sign, traffic light or bollard in sight! No workmen in sight either, so perhaps some things never change. Even in the middle of all this chaos, the children are out playing in the street.
There's so much to see in this one image, that I've added five closeups.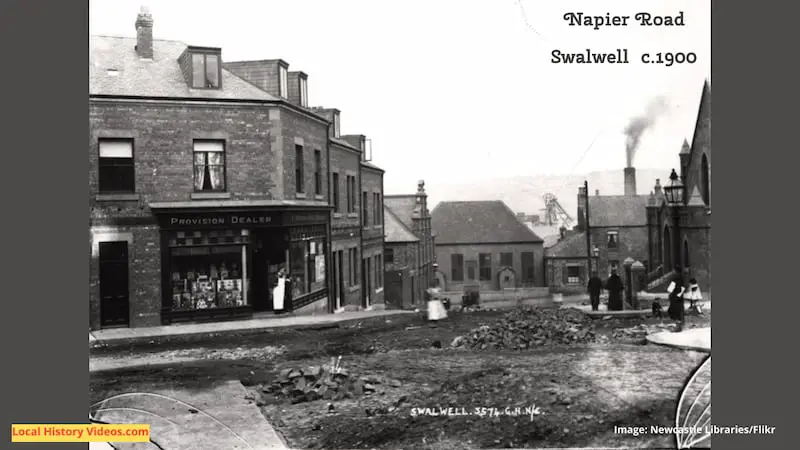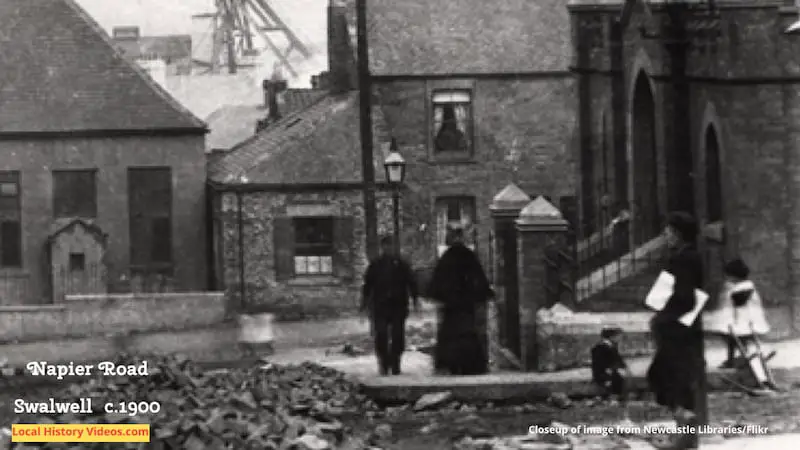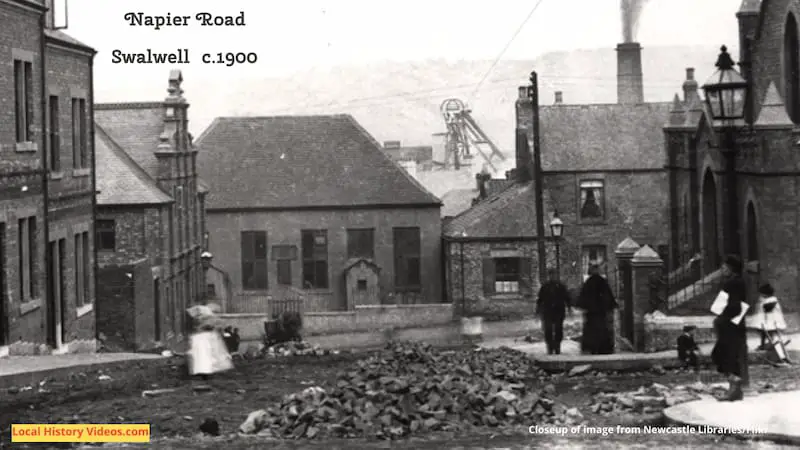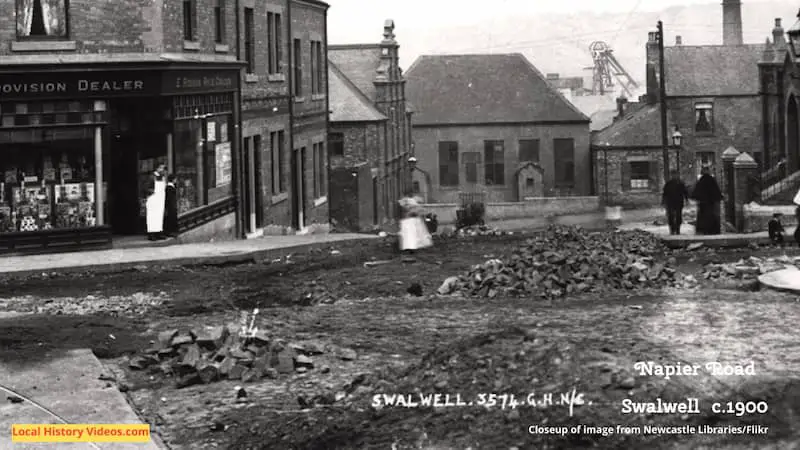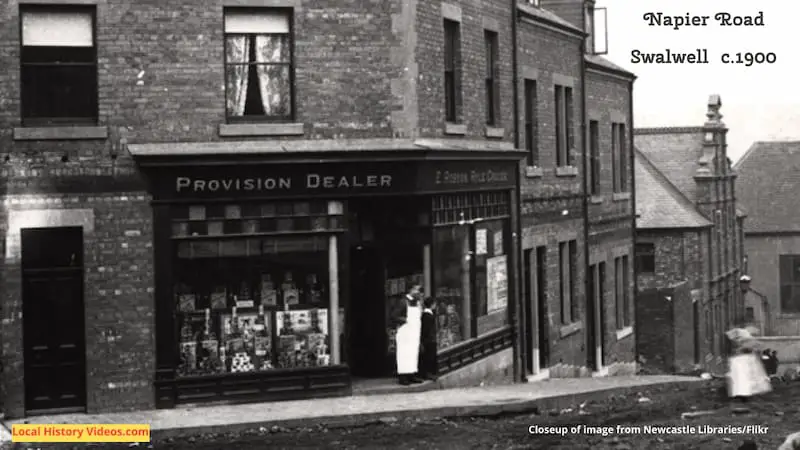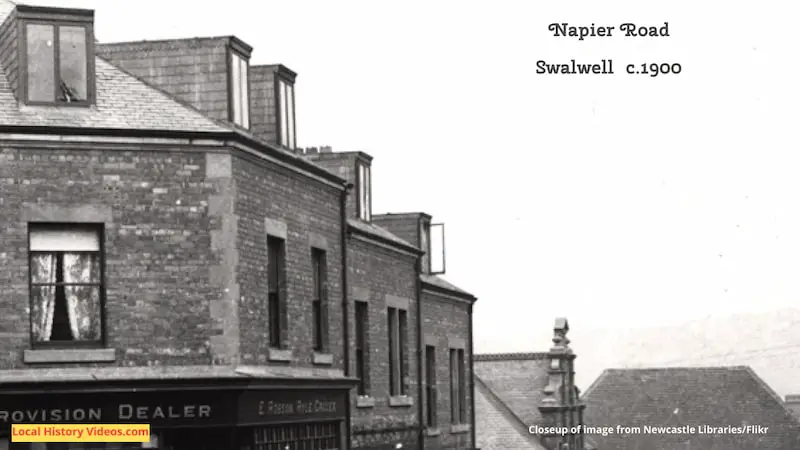 ---
The Crow Tree
The Crow Tree pub, once located where you'll now find Blaydon Rugby Club, served customers arriving along the country road on their bicycles and carts.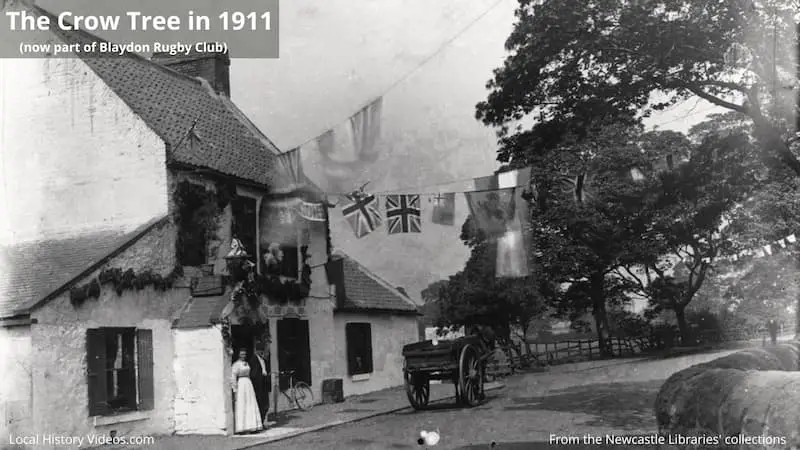 ---
Bus Accident
Not surprisingly, this scene of disaster quickly brought out crowds of sightseers.
I've added three closeups so you can read the advert on the bus, see some of the crowd gathered, and admire the attractive stone and metal used for functional pipework.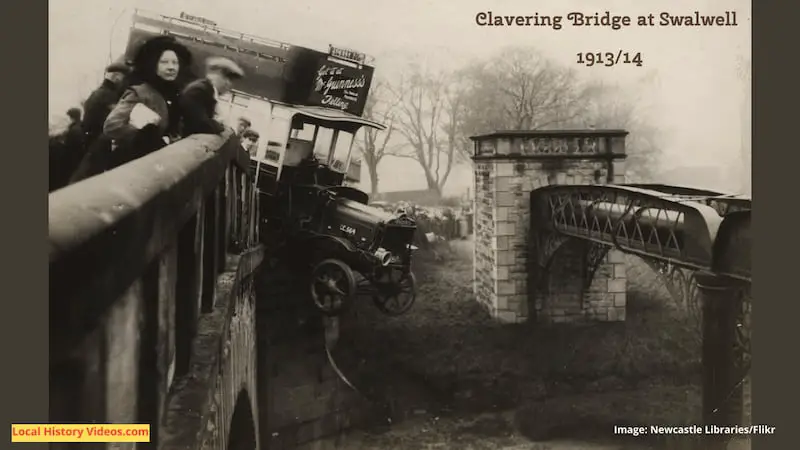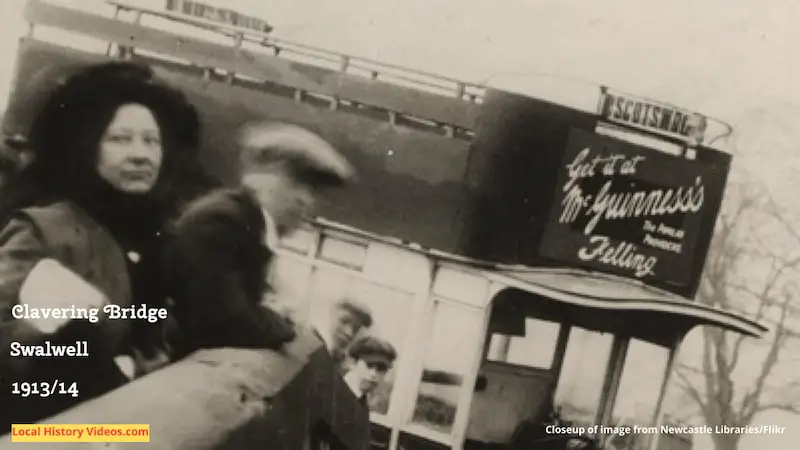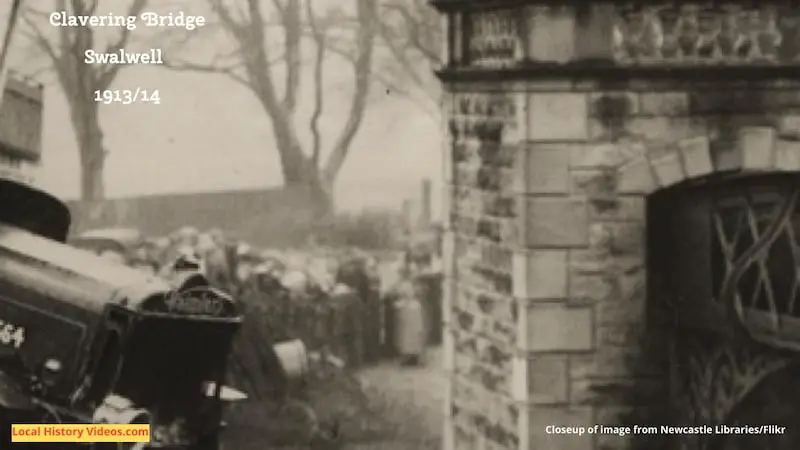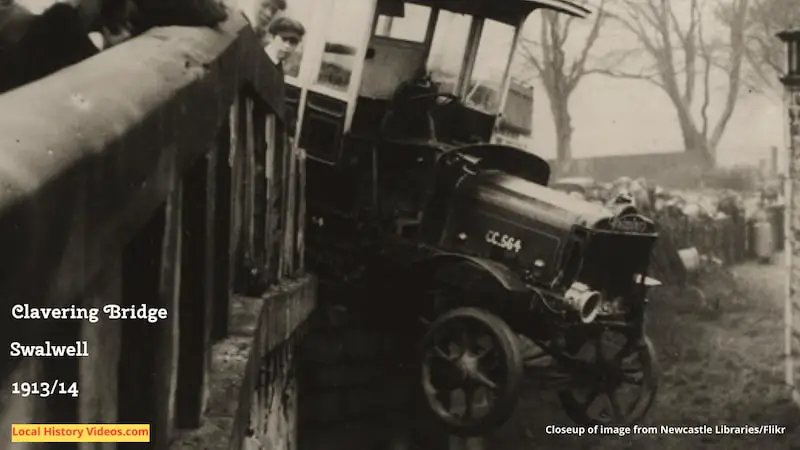 ---
Derwent Viaduct
This little area is well known to locals as it passes the route to the Metrocentre. But it was once an industrial site providing heavy and skilled manual work.
There are two old photos shown here, each with a closeup for more detail. Notice the old vehicles, and the buildings in the background.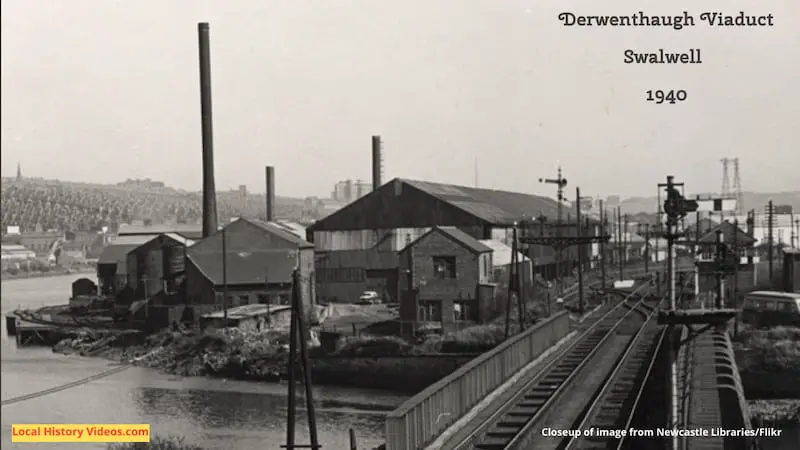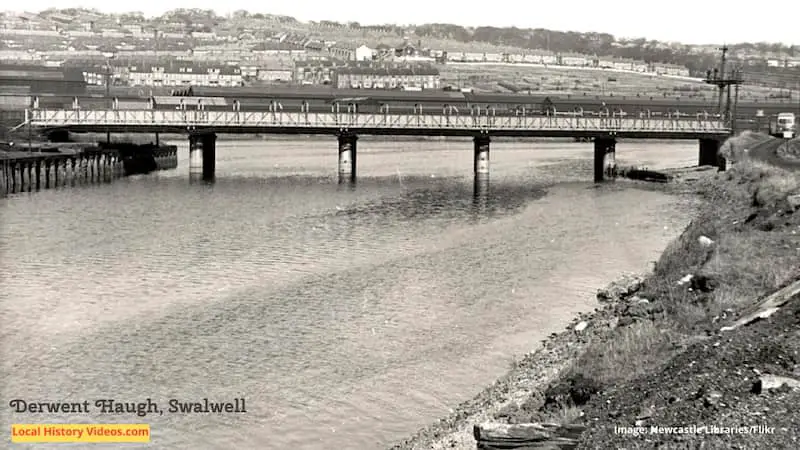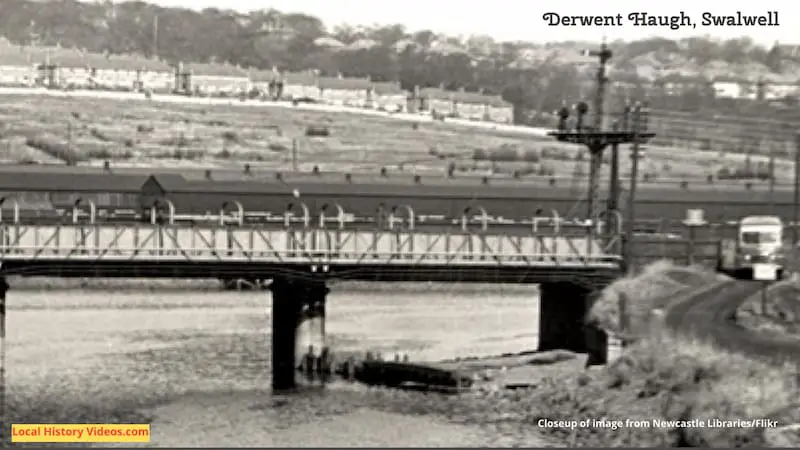 ---
Historic Book
Extract from:
"History, Topography, and Directory of the County Palatine of Durham: Comprising a General Survey of the County, with Separate Historical, Statistical, and Descriptive Sketches of All the Towns, Boroughs, Ports, Parishes, Chapelries, Townships, Villages, Wards, and Manors. To which are Subjoined A History and Directory of Newcastle-upon-Tyne, and a List of the Seats of the Nobility and Gentry", by William Whellan & Co
Published in 1856
Page 921:
"SWALWELL township is situated near the junction of the Tyne and Derwent; and was formerly held by a family bearing the local name, who continued its possessors until about the year 1412, when it passed to the Thorntons, and afterwards to the Lumleys. The number of its inhabitants in 1081 was included in the parish returns; in 1811, it was 1,393; in 1821, 1,320; in 1831, 1,372; in 1841, 1,611; and in 1851, 1,429. This decrease of population is ascribed to the closing of the large iron-works which formerly existed here".

"The Village of Swalwell is about four miles west-by-south of Gateshead, and possesses chapels belonging to the Presbyterians, Primitive, Wesleyan, and Wesleyan New Connexion Methodists, and Wesleyan Methodist Reformers; a Charity School, and a Mechanics' Institute and Library. There is a good bridge, of three arches, over the Derwent, near Swalwell".
---
More about Tyne & Wear