Glimpse history through old images of Marlow, Buckinghamshire, England.
Marlow has pretty, historic streets and weeping willows along the banks of the Thames. First footage of the attractive Buckinghamshire town appears during the First World War, which at the time was known as the Great War.
---
Old Pictures of Marlow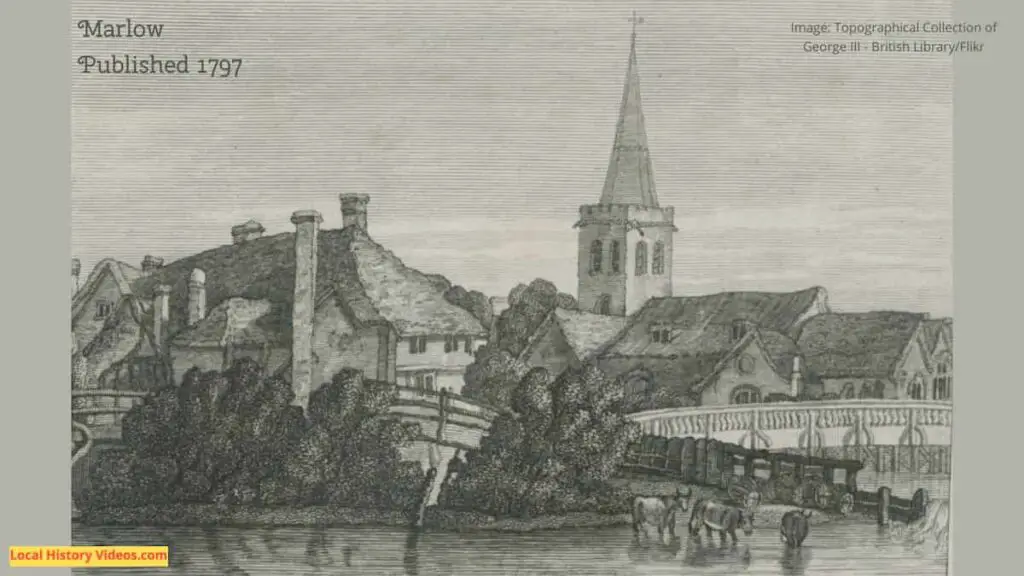 ---
Boulters Lock
Two Edwardian short films, one recorded during the Great War (later known as World war I), and the second filmed in 1919, captured busy days at Boultons Lord, or Boulters Lock.
---
First Women's VIII Boat Race
This was the very first women's VIII boat race in Britain, happening a few months after the end of the Great War (WW1).
The students at Newnham College (still an all-women's college a century later in 2019) struggled to find competitors, and Oxford University refused to allow any of their female students to participate. The London School of Medicine, however, agreed to forward a team. 
A small crowd turned out to watch, and British Pathé filmed the historic event.
Ladies Eights Marlow Regatta (1919) – British Pathé on YouTube
---
Marlow Events in the 1920s
Four short films show various activities on the Thames.
We see the Thames Regatta in 1920, Newnham College winning the Ladies University Boat Race in 1922, the Oxford Blues in 1924, fun and games at the Regatta in 1925, and the Oxford and Cambridge Boat Race 1928.
---
Sir George Higginson's Funeral (1927)
In 1927, the oldest general in the British army, Sir George Higginson, died. His military funeral included an early hearse motor vehicle.
The Last Salute (1927) – British Pathé on YouTube
---
Floods (1929)
A newsreel from 9th December 1929 showed the outcome of the wettest November for 46 years.
Floods at Marlow Weir – British Movietone on YouTube
---
Marlowe Events In The 1930s
---
Marlow Reach In The 1940s
Marlow Aka Marlow Reach (1942) – British Pathé on YouTube
---
Marlow Regatta 1954
Marlow – Aquatic Sports (1954) – British Pathé on YouTube
---
Marlow Caravan Site (1965)
This 1965 short film shows people enjoying their stay in a caravan on a Marlow camping site. Scenes include the crowded swimming pool, the supermarket, and the immaculately maintained gardens around the caravans.
Homes On Wheels (1965) – British Pathé on YouTube
---
George & Doreen Dereford (1966)
Artists George and Doreen Dereford were filmed working on an Aztec mosaic sculpture at their home in Marlow in 1966.
They'd also completed a mosaic of a Royal Coat of Arms, commissioned for the British Embassy in Tel Aviv.
The film archive holds a letter from George and Doreen, and a news cutting about their work.
Modern Aztec (1966) – British Pathé on YouTube
---
River Thames in 1969
This footage of the River Thames in 1969 opens with tourists enjoying barge rides.
Later scenes take in the key sights of London from the river.
Marlow And London River Scenes (1969) – British Pathé on YouTube
---
Marlow Railway Station 1973
Filmed on 15 July 1973 at Marlow railway station.
6998 Burton Agnes Hall, "THE MARLOW DONKEY" 1973(SLIDE'S) – locomotive67 on YouTube
---
Marlow in the 1970s
Footage of Marlow's streets in the 1970s includes heavy traffic and market stalls at the side of the road.
Buckinghamshire Traffic (1970-1979) – British Pathé on YouTube
---
Marlow's 1970s Shopfronts
A home cine film shows the shopfronts and banks, filmed from a car.
Buckinghamshire street, 1970's – Film 35541 – HuntleyFilmArchives on YouTube
---
Marlow Donkey Railway (1980)
Steam locomotives were brought out of retirement to run along the Marlow Donkey Railway in 1980, bringing lots of steam enthusiasts to the area.
Marlow Donkey Railway, 1980s – Film 1132 – HuntleyFilmArchives on YouTube
---
Marlow in the late 1980s
Marlow, Bucks – late 80's – Steve P on YouTube
---
Late 1980s Christmas
Probably filmed at Christmas 1989.
Marlow High Street, Bucks. Christmas 1989 (I think) – Steve P on YouTube
---
Marlow in 1990
A quick look at the town back in July 1990.
Marlow, Bucks July 1990 – Steve P on YouTube
---
Spice Girl Wedding (1998)
On 13th September 1998, Melanie Brown, known as the Spice Girl Mel B and Scary Spice, married stage dancer Jimmy Gulzar, at the 12th century church of St John the Baptist, which was next to their family home.
UK – Spice girl Mel B gets married – AP Archive on YouTube
---
Queen Elizabeth II (2002)
In June 2002, a statue of Olympic oarsman Steve Redgrave, who hails from Marlow, was unveiled in Higginson Park by Queen Elizabeth II. She was accompanied by the Duke of Edinburgh.
The Queen's Golden Jubilee visit to Marlow in 2002 – Russell Crombie on YouTube
---
Marlow in 2011
Drive through Marlow, Buckinghamshire April 19, 2011 – Chiltern Views on YouTube
---
Marlow Half Marathon
The first video was recorded on Sunday 4th Nov 2012, and shows how wet and muddy the route was.
The second video was recorded on Sunday, 3rd November 2013, showing participants getting ready for the race.
---
Christmas Lights 2013
Gathering for the annual Xmas Lights switch on event, in November 2013.
Marlow Xmas light switch on – Videoreporterbfp on YouTube
---
Flooding 2014
Prolonged rainfall led to flooding along the riverside on 15th February 2014.
---
More about Buckinghamshire
.
Back to Buckinghamshire page
Back to Home page
With thanks to C Morrison for use of the image at the top of this page.