Glimpse history through old images of Margate, in the county of Kent, England.
Margate's sandy beaches made it popular with holidaymakers throughout much of the 20th century. Both visitors and residents enjoyed the amusement parks and this is reflected in the many home videos taken.
Trouble first appeared in the 1960s, with infamous tension between the mods and rockers. From the 1980s onwards foreign holidays drew away many of the visitors and both the town and amusement park have experienced difficult times. 
Margate Jetty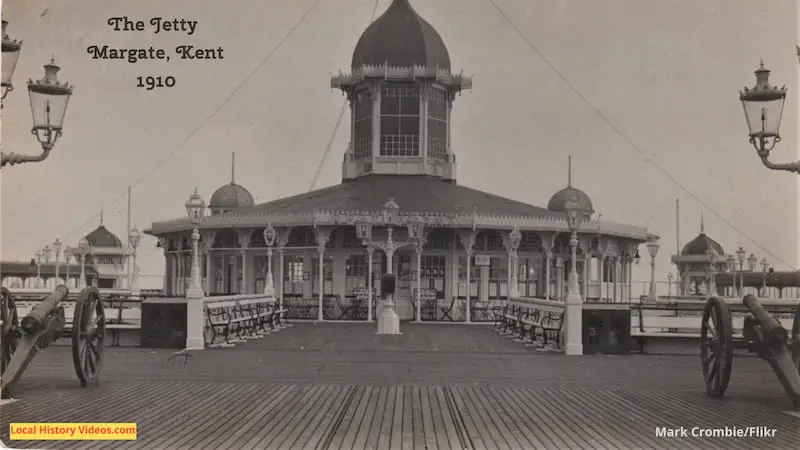 Margate Pier, also known as Margate Jetty, was designed in 1856. The first major threat to its existence came with a storm in 1877 which left up to 50 people marooned until the next day. By 1976 it had been abandoned and was almost totally destroyed by the storm of 1978, which is documented in some of the videos below. 1998 saw the final pieces of the structure being dismantled and removed.
Old Pictures
Old Prints of Margate 1814 -1890
Old prints of the seafront.
Margate 1814 -1890: steve freeman on YouTube
Trams in the Early 1900s
Historic colour postcards and pictures of trams running along Margate's streets.
Margate Trams, 1900's – Film 4530: HuntleyFilmArchives on YouTube
Margate Sea Front 1890 – 1930
A fascinating montage of postcards and pictures from 1890 to 1930, collated by Steve Freeman.
Margate Sea Front 1890 – 1930: steve freeman on YouTube
Old Margate Beauty Contests 1938 – 1969
These photos show beauty contents held in the seaside town between 1938 and 1969.
Old Margate Beauty Contests 1938 – 1969: 12cant on YouTube
Titles being fought over include:
Miss Grace and Bearing
Miss Sports Girl
Miss Ankle and Calf
Golden Garter Girl
Miss Charming
Miss Personality
Miss Shapely Silhouette
Children's Competition
Miss Safari
Miss Harp
Ocean Princess
Miss Lovely Legs
Miss Physical Elegance
Neatest Figure
South Seas Sirens
Military Maids
Happy Snappy Girls
Dreamland's Heyday
1863 saw the opening of a restaurant and dance hall known as the 'Hall by the Sea'. It was sold in 1870, eventually ending up in the hands of a circus owner, 'Lord' George Sanger. He also bought a plot of land just behind this site, and incorporated it into his new Pleasure Gardens. The many attractions to entertain customers included circular riding machines and a menagerie.
George Sanger died in 1911. By 1919, John H. Illes owned the site. The amusement entrepreneur and his family already owned several amusement sites in the UK and overseas.
Inspired by his visit to the Dreamland Amusement Park at Coney Island in Brooklyn, New York, Illes renamed the Margate Pleasure Gardens as Dreamland.
In 1920, the 'Scenic Railway opened to the public. A flanged wheel coaster operated by an on-board brakeman, this was Dreamland's first large mechanical ride for adults. Over time, the range of rides available included the Wall of Death.
DREAMLAND Margate – Recalling its HEYDAY – The Funshine Capital of the South-East .wmv: earlyamusementimages on YouTube.
In 1968, the Illes family sold Dreamland, and the amusement park passed through several hands. Its name changed, too, so in 1984 it was known as the Bembom Brothers Theme Park.
The site closed in 2005. Then the Town Centre Regeneration Company acquired it.
Plans to reopen and regenerate this historic visitor attraction through the Dreamland Trust has already benefited from Heritage Lottery funding and the donation of several classic riding machines.
In The 1920s And 1930s
Fairground Scenes At Margate (1920-1939)
Wonderful footage of people enjoying themselves a century ago.
Fairground Scenes At Margate (1920-1939): British Pathé on YouTube
Broadstairs and Margate in 1930
Filmed at Joss Beach in 1930, this is part of the BFI's Britain on Film collection.
Broadstairs and Margate Items (1930) | Britain on Film: BFI on YouTube
In The 1950s
Scenes of 1954
This footage includes scenes of classic 1950s seaside life, including lots of deckchairs, donkeys, sticks of rock, and a Punch and Judy show.
Seaside Day (1954): British Pathé on YouTube
Margate Railway Station in the 1950s
We see an electric train arrive at the railway station, then it's over to the beach.
Margate Railway Station 1950's. Archive film: HuntleyFilmArchives (YouTube)
Film & Stills from the 1950s & 1960s
In 1961, YouTuber kester 1940 took the MV Royal Daffodil from Southend-on-Sea to Margate. He recorded an 8mm home movie of Dreamland. Around it are clips from other sources.
Margate in the 1950s & 1960s: kester1940 on YouTube
In The 1960s
Clifton Baths Cliff Railway in the 1960s
The Clifton Baths, which became the Cliftonville Lido complex had a funicular lift installed in 1912. Commonly called a cliff railway, it was once the shortest and steepest funicular lift in the country.
Wilf Watters – Clifton Baths Cliff Railway (Margate) [1960s]: slapavisionarchival on YouTube
Messr R Waygood & Co designed and installed the funicular lift at the Clifton Baths in 1912. They were experts in this field, having two years previously installed the tunnelled funicular lift at Broadstairs' Viking Bay. Other projects of theirs included the shaft lifts at Ramsgate, Margate's Walpole Bay Hotel lift, the lift in the Ramsgate Granville Hotel, and the Leas Cliff Lift.
Unfortunately, chalk cliff exposure to the elements, and tidal activity in the days before modern sea defences meant the cliff railway fell into disrepair. Attempts were made to restore and improve its structural health, but by 1970 the facility was closed.
Dreamland in the 1960s
A 1960s visitor to Dreamland records his family outing.
DREAMLAND MARGATE 1960s.: GRAHAM WHITE on YouTube
Margate and Ramsgate in 1962
A home movie of an English family holiday in Kent in 1962.
Margate and Ramsgate Kent, United Kingdom 1962: Tina Watson (YouTube)
A Date with The Sun in 1965
In the summer of 1965, Kenneth Horne presented this promotional film about Margate's visitor attractions.
A Date with The Sun, Margate 1965: Defcon Six on YouTube
Mods & Rockers Clash in 1964
This newsreel shows families enjoying the Whitsun sunshine and traditional seaside activities in Clacton, Brighton, and Margate. But the crowds of mods and rockers change the atmosphere, with police coming in to break up the violence.
Whitsun Playtime Aka Mods & Rockers Clash At Margate (1964): British Pathé on YouTube
Mods and Rockers Clashing 1964
More footage of the mods and rockers violence changing the happy bank holiday family atmosphere in 1964
Mods and Rockers Clash at Margate – 1964: VIDEOBEAT dotCOM on YouTube
Family Trip to Dreamland 1960s
A home movie clip of a 1960s family trip to Dreamland.
Dreamland Margate in the 60's: ronayling2 on YouTube
Margate Resort 1960s
This is a promotional film showing some of Margate's attractions for visitor in the 1960s. It includes the M2 motorway, the town centre crowded with pedestrians, the beach, Dreamland, boat rides, Margate Grotto, North Down Park, Dane Park, various old properties, Winter Gardens, pier, Cliftonville Lido, and aerial shots of the town.
Even in the 1960s men were still sitting on the beach wearing clothes they'd wear to work! That man with his thumbs up is Norman Vaughn, who was currently appearing at the Winter Garden Theatre "with a host of other top-line stars".
Margate Resort 1960s Archive Film 31537: HuntleyFilmArchives on YouTube
Family Seaside Holiday 1968
This is a home movie of the Barnes family on holiday in 1968.
Margate 1968 The Barnes Family cine movie: Andy Barnes on YouTube
Dreamland 1968
A home cine film of a happy family trip to Dreamland in 1968.
Dreamland Margate 1968 Super 8mm Cine Film: Gadget on YouTube
In The 1970s
All Go Margate 1971
This promotional tourist information was made in 1971 for the local council. It stars popular TV presenter Michael Aspel.
Thanet Publicity Films – ALL GO MARGATE (with Michael Aspel) [1971]: slapavisionarchival (YouTube)
Thames TV at Margate 1975
On 13 February 1975, Thames TV broadcast this footage of Margate. Includes popular visitor attractions, including Dreamland.
Margate – Dreamland – 1975: ThamesTv on YouTube
Margate in 1975
A home movie of a family trip to Margate in 1975. Includes Dreamland's Rocket Ride, and some trampolines on Margate beach.
Margate 1975: tonysutton64 on YouTube
Margate Beach in 1977
A home movie of people enjoying the beach in 1977.
Margate Beach (1977): British Pathé on YouTube
Family Holiday in 1978
DAVID LEACH – MARGATE – 1978 – FAMILY: salvager2010 on YouTube
Margate in 1978
Home movie footage of the town in 1978
DAVID LEACH – MARGATE – 1978 –: salvager2010 on YouTube
Margate Storm Damage in 1978
Footage showing the destruction of Margate Jetty in 1978, following terrible storms.
MARGATE STORM DAMAGE 1978: malcolm allwood on YouTube
In The 1980s
Dreamland in 1980
In 1980, an enormous Big Wheel opened at Dreamland. 148 feet high, it contained 240 seats!
Dreamland Margate 1980: stablestaple on YouTube
Dreamland in the 1980s
A home movie of a trip to Dreamland in the 1980s.
Dreamland, Margate 1980s: Kevin Gray on YouTube
MARGATE in 1983
Home cine film from 1983.
DAVID LEACH MARGATE – 1983 – CINE FILM : salvager2010 on YouTube
Margate in 1984
Home movie of local streets in 1984.
DAVID LEACH MARGATE HOME VIDEO 1984 PART ONE (1): salvager2010 on YouTube
Bembom Brothers Amusement Park 1984
In 1984, Dreamland was known as the Bembom Brothers Theme Park.
This is 8mm footage of the popular attractions including the Looping Star, the Mary Rose and the Big Wheel.
Dreamland Margate 1984 – Bembom Brothers Amusement Park: Midlife Madness on YouTube
Bembom Brothers Amusement Park in 1987
This is home movie footage from 1987, with some of the amusement park's top attractions of the time.
Dreamland Margate 1987 (silent cinefilm): imansfield on YouTube
Scooter Runs 1986 & 1987
The Margate scooter runs of 1986 and 1987 included camping on wasteground.
Scooter Rally/Run – Margate 1980s: JuicyFatMuffin on YouTube
Scooter Run 1989
This is a TVS local news item from 1989, featuring the Margate Scooter Rally.
Scooter Run – Margate 1989: ArmandT on YouTube
Bembom Brothers Park July 1989
Home movie of a day trip to the amusement park in 1989. Top attractions included the Scenic Railway, Looping Star, Enterprise, Troika, Apollo, and the Melody Swings.
Bembom Brothers Margate July 1989: imansfield on YouTube
In The 1990s
The Sling Shot in 1997
The sling shot was one of the many attractions on offer in 1997.
Sling Shot Margate 1997.: psyclonesteve on youTube
In The 21st Century
Scenic Railway 2003
This footage of the Scenic Railway in 2003 was filmed from the front seat. It was during the Save Dreamland Convention.
The Scenic Railway roller coaster was opened in 1920. It closed in closed in 2008, five years after this footage was recorded. Then a fire caused substantial damage to the historic structure.
Scenic Railway, Dreamland, Margate – Front Seat POV: davidjellis on YouTube
Independent Shops and Shopkeepers Photo project
An interesting photo project recorded the local independent shops and shopkeepers in 2014. They were all within walking distance of each other, from Fort Hill to the High Street.
The Margate Independent Shops and Shopkeepers Photo project: John Newton (YouTube)
More about Kent
Back to KENT page
Back to Homepage