Glimpse history through old images of Folkestone in Kent, England.
Prince Henry's Visit 1927
This silent, black and white footage from 1927 captures the large crowds greeting the arrival of Henry William Frederick Albert, whose titles included Duke of Gloucester, Earl of Ulster, and Baron Culloden. He was the son of King George V and Queen Mary, and would have been about 27 years old at the time of this visit.
The Prince Henry visits Folkestone (1927) – British Pathé on YouTube
---
New Bridge
Silent footage in black and white showed a new bridge under construction in 1930, with the railway trucks in use. There are also glimpses of some buildings near the waterfront.
TRANSPORT: New bridge being built at Folkestone (1930) – British Pathé on YouTube
---
Zig Zag Walk
This photo postcard of Folkestone's Zig Zag Walk is dated 1938.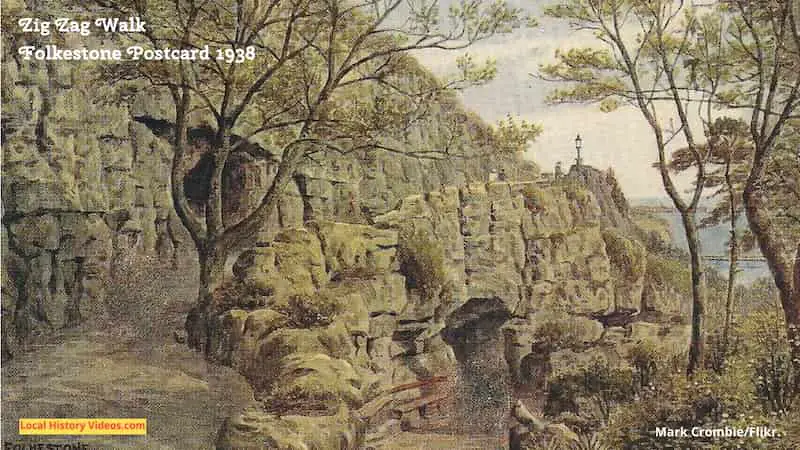 ---
Swimming Competition 1954
A 1954 newsreel about a swimming competition which attracted a number of international competitors from as far afield as Egypt, Lebanon, Syria and Mexico, captured images of Folkestone's outdoor pool and many local buildings in the background.
News In The Swim (1954) – British Pathé on YouTube
---
Drug Factory 1955
This short newsreel shows what workers had to wear in a Folkestone pharmaceutical manufacturing sites, one of the largest in Europe, where they needed to keep the air sterile as they made Terramycin.
It's a prescription medicine still used today to treat the symptoms of wide variety of bacterial infections.
This newsreel was made only 14 years after antibiotics had been developed for medical use. Before that, any minor injury or illness could harm or even kill people of all ages.
Terramycin could be used for a much wider range of bacterial infections that penicillin. It had been imported from the United States, but Folkestone's production plant would save the NHS £7 million a year.
Unfortunately the drug was also marketed to farmers as a way to quickly fatten up pigs and poultry. Today this practice is outlawed across Europe as it increases the risk of antibiotic resistance, although animals still receive large quantities of antibiotics to decrease the risk of disease.
Wonder Drug (1955) – British Pathé on YouTube
---
Tower 1961
This brief silent footage in black and white shows a tower in the process of being dismantled. You can see bridges and buildings in the background.
Folkestone Tower Transported To Duchess (1961) – British Pathé on YouTube
---
Folkestone Bypass 1969
Workers were busy construction Folkestone's Bypass when this footage was recorded in 1969.
The 18 month project to build a new bypass from Cherry Garden Lane to the top of Blackbull Road included 2 subways and a new roundabout, at a cost of £130k.
Folkestone Bypass 1969 – Walker Construction (UK) Ltd on YouTube
---
More about Kent