Glimpse history through old images of Rochester, in the county of Kent, England.
Rochester lost its 800-year-old city status in 1998 by what may have been an administrative oversight. Thankfully, the Norman Castle and Cathedral still remain!
Rochester Cathedral
Along with the Castle and beautiful old buildings, the ancient Cathedral is one of Rochester's many historic attractions that both residents and visitors to the town enjoy.
So it's not surprising to find this lovely old photo of the Cathedral taken sometime between 1890 and 1900. What makes it particularly special is that it sets the Cathedral in its landscape, so we get to see the buildings in the surrounding streets, and the ships and boats floating nearby.
It's such an interesting image that I've also added two closeups so you can see the background in a bit more detail.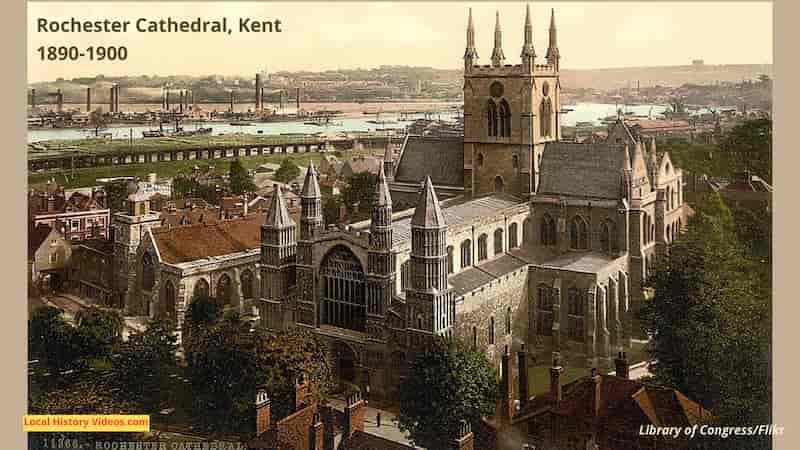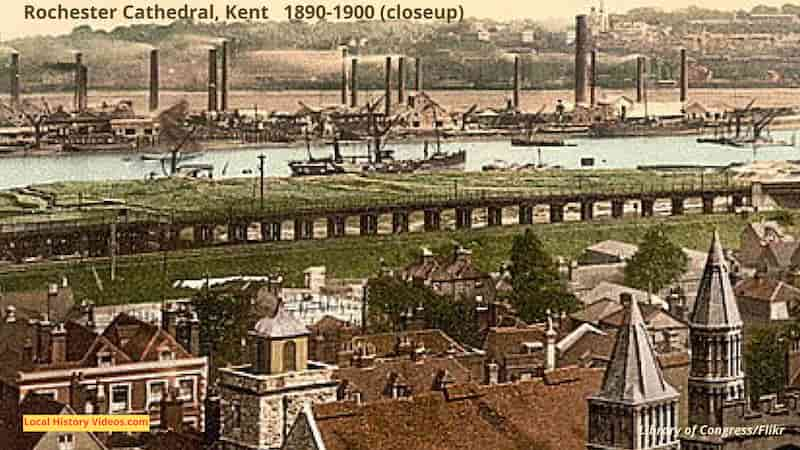 Rochester In The 1920s
Unveiling the Memorial Window (1920)
Admiral Sturdee is accompanied by several dignitaries and smartly dressed women. They all into Rochester Cathedral, with the men removing their hats as they enter. 
Inside, the Admiral unveils a stained glass window. It's dedicated to the memory of the officers and crew of H.M.S. Vanguard, which sank under enemy fire on 9 July 1917 at Scapa Flow. Of the 845 men on board, just two survived.
New War Memorial Rochester (1920): British Pathé on YouTube
Later, several uniformed gentlemen, including the admiral, get into a car. Smartly dressed people, including several men in naval uniforms, now come out of the cathedral.    
St. Bartholomew Hospital (1929)
This is a 1929 film about St. Bartholomew's Hospital, Rochester.
It claimed to be Britain's oldest hospital, having been founded by Bishop Gundulf in 1078.
Throughout, there is an emphasis on the hospital's relationship with the economy and society of the Medway towns. There film also stresses the hosiptal's dependence on voluntary work and charitable donations from the public.
The hospital of St. Bartholomew, Rochester, Kent (1929): Wellcome Library on YouTube
Rochester In The 1930s
Composite Aircraft Test Flight Aka (1937)
This is a curious piece of film make just two years after World War II ended. It shows how Rochester was used for important composite aircraft test flights.
Composite Aircraft Ready For Test Flight Aka Rochester (1937): British Pathé on YouTube
A Visit from the King and Queen (1939)
In 1939, the British monarch and his wife visited the Kent town for an official visit.
King George VI reigned from 11 December 1936 to 6 February 1952. Many people today will know his story form the film "The King's Speech".
His wife Queen Elizabeth later became the Queen Mother, when her daughter Queen Elizabeth II was crowned in 1952.
Their Majesties At Rochester (1939): British Pathé on YouTube
Rochester In The 1950s
Funeral for Young Cadets (1951)
This is heartbreaking footage of the funeral for 20 of the 24 young cadets killed by a bus whilst out on a night march.
The Last Parade (1951): British Pathé on YouTube
Rochester In The 1980s 
Tower block Demolition (1980s)
Silent footage of the demolition of a 12 story tower block in Rochester, Kent, in the 1980s.
Tower block Demolition | Demolition | Rochester | TV Eye | 1980s: ThamesTv on YouTube
Rochester In The 1990s
Rochester Market (1990s)
Home movie footage of Rochester Market in the 1990s.
Rochester Market: boncyballbag on YouTube
Rochester In The 21st Century
Rochester High Street
See a home movie of Rochester's old buildings made in the early 21st century.
Rochester High Street (kent,UK) old buildings: angelinsatin on YouTube
A 2009 Car Journey
This home movie was filmed in a car on 22 October 2009. It stared at 9.30am.
The journey is from Frindesbury Hill to Marlowe Park, and takes in Station Road, Commercial Road, Knights Road, Cuxton Road, Cedar Road, Holly Road, Lilac Road and Marlowe Park.
Strood, Rochester, Kent UK: Joe Blunt on YouTube
More Kent pages
.
Back to Kent page.
Back to Home page.