Glimpse history through old images of Hyde Park, in the City of Westminster, London.
Hyde Park Corner in 1896
Astonishing few seconds of film recorded at Hyde Park Corner in 1896.
Several horse drawn passenger vehicle trot past along with many other carriages on the busy road, and the streets are full of people.
There seems to be a figure in the middle of the busy road, possibly a traffic policeman, which would suggest those people waiting on the pavement are expecting him to stop the horse drawn vehicles so they can cross.
This film item was shown to Queen Victoria on 23rd November, 1896, at a 'Command Performance'.
Given the title card comments, even by 1930 this was a valued glimpse of a disappeared world.
Hyde Park Corner 1896 (1896) – British Pathé on YouTube
---
Rotten Row in the 1890s
Rotten Row is a broad track running 1,384 metres along the south side of Hyde Park in London. It leads from Hyde Park Corner to Serpentine Road.
During the 18th and 19th centuries, Rotten Row was a fashionable place for wealthy Londoners to be seen horse riding. Here's a photo of the 1890s, showing how busy it was.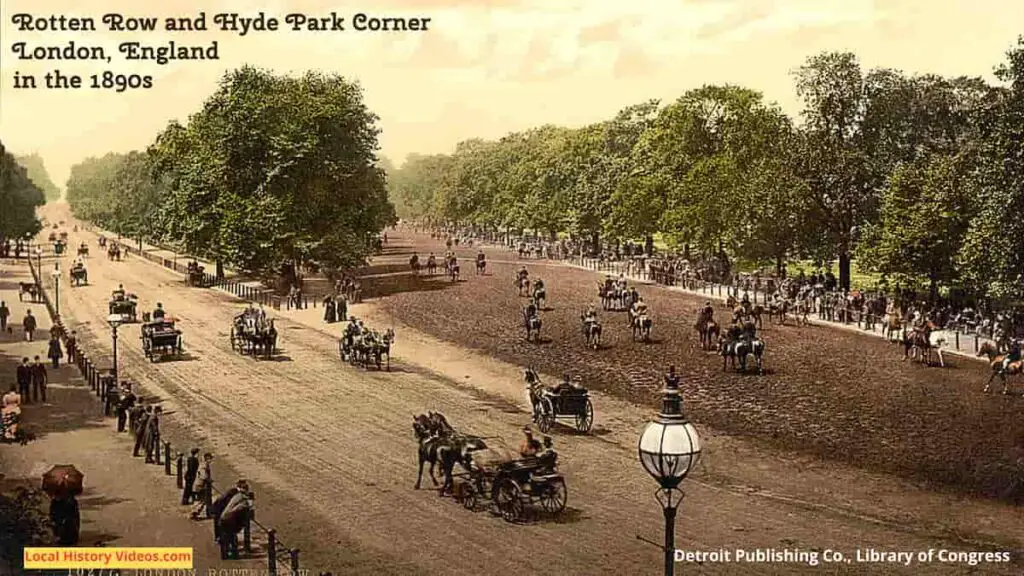 ---
Spring Day 1930
This silent black and white footage, recorded in 1930, shows the streets busy with cars, ladies wearing fur coats, the gents sporting walking sticks, everyone wearing smart hats. and horse riders cantering down The Row.
Spring in Hyde Park – 1930 | The Archivist Presents | #92 – British Movietone on YouTube
---
WW2 Barrage Balloon 1939
Part of the defence against the Lufftewaffe bombing raids were the barrage balloons, raised into the air and held in place to a point on the ground.
In 1939, the year World War II broke out, the Minister of Labour, Mr Ernest Brown, was joined by large crowds to watch the raising of a barrage balloon during the National Service show.
London – Hyde Park (1939) – British Pathé on YouTube
---
WW2 Bomb 1945
Silent footage from 1945 shows bits of shrapnel and a damaged gas parklight following a Lufftewaffe bombing raid during the Second World War.
Hyde Park Bombed (1945) – British Pathé on YouTube
---
Hippies 1968
Silent footage from the Jethro Tull concert in Hyde Park in 1968 capture the fashions, hairstyles and passionate dancing styles of young hippies on a hot summer's day.
'soul' On A Hot Summer's Day AKA Soul In Hyde Park (1968) – British Pathé on YouTube
---
More about London