Glimpse history through old images of Sunderland, in Tyne & Wear, North East England.
Once a town famous for its shipyards, coal mining and glass making, Sunderland was granted city status in 1992, on the 40th anniversary of Queen Elizabeth II's accession to the throne. Take a glimpse into Sunderland's history with these old photos and vintage films capturing local scenes over the past century.
Old Photos of Sunderland
A fascinating montage of old photos of an area that has changed beyond all recognition.
"Old Sunderland Revived" – TEMARU1959 on YouTube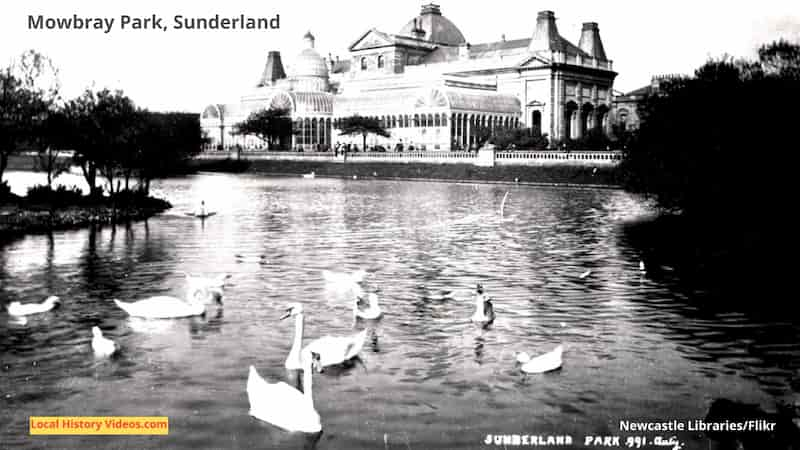 Old Films of Sunderland
Vintage film excerpts from the North East Film Archive were collated into a film launching the Sunderland Literature Festival 2015. It was shown on Friday 2 October 2015 from 6.30pm at Sunderland Minster. This trailer contains excerpts from the film.
"Sunderland on Film" – SunderlandUK on YouTube
Model Ship Makers 1927
This three minute film from 1927 shows a range of highly skilled craftsmen working to create a model ship. When completed, it is mounted in a huge and beautiful model ship display case, and admired by a quiet boy.
"As befitting the world's greatest Shipbuilders, Britain is the biggest maker of those beautiful Model Ships which grace so many buildings today."  
"The Model Makers – A Sunderland Industry (1927)" – British Pathé on YouTube
Wearmouth Bridge 1928
This old photo from 1928 shows Sunderland's Wearmouth Bridge under construction.
1970s Sunderland
This silent 1970s footage, in colour, captures washing hung across cobbled back alleyways, long streets containing just one or two parked cars, a gas storage tank at high volume in the background, and R Laing's shop which sells Vaux Ales.
"Sunderland (1970-1979)" – British Pathé on YouTube
Sunderland in 1974
This footage from 1974 opens with a group of ship workers. The huge County Clare ship is moved towards the Dock.
Then we suddenly jump to the main shopping centre. In the Currys shop window, the reel to reel tape recorder costs £38.
Looking at the tower block and walkways, there's an overwhelming dominance of concrete.
Finally, it's back to the river, busy with the huge ships, smaller boats and little tugs that will disappear over the next few decades.
"Sunderland (1974)" – British Pathé on YouTube
Family Home Movies
This is an upload to YouTube of a family's DVD, which was created from three old cine films recorded in the 1950s, 1960s, and 1970s.
The first five minutes of this family home movie is of a baby and toddler at home. Then it's off to Durham. Rag Day at Durham involves throwing snowballs at the students on the floats!
9 minutes in and we're in Roker, where the Boreing Tower dominates a skyline of ships and the shipbuilding industry. There's a huge area reduced to rubble, where we see large 'DANGER' signs. And then the film moves to streets, flats, houses and shops that some viewers will remember. Later scenes include a funfair, jazz bands, outside swimming pool, morris dancing, and other locations.
"sunderland in the 50 /60 /70" – TheJimbojetset1 on YouTube
Sunderland 1991
This home movie from 1991 opens with the repainting of the Wearmouth Bridge. A river cruise and then a fishing boat pass the redevelopment sites at the riverfront. Pensioners, families and school children enjoy the park next to the museum.
Binns has washing machines on display in the shop window. Many other retail units on the city centre outskirts are boarded up or just vacant.
The Bridges shopping centre, home to chain stores and barrows, seems to be busy.
"Sunderland in Summer 1991" – tigershoot on YouTube
Who sent the Message in a Bottle?
Help solve a mystery. Which Sunderland resident sent this message in a bottle in about the 1970s? It was discovered many decades later on an island in the Caribbean!
"1970s Message in a Bottle from Sunderland, Tyne and Wear, England" – Message in a Bottle Hunter on YouTube
More about Tyne & Wear