Step back in time with fascinating old images of Mobile, in Alabama, USA.
Conquistadors: 1519 to 1559
As early as 1500, the Mobile Bay area was marked on the maps of Spanish explorers as Bahía del Espíritu Santo (Bay of the Holy Spirit). Expeditions were carried out by Diego de Miruelo in 1516, Alonso Álvarez de Pineda in 1519, and Pánfilo de Narváez in 1528. When these expeditions approached, the Native Americans would burn their settlements and flee.
In 1540, Hernando de Soto explored the area, discovering the Muscogee inhabitants. The conquistadors destroyed the fortified town known as Mauvila or Maubila, and fought a battle with Chief Tuscaloosa and his warriors.
In 1559-1561, Tristán de Luna y Arellano unsuccessfully tried to establish a Spanish colony in nearby Pensacola.
How did Mobile Alabama get its name?
The name of Mobile in Alabama derives its name from the fortified town called Mauvila or Maubila, built by the Muscogee Native American community. The town was destroyed in 1540 by the conquistadors travelling with the explorer Hernando de Soto.
French Louisiana: 1702 to 1763
Throughout the period of the French colony in the area, Mobile was a major trade centre with the Native Americans. A Mobilian Jargon developed as a simplified trade language. It's still used in Native American communities across the area from Florida to Texas.
1701: Jean-Baptiste Le Moyne, Sieur de Bienville was made governor of the French colony of Louisiana in 1701
1702: his brother, Pierre Le Moyne d'Iberville, operating from Fort Maurepas, established a settlement on the banks of the River Mobile. Naming it Fort Louis de la Louisiane, it was the colony's first capital
July 20, 1703: Roman Catholic parish established at Mobile by Jean-Baptiste de la Croix de Chevrières de Saint-Vallier, Bishop of Quebec
1704: The Pélican brings 23 'casquette girls' to Mobile
1704: The yellow fever brought in on the Pélican from Havana kills some of the ship's passengers, many resident colonists, and many Native Americans
A French supply ship from Saint-Domingue brings in the first African slaves
1710: disease means only 178 residents
1711: the town moved downriver to alleviate the problems of flooding and disease, onto a site established by Charles Rochon, Gilbert Dardenne, Pierre LeBœuf and Claude Parant five years earlier
Construction of earth and palisade Fort Louis
1712: To stop the financial loss and boost royal coffers, Antoine Crozat is placed in charge of the administration by royal charter for 15 years
1712: 400 residents
1713: Crozat appoints Antoine Laumet de La Mothe, sieur de Cadillac, the founder of Detroit, as Governor
1716: Crozat is recalled to France, under allegations of mismanagement
1716: Bienville becomes Governor again, awaiting replacement from France
1716: Jean-Michel de Lepinay arrives from France and becomes Governor
1717: Crozat relinquished control of the colony, despite only being 5 years into the 15 year appointment
1717: John Law, heading the Company of the Indies, takes over the administration
1717: Lepinay is replaced as Governor by Bienville
1719: Mobile is on the battlefront in the war between colonial France and Spain
1720: The capital is moved to Old Biloxi
1723: Construction of Fort Condé, a new brick fort with stone foundation
British West Florida: 1763 to 1780
1763: Treaty of Paris ends the French and Indian War/Seven Years' War, and makes Mobile part of British West Florida
Fort Condé is renamed Fort Charlotte
Major export are timber, naval stores, indigo, hides, rice, pecans and cattle
Spanish West Florida: 1780 to 1812
During this period, the Spanish allowed British traders to sell weapons to Native Americans, to repel settlers from building on their lands
1780: During the Battle of Fort Charlotte during the American Revolutionary War, the Spanish capture Mobile
1783: Treaty of Paris leaves Mobile in Spanish control in the Florida Occidental colonial province
Mississippi Territory: 1813 to 1817
1813 During the war of 1812, under the command of James Wilkinson, Mobile is captured by American troops from New Orleans
September 1814: Captain Henry Percy leads an unsuccessful British attempt to capture Fort Bowyer on Mobile Bay
Alabama Territory: 1817 to 1819
March 1817: Mobile becomes part of the new Alabama Territory
1819: the Alabama Territory is converted into an American state
A Brief History
This six minute flies through 200 years of complex history with a wide selection of old photos, pictures and interviews.
A History of Mobile County in Six Minutes – mobilecountyal on YouTube
Mobile Alabama in the early 1800s
During this period, Mobile became the second largest international seaport on the Gulf Coast, after New Orleans. Flatboat or steamboat shipments carryied cotton from slavery plantations in Mississippi and Alabama through to the seaport, ready for national and international distribution.
October 1827: a fire destroyed most of the old city
1830: Spring Hill College, one of the oldest Catholic schools in the US, is founded by Bishop Michael Portier
1839: another major fire causes widespread damage
1847: Spring Hill College moves to the control of the Jesuit Order
1860: The captain of Clotilda, one of the last ships to bring a cargo of slaves to America, decides to abandon the ship near Mobile. Some of the slaves later founded a community called Africatown on the banks of the Mobile River. Their language and customs survives in the community into the twentieth century
The American Civil War: 1861 to 1865
The Confederates heavily fortified Mobile during the American Civil War, and constructed fast, low-slung ships that could outmanoeuvre the blockade set up by the Union naval forces.
The submarine Hunley was built and tested in Mobile. It became the first submarine to sink an enemy vessel.
August 1864 saw the famous Battle of Mobile Bay. Union ships fought their way past Fort Gaines and Fort Morgan, defeated wooden Confederate gunboats and the ironclad warship CSS Tennessee, and lost the USS Tecumseh to the depths of Mobile Bay when it hit a Confederate mine.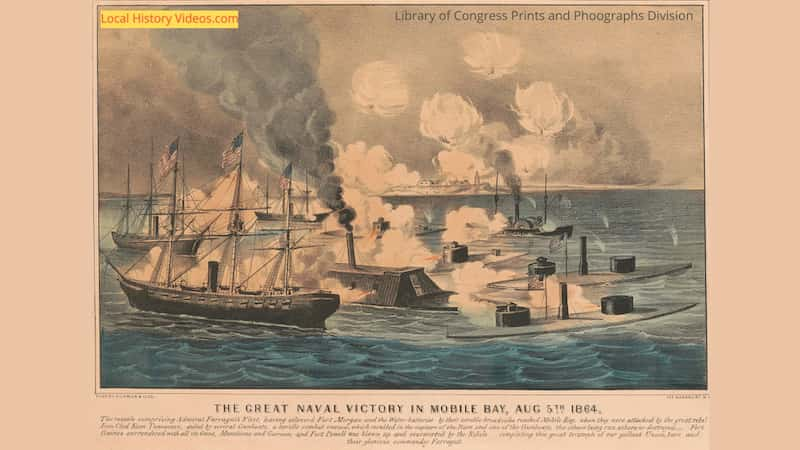 To avoid destruction, the City of Mobile surrendered.
Several weeks after Jefferson Davis dissolved the Confederacy, an ammunition depot exploded. The Mobile magazine explosion, as it became known, happened on May 25, 1865. It killed about 300 people, and a significant portion of Mobile was destroyed.
Reconstruction:1865-1877
The consequences of the American Civil War impacted Mobile's economy for many decades, but the governmental changes were almost immediate.
1866: General Columbus Andrews, recently placed in charge of the District of Mobile, declared that African-Americans should have the same standing as whites in all courts and judicial proceedings 
The replacement for Andrews, General Pope, terminated all Mobile government positions and replaced them with a new workforce, including large numbers of African-American war veterans
A lynch mob and riot followed the speech of visiting Republican congressman for Pennsylvania, William D. Kelley, who denounced slavery and advocated equal rights for African-Americans
Gustavus Horton, an equal rights advocate from Massachusetts, was appointed as Mayor
July 1871-February 1872: the collector of customs in Mobile was Brevet brigadier general Willard Warner
May 1867: Reconstruction was instituted by Congress
November 1874: Democrats use violence and extreme measures to prevent African Americans and non-Democrats from casting their vote in the election, with armed gangs roaming the streets on election day
1875: The city of Mobile Alabama is now more than $5 million in debt, and unable to pay the interest on the loans accrued since the 1830s
1879: The 'City of Mobile' city charter is abolished, and replaced with the Alabama Governor's appointed three city commissioners
Mobile's debt was finally repaid in 1906
Old Photos of Mobile
A lovely collection of black and white old photos, nicely displayed with the location and date the photograph was taken.
Old Photos of Mobile (Alabama)1900-1914 – oldstuff4all on YouTube
Grand days of Mobile, Alabama – Alabama Pioneers on YouTube
Early 20th century: 1900 to 1949
1900: Population of Mobile is 40,000 people
1902: City government segregate the city streetcars
1902: African-American boycott of the streetcars lasts two months but doesn't overturn legislation
$3million federal grants allow harbour improvements
WW1: Ship Building and steel production become dominant industries
1920: Population of Mobile is 60,000 people
1940-1943: More than 89,000 people move to Mobile to work in defence manufacturing industry, including the building of Liberty ships, destroyers and minesweepers
The chronic housing shortage meant residents converted porches, garages and chicken coops to rental units
Maritime and Air Force workers were housed in quickly constructed federal housing projects, such as Birdville, which got its name from the interwoven curving concrete sheets named after various birds
The Bates Field municipal airport became the Brookley Army Air Field and then the Brookley Air Force Base, and at one time was the area's largest employer
Wartime Workers
During World War II, this film was made about the 150,000 men, women and children of all backgrounds who arrived in Mobile ready to do war jobs.
40,000 workers repairing and refitting torpedoed ships in two great shipyards.
Tens of thousands of other employees worked at the steel mills, paper mills, gypsum plant, aluminum plant, army air corps repair field, machine shops, foundaries, lumber and textile mills.
We see scenes of congested buses, pay windows, and long lines outside restaurants and liquor stores.
The teachers were workimg double shifts, but thousands of incoming children were stuck at home, because there were no school places left.
Old warehouses, grocery stores and garages have been converted into dormitories and barracks.
The riverside is covered in trailers and tents. Women have to collect water in buckets from the river for drinking, cooking and cleaning.
The commentator acknowledges that Mobile lready had its slums, but the situation has become acute. We see families living in horrifying conditions.
So slum clearance, afforable new homes and government trailers are part of a government programme, along with childcare for working parents. Five small nurseries just had not been enough.
WWII on the Homefront: War Town Mobile, Alabama – M Manley on YouTube
Late 20th century: 1950 to 1999
1956: The size of Mobile had tripled in recent years
Major industry is now pulp and paper
1950s: Police force and one local college end segregation
1954: US Supreme Court ruling in the Brown v. Board of Education case rules segregation in public schools was unconstitutional, but it remains in many of Mobile's schools
1960s: Segregation on buses and at lunch counters ends 
1963: 3 African-American students are refused places at Murphy High School, so file a suit against Mobile County
1964: The University of South Alabama opens as an integrated college
1964: Civil Rights Act ends legal racial segregation
1960s: Brookley Air Force Base closes
September 12, 1979: Hurricane Frederic causes a death, and leaves many residents without power, water, or telephone services for several weeks
1981: Ku Klux Klan members abducted 19 year old Michael Donald, a student and a technical college and part time worker at the Mobile Press Register newspaper who was walking home from a shop, and lynched him from a tree on Herndon Avenue. They were annoyed at reports of a court trial involving an African-American man which had an integrated jury, so randomly chose Michael Donald to kill even though he had no connection to the case. It was two and a half years before they were caught. Michael Donald's mother received $7 million from an all-white jury in a wrongful death lawsuit against the United Klans of America, which financially brought the organisation to its knees.
1980s: Investment in Mobile under Mayor Mike Dow's "String of pearls initiative" saw the restoration of hundreds of historic buildings and homes, a 50% reduction in crime, and new facilities and projects
1992: Violent and unrest followed the shooting of an African-American man by police officers
1994: The city forms a Human Relations Commission
1999: Austal USA brings more shipbuilding work to Mobile
The aerospace and industrial site at the former air base is now known as the Brookley Aeroplex
History of the Mobile Port
David Alsobrook, director of the History Museum of Mobile, talks about the changes that the port has made over time, as well as how WWII changed the city forever.
C-SPAN Cities Tour – Mobile: History of the Mobile Port – C-SPAN on YouTube
More pages about Mobile, Alabama