Glimpse history through old images of Windsor, Berkshire, England.
Royal Family 1937
This short footage shows King George VI (former Prince Albert, Duke of York), Queen Elizabeth (former Duchess of York, Later Queen Mother) and Princesses Elizabeth (later Queen Elizabeth II) and Margaret enjoying family life in the grounds of Windsor Castle.
Their Majesties The King And Queen Princess Elizabeth And Margaret Rose (1937)- British Pathé on YouTube
---
Royal 16th Birthday 1942
Princess Elizabeth (later Queen Elizabeth II) celebrated her 16th birthday by inspecting the Grenadier Guards at a special parade, having been made their new Colonel.
It marked the entry of the young teenager's life into the official life of the nation.
Princess Elizabeth's Birthday (1942) – British Pathé on YouTube
---
Lupino Lane 1945
Despite being so famous in his lifetime, the name of Lupino Lane is largely forgotten today. But many British people have heard of his most famous song The Lambeth Walk.
This 1945 footage shows him at home in Windsor, with well-known (for the age) neighbours joining him in his riverside garden.
Personality Meet Lupino Lane (1945) – British Pathé on YouTube
---
Scouts at Windsor Castle 1963
A 1963 newsreel filmed around a thousand Queen Scouts, from all around Britian and the Commonwealth, at an inspection and parade at Windsor Castle, attended by Queen Elizabeth II and the Chief Scout, Sir Charles MacLean.
Little Prince Edward watches from a nearby window.
The annual event took place on the Sunday closest to St George's Day.
A King Scout is a scout who has attained the King's Scout Award. King Scouts had been created in 1909, when Edward VII suggested the idea to Robert Baden-Powell, founder of the Boy Scout movement.
Queen Reviews 1000 Scouts (1963) – British Pathé on YouTube
---
Earl Alexander's Funeral 1969
The funeral parade for Earl Alexander (the 'Soldier's Soldier') is filmed from outside the castle walls, then across to St George's Chapel.
People attending the funderal included Sir Harold Macmillan.
Earl Alexander's Funeral (1969) – British Pathé on YouTube
---
Mounties at Windsor Castle 1969
In 1969, the Royal Canadian Mounted Police came to Windsor Castle to present a horse, held by Staff Sergeant Cave, to Queen Elizabeth II.
Queen And Mounties (1969)– British Pathé on YouTube
---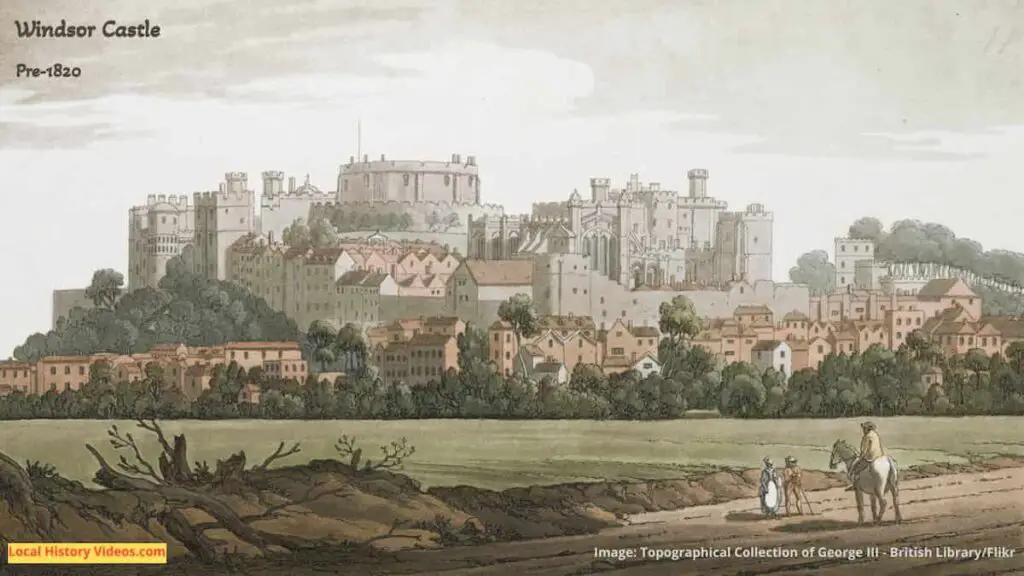 ---
More about Berkshire