Glimpse history through fascinating old images of Southend-on-Sea, Essex, England.
Southend-on-Sea, often referred to as Southend, is a seaside town in the county of Essex in South East England. Being only 40 miles (64 kilometres) east of central London, it grew from a small fishing village in the 1790s to one of the UK's most popular seaside resorts of the 19th and 20th centuries.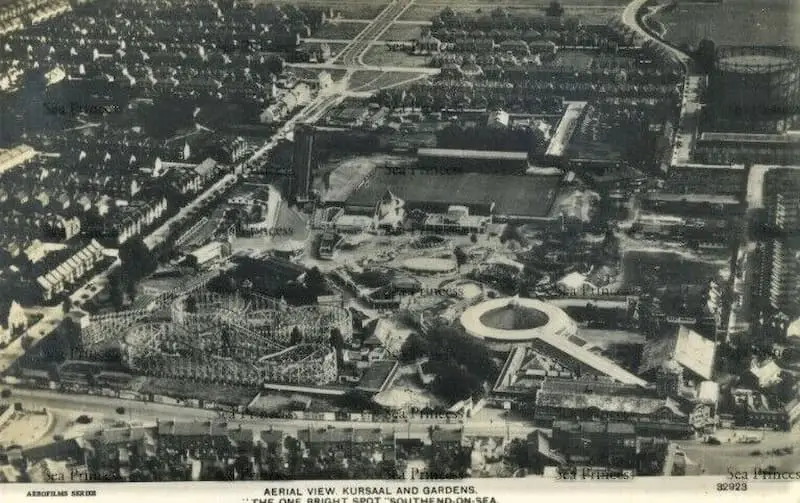 Southend is famous for its seaside attractions such as England's longest pier, the funfair and the beach. In addition, the annual Southend Carnival draws crowds of daytrippers to the town each August to enjoy the procession of floats.
In the past the Carnival Queen and court was a central part of the event, along with the fancy dress and beauty competitions for young children. The pier was lit for holidaymakers each night by the remarkable Illuminations, and further entertainment was found at the Palace Theatre or on a daytime boat ride.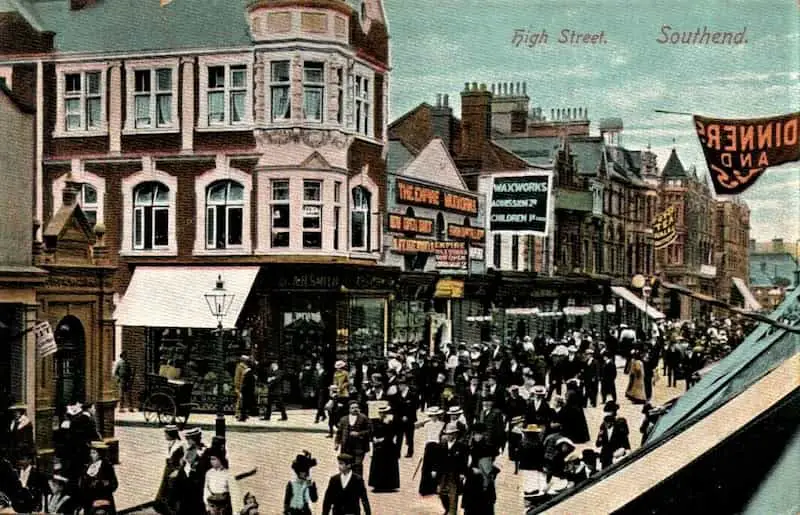 Southend's location close to London and within the Home Counties was a key reason for the development of Southend airport. Back in the 1960s, when few British people could afford to buy a car or go abroad, Southend airport was home to an airline which flew both passengers and their cars to the Channel Islands and Continental Europe.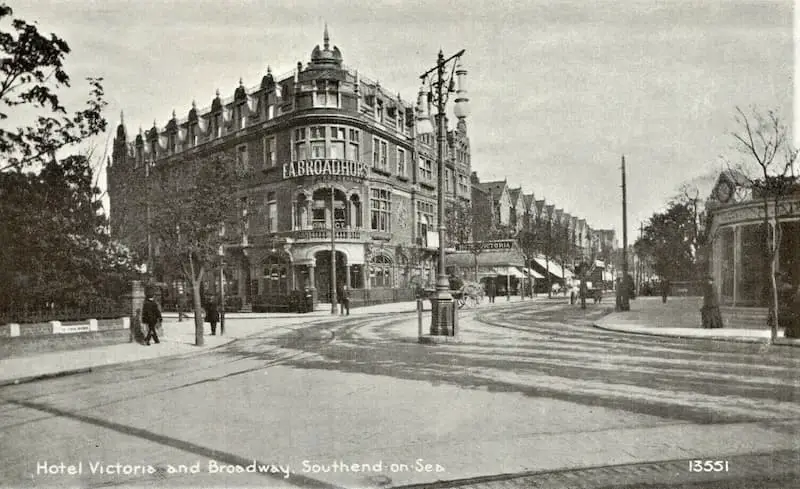 The British seaside holiday started falling out of favour from the 1960s onwards, although the decline happened over decades and daytrippers can still be found there most days of the year. What's nice about the footage highlighted here is that it captured Southend-on-Sea in the final phase of its resort heyday, and leaves a record of how things were.
---
Edwardian Navy at Southend
Part of the HuntleyFilmArchives, this footage shows the British fleet visiting Southend back in the Edwardian age.
The town was decorated with bunting.
We see a naval review, sailors walking past with their kit bags, and the amusing sight of a policement directing the traffic – which includes horses and carts.  
Down on the water the pleasure boats and smartly dressed holidaymakers form an interesting backdrop to the submarines and large ship guns.
British Navy Visits Southend-on-Sea, Essex, 1910s – Film 1011070 – HuntleyFilmArchives on Youtube
---
1920s Angling Festival
British Pathé arrived on Southend to film the Sea Angling Festival Season in 1920. Both men and women took part. The Intertitle tells us the catches weren't up to much that year: "SEA ANGLING FESTIVAL SEASON opens – but the fish must have heard of it for 481 people only managed to land a few lbs. of fish in 3 days!"
Sea Angling Festival Season (1920) – British Pathe on YouTube
---
Damaged Pier 1921
In 1921 parts of England were swept by a great gale. British Pathé came to Southend to film the severely damaged pier, which had been hit by an uncontrollable concrete ship named Violette.
Southend-On-Sea (1921) – British Pathe on YouTube
---
1920s Carnival
This next British Pathé film from the 1920s shows the Southend carnival queen and her court leading the carnival procession, accompanied by dancers in their 17th century costumes and greeted by the local Mayor.
The procession of floats entertained the watching crowds.
Carnival – Southend (1920-1929) – British Pathe on YouTube
The Southend carnival queen and court was an important part of the annual mid-August carnival from the 1920s until 2016. Struggling to find young entrants for the roles, the organisers sought local feedback and discovered today's teenagers saw the event as too old fashioned. 
It meant 16 year old Chloe Davey became the last carnival queen in Southend in 2015, with 13 year olds  Madison Ball and Carla Davey holding the last roles as princesses. That year the carnival raised £20,000, more than three times the normal annual collection.
Many of the items that formed part of the Southend Carnival Court regalia were donated by the.Southend Carnival Association to a local museum. The Velvet robes, gold and silver chains, tiaras and an impressive jewelled crown, all dating from the 1920s, are still luxuriant with sparkling jewels, rich fabrics and embroidered crests.
In 2015 the carnival raised £20,000, which was more than three times the average amount collected in the last four or five years.
The 2016 changes saw the start of the Southend-on-Sea carnival being moved forward an hour.
---
1920s Regatta
This 1920s British Pathé film shows crowds of people being entertained with a slapstick style comedy show at the Southend Regatta. Unfortunately we can't see what was happening above one segment of the crowd, whose attention is captivated by the off screen action.
Southend Regatta (1920-1929) – British Pathe on YouTube
---
Duchess of York 1929
The Duchess of York honours London's nearest Seaside Resort with a visit in this British Movietone film from 1929.
Duchess of York at Southend – 1929 – British Movietone on YouTube
---
Carnival 1930
According to an extract of the British Pathé issue sheet for this 1930 film, "100,000 People See Southend's Carnival." The a mile-long procession of decorated cars includes many carrying messaged about the Empire. We also see the Carnival Queen coming down from her float to receive a medal from a local civic dignitary.
100,000 People See Southend's Carnival (1930) – British Pathe on YouTube
---
Kursaal Funfair 1931
British Pathé filmed various rides at Southend's Kursaal funfair in 1931, in the seaside resort's heyday. Shots of the rollercoaster, rocking boat, water chute, cycle ring, caterpillar ride and cups and saucers remind us how long some of these funfair favourites have been around. Today's audience will be struck by the sight of unaccompanied adults enjoying what we now view as a children's ride.
Kursaal Southend (1931) – British Pathe on YouTube
---
Eagle Steamers 1931
HuntleyFilmArchives holds this 1931 advert for Eagle steamers travelling to Southend, Margate, Ramsgate and Clacton. Smartly dressed people are seen boarding the Royal Eagle and enjoying both food and champagne in the steamer's elegant restaurant. Then they relax on deck. 
Eagle Steamers Thames Boat Advert, 1931 – Film 1092050 – HuntleyFilmArchives on YouTube
---
Damaged Pier 1933
Having recorded the serious damage done to England's longest pier back in 1921, British Pathé returned to Southend in 1933 to film the aftermath of another ship crashing into the same structure. And one again it was caused by a ship thrown about in gale force winds, this time the 150-ton barge Matilda Upton.
Once the storm abated, the crew came back to rescue their cat from the barge.
Pier Closed For Repairs (1933) – British Pathe on YouTube
---
Southend Carnival 1937
British Pathé visited Southend Carnival a number of times throughout the twentieth century, but that's not surprising given its setting in "London's nearest seaside resort".
This footage has clear shots of the Carnival Queen and her court parading in front of the crowds, and of many children taking part in the fancy dress parade.
Perhaps the funniest moment is when the winner of the beauty competition, Donald Everett, poses with his cup. "10 year old Donald Everitt.. First in the beauty competition..but he's no cissy for all that" says the narrator. 
Southend Carnival (1937) – British Pathe on YouTube
---
1930s Pier Maintenance
This British Pathé film shows how hard it was to monitor the underwater pier structure in the age of rudimentary equipment. 
The diver wears an old fashioned heavy metal helmet. Men have to physically pump air through a pipe so he can breathe underwater.
Somehow the diver also managed to catch a fish while he was underwater.
Going Down! (1930-1939) – British Pathe on YouTube
---
1940s Funfair
This British Pathé film from the 1940s (possibly 1947) shows adults and children enjoying the rides at Southend's funfair.
Funfair At Southend (1940) – British Pathe on YouTube
---
1940s Southend Baby Show
British Movietone captured this amusing footage of somewhat bewildered and unhappy toddlers being paraded as part of a beauty show. The judges were Mr and Mrs Lupino Lane.
Lupino Lane is now largely forgotten. But he was once a famous theatre manager, actor and director. His wife Violet Blythe was a well known music hall actress and singer.
Southend Baby Show – British Pathe on YouTube
---
Southend Carnival 1951
British Pathé visited the 1951 Southend Carnival. They filmed the giant figures, decorated floats and the large numbers of young children taking part in the fancy dress competition. It was won by John Porter, who dressed as a soldier.
News In Flashes Aka Southend (1951) – British Pathe on YouTube
---
Bank Holiday 1955
While the British seaside remains popular with day trippers today, visitor numbers are rarely seen on the scale captured here by British Pathé in 1955. There are crowds everywhere, as young and old alike enjoy the sea, sand and ice cream available in sunny Southend. 
Southend Bank Holiday Aka Bank Holiday At Southend (1955) – British Pathe on YouTube
---
Southend Illuminations 1955
British Pathé recorded the 1955 Southend Illuminations. We see the team of electricians and the work required to light up the pier at 6pm and keep everything going throughout the evening.
"And with 75,000 lamps out there, you can bet this town isn't exactly a rest home for electricians!" – says the voiceover. 
The illuminations include the moving pictures of 'a woman taking a shower with help of an elephant', 'a boy and a girl', 'ballerina on the moon', 'sailing ship', 'woman playing with her dog', a stork, a clown, and a peacock.
Southend Illuminations (1955) – British Pathe on YouTube
---
Kursaal Flyer 1963
In this British Pathé footage, an Emmet Type mock steam train, The 'Kursaal Flyer' was used as an advertising float for the Kursaal Fun Fair. Young girls hold on to the side of the engine as it travels through the streets of Southend-on-Sea, Essex.
Southend: Kursaal Flyer (1963) – British Pathe on YouTube
---
Rockers & Pensioners 1964
When British Pathé made this film in October 1964, it was against the backdrop of the violent Mods v Rockers subculture, which culminated in the infamous Whitsun weekend of the 16-18 May 1964. 
Unlike the scenes of youth brutality and chaos that dominated footage of the Rockers at this time, here we see a group of young people taking care of their elders.
The small group of Rockers from Luton in Bedfordshire raised money and organised a seaside trip for pensioners. Amongst the assistance and support shown, rocker Mrs May McConnell helps blind pensioner Wilf, aged 71, with his food.
Rockers Good Deed (1964) – British Pathe on YouTube
---
Southend's Golden Jubilee 1964
In 1964, Southend-On-Sea celebrated its Golden Jubilee as a County Borough. British Pathé was there to capture the festivities. We see people working in a cockle factory, boats in the harbour, the New Cliffs Pavilion, the new Civic Centre, and the new Police Headquarters.
Finally we arrive at the pier to find people celebrating the Golden Jubilee Day. Just for today the pier train fare is just one penny.
The film finished with a black of flats built for local pensioners.
Golden Jubilee Of Southend (1964) – British Pathe on YouTube
---
1960s Southend Airport
A home movie of Southend Airport in action in the 1960s.
Cine Film of Southend Airport 1960's www.DaveEldergill.org – Dave Eldergill on YouTube
---
Southend in the 1970s
YouTube channel Cine Film Memories uploaded this well shot amateur 8mm cine film. It shows a busy, sunny Bank Holiday in Southend on Sea, Essex. Given the age of the film, it's possible some viewers may recognise their parents or grandparents.
1970's Bank Holiday Southend on Sea www.DaveEldergill.org – Dave Eldergill on YouTube
---
1970s Air Ferries
British United Air Ferries (BUAF) was an airline established in the 1960s which specialised in transporting passengers and their cars. They focussed on cross-Channel routes, between a number of locations in South East England, the Channel Islands and Continental Europe. Over the decades it had several changes of both ownership and identity, finally becoming British World Airlines with a head office at Viscount House, London Southend Airport. In 2001 the airline closed.
This British Pathé film from the 1970s shows us British Air Ferries passengers checking in at Southend for their flight to Ostend.
In addition to shots of the airport cafe, customs, air traffic control operators, we also see a Ford Capri loaded onto the plane.
The final scene shows a plane called 'Fat Gilbert'.
Air Ferries (1970-1979) – British Pathe on YouTube
---
More about Essex
Back to Essex page
Back to Local History Videos Home page