Glimpse history through old images of the seaside town of Lowestoft in the English county of Suffolk.
Old Photos of Lowestoft
The Detroit Publishing company had an extensive collection of colour photochrom images in their 1905 catalogue of Views of the British Isles. Several of them were of Lowestoft Pier, Harbour, the Royal Hotel, and other nearby locations.
I've suggested the 'c.1900' date because the images in the catalogue were thought to have been taken in the 1890s or shortly after the turn of the century.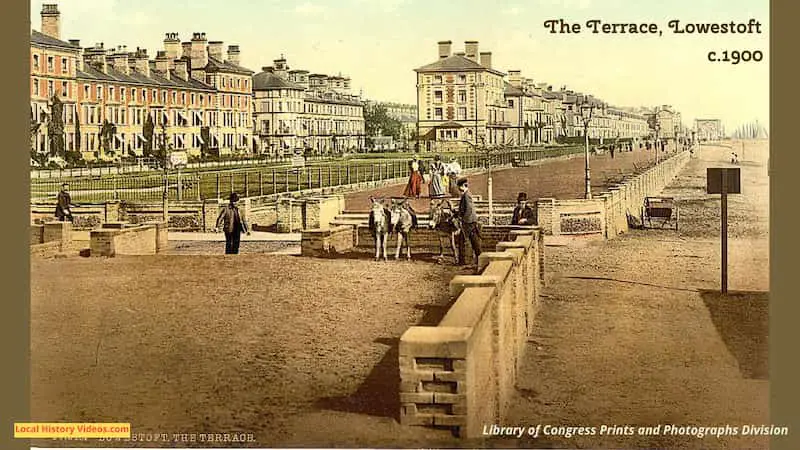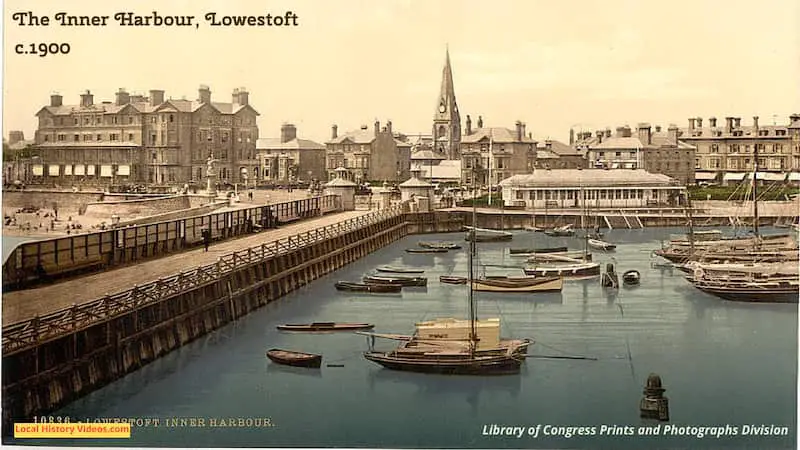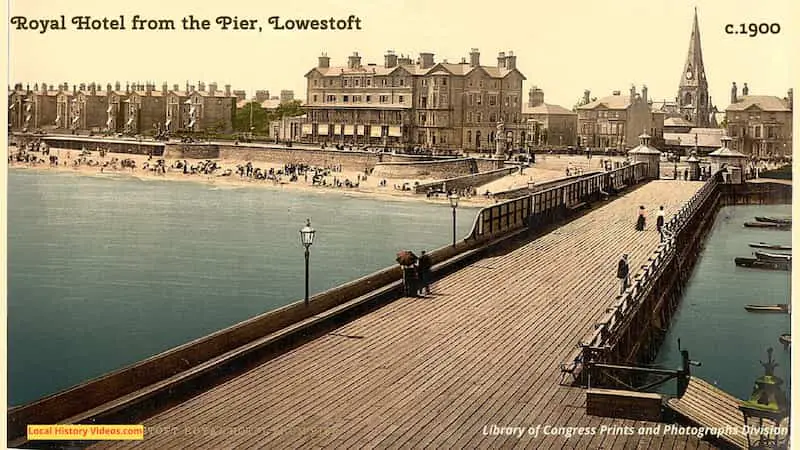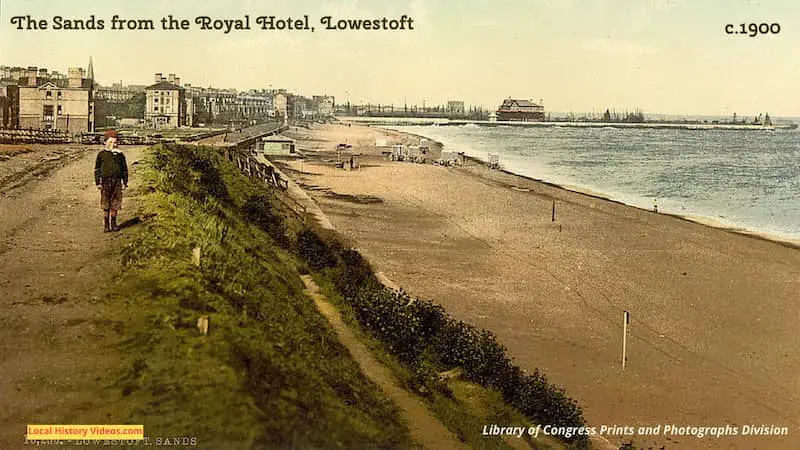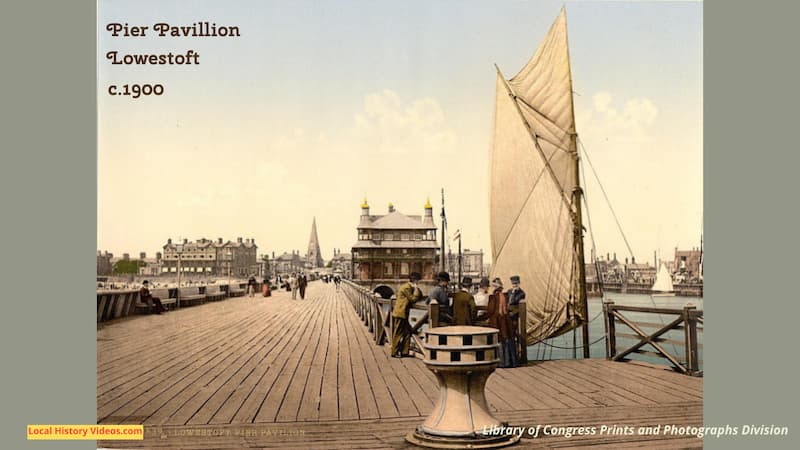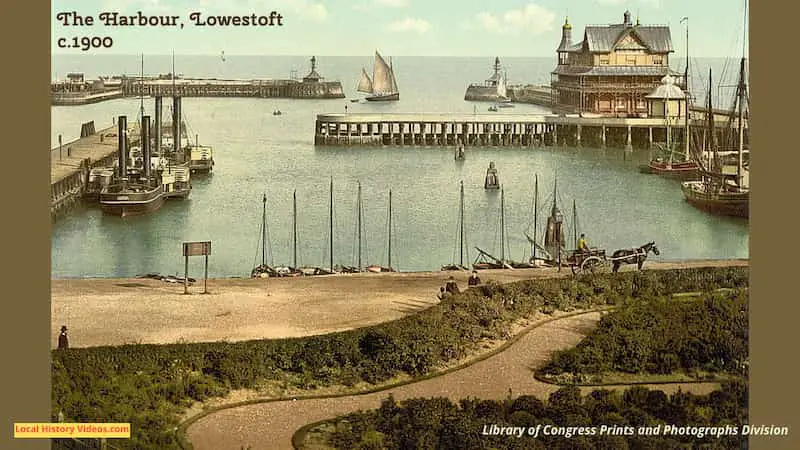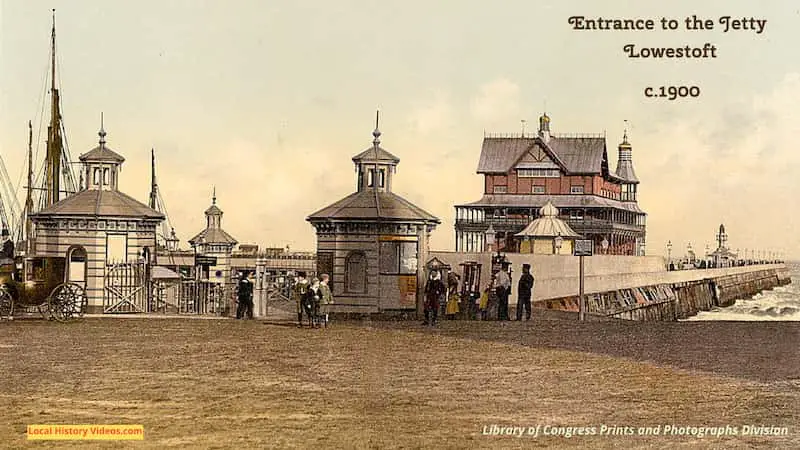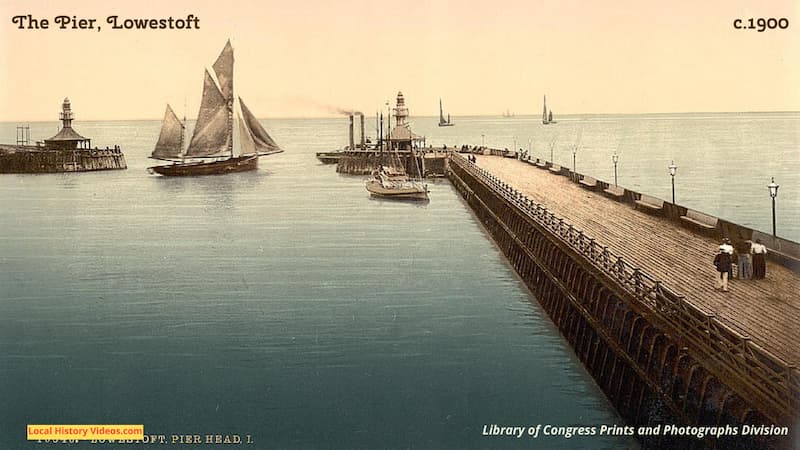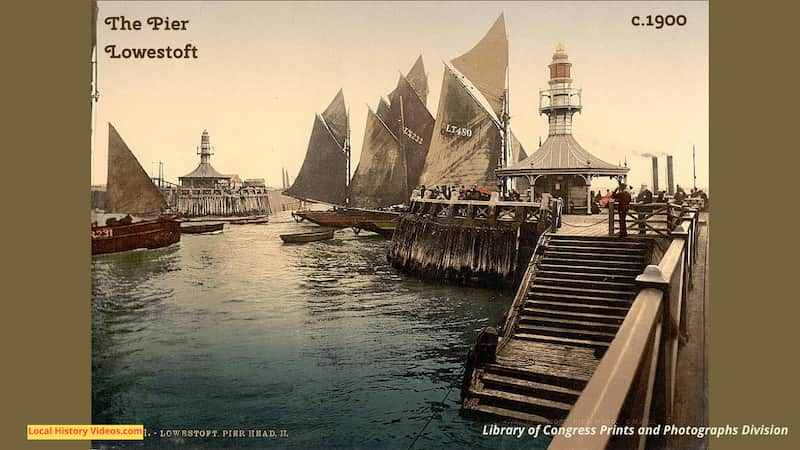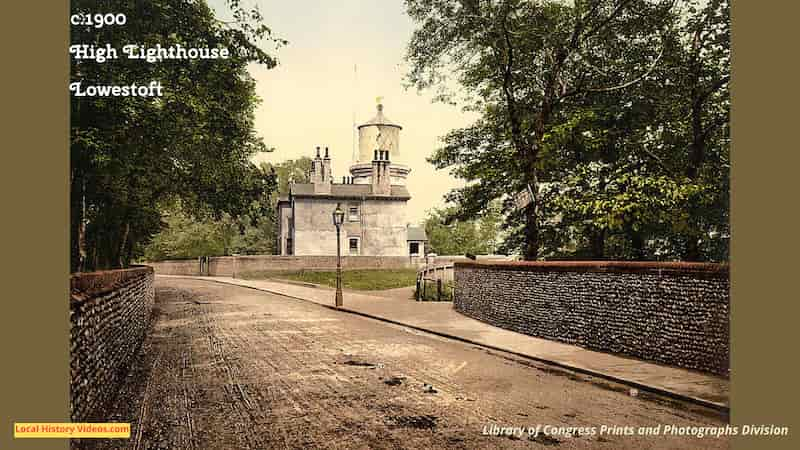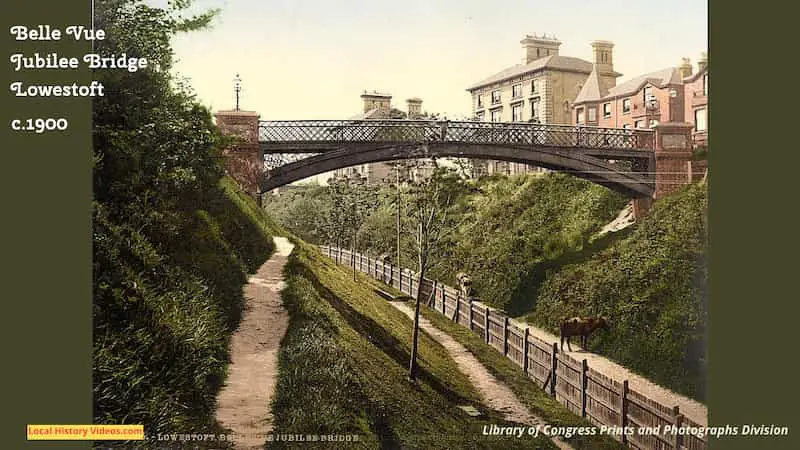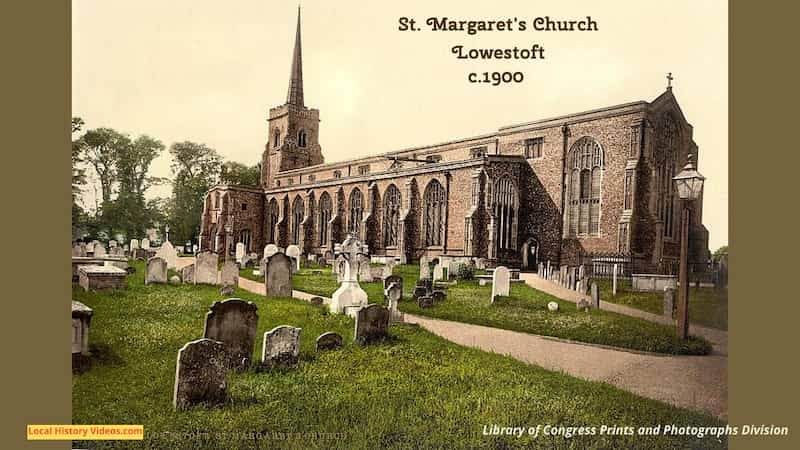 Old Photo of Lowestoft's Beach
It's not clear what year this old photo was taken. It's before 1907, but could be much older than that.
It looks like a small group of boys are alone on the beach, wearing jackets and full trousers. So perhaps this is before the summer season started in earnest?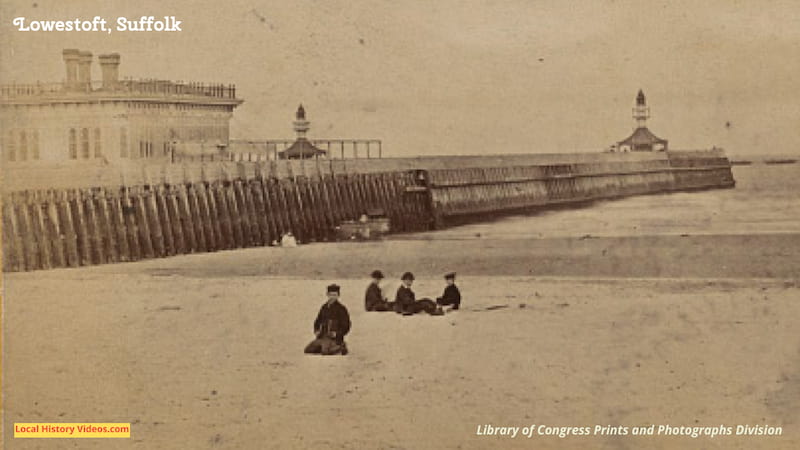 Old Cigarette Card Photos of Lowestoft
People used to collect cigarette cards, and some brands printed photos of places across the world, including various locations around Britain. Luckily, several showed photos of Lowestoft and added nice clear location titles too.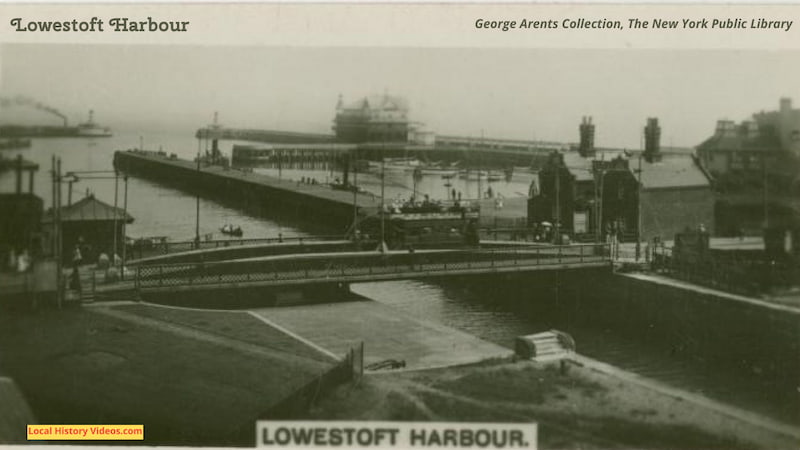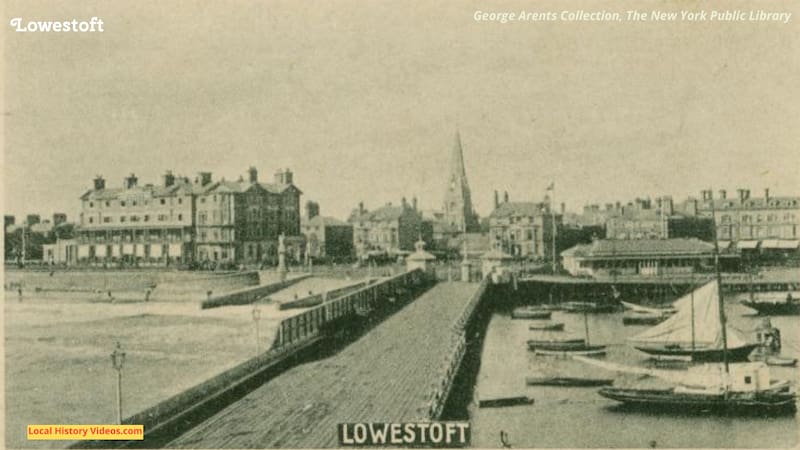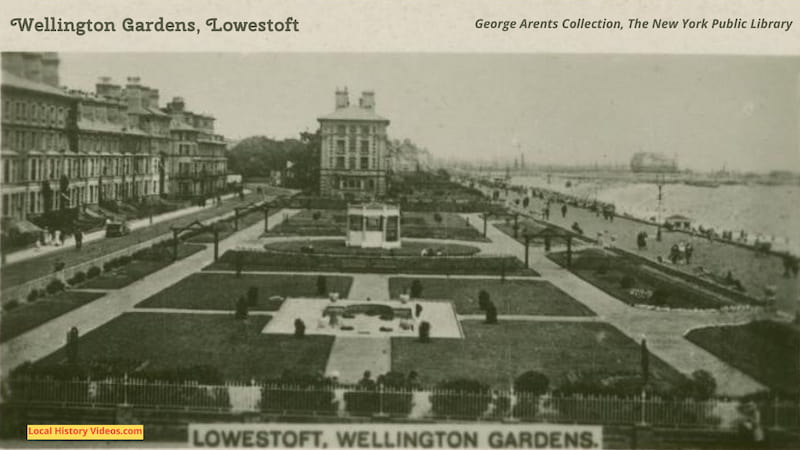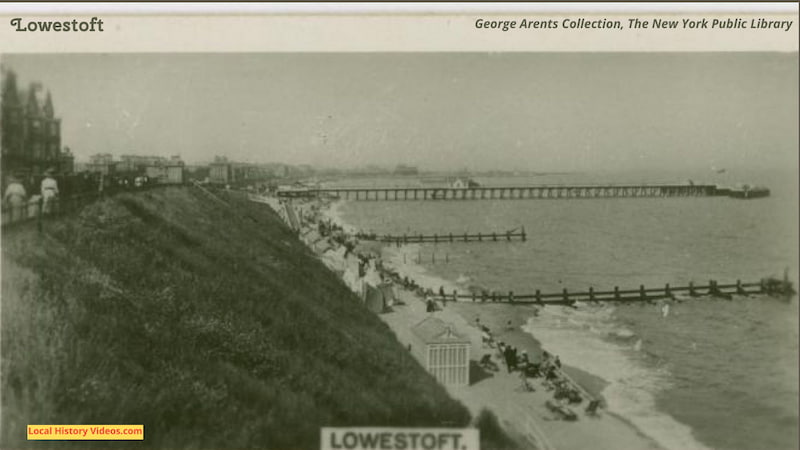 Old Postcard of Lowestoft Boats
This old postcard has a lovely combination of fishing boats moored in the harbour, young lads hanging about watching what the photographer is doing, and a father looking down at his little child as they take a stroll together.
Everyone looks very natural and unposed, and the long shadows tell us everyone will soon be heading home as the summer day comes to a close.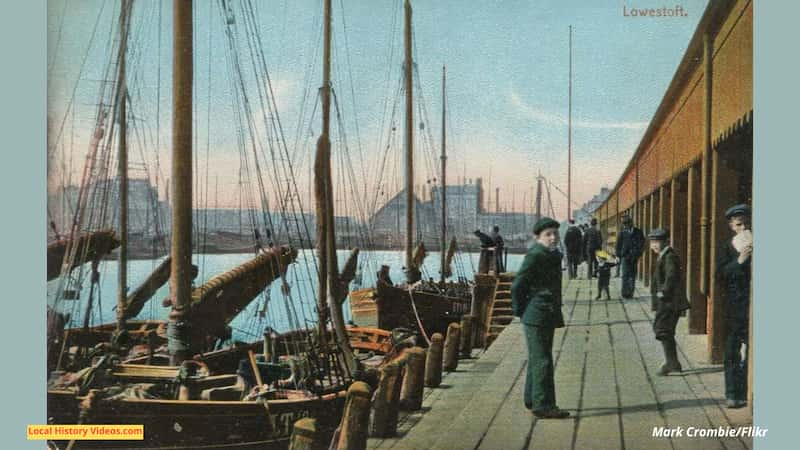 North Denes Camp
This is an old photo postcard showing a large number of people at a camp site at North Denes, Lowestoft, in 1911.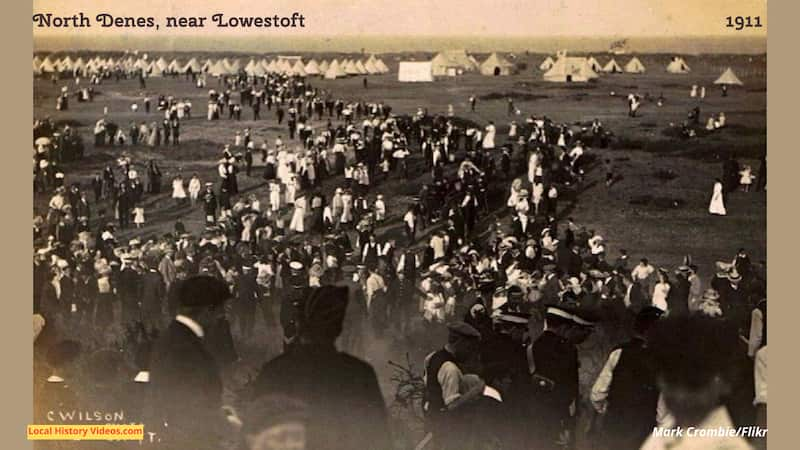 The Warren House
A mill once stood close to the Warren House near Lowestoft. Here the clay was ground up, and then transported to the Lowestoft Porcelain Factory on Crown Street.
Further down this page you'll find a collection of photos of the porcelain factory buildings as they were in 1902, one hundred years after the business closed.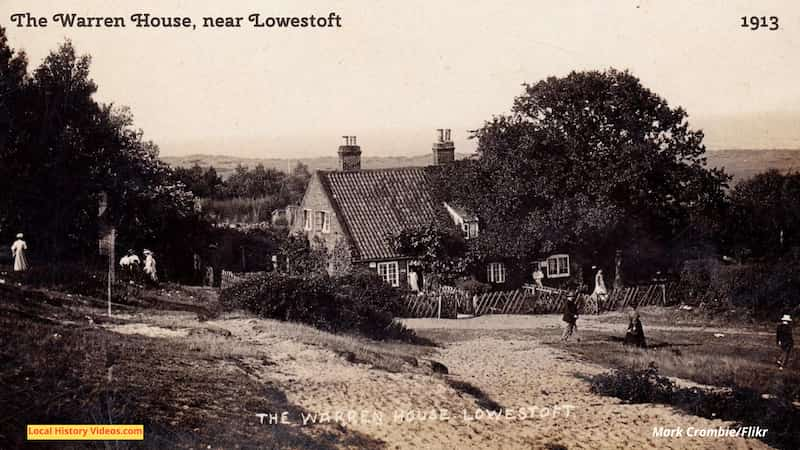 Denmark Road
A postcard sent in 1916 gives us a glimpse of Denmark Road in Lowestoft, at the corner where the Great Eastern Hotel stood.
The attractive metalwork, large windows, dinner poster, parked bicycles, and collection of men is fascinating, so I've added two closeup images from this image too.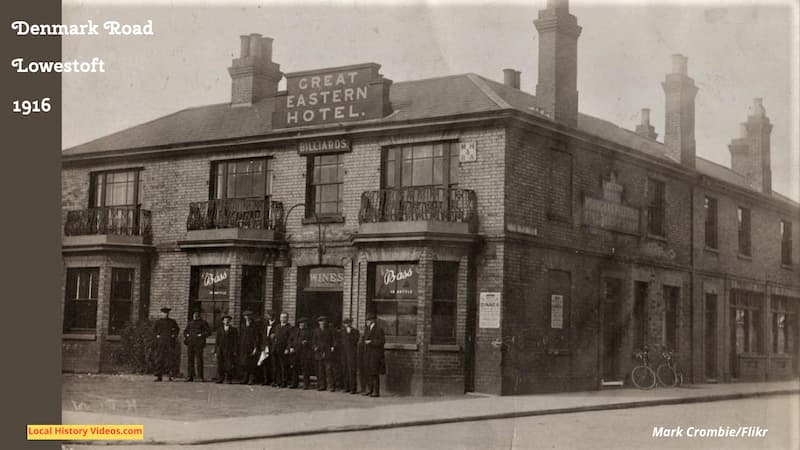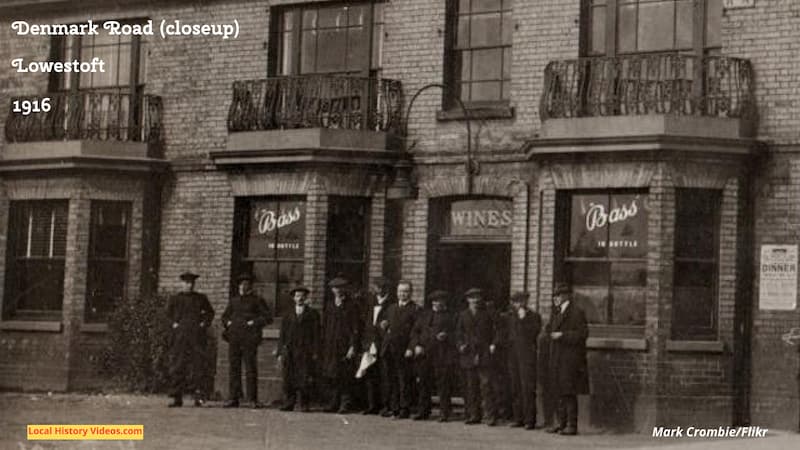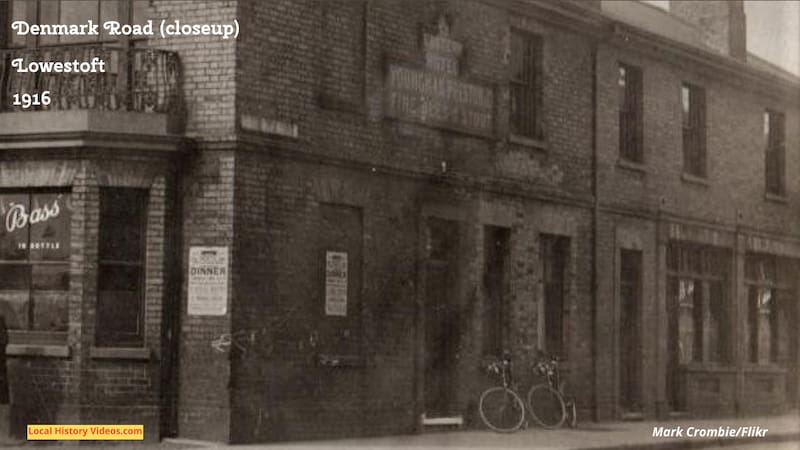 The Lowestoft Bombardment
In 1916, some of Lowestoft's residents lost their homes and even their lives when a naval battle between the British and German fleets led to a bombardment of Lowestoft and Yarmouth.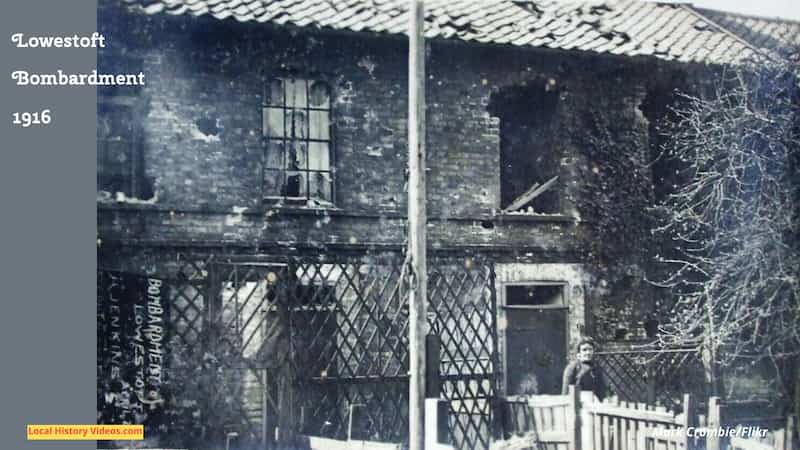 Time Travel Video
Enjoy James Fox's video creation using old photos and pictures. With location titles and dates, you know when and when you are.
Lowestoft South Pier: A Journey Through Time (Suffolk): The Time Travel Artist (YouTube)
Lowestoft Porcelain Factory
The Lowestoft Porcelain Factory in Crown Street, formerly Bell Lane, produced soft-paste porcelain containing bone ash from 1757 until 1802.
One hundred years after the factory closed, photographs were taken of the premises, mould fragments discovered on the property, and the man who found them.
By then a brewery had been established at the site, with several rooms now used to dry malt.
Unfortunately, the collection of photographs taken in December 1902 have become particularly precious, as the historic site was demolished in 1955.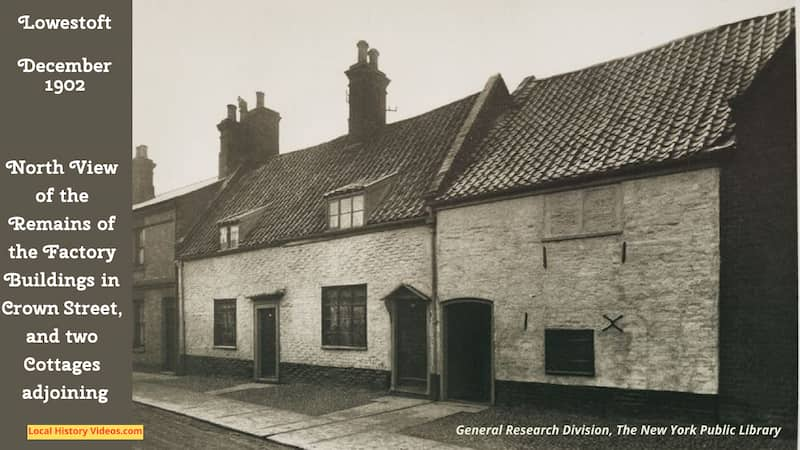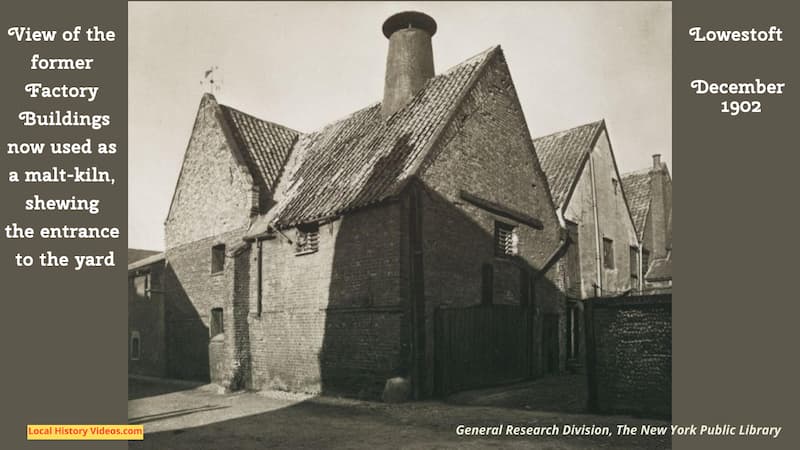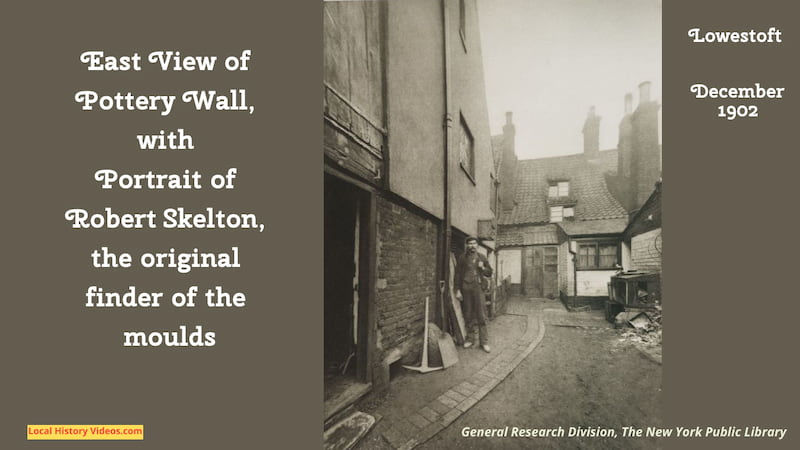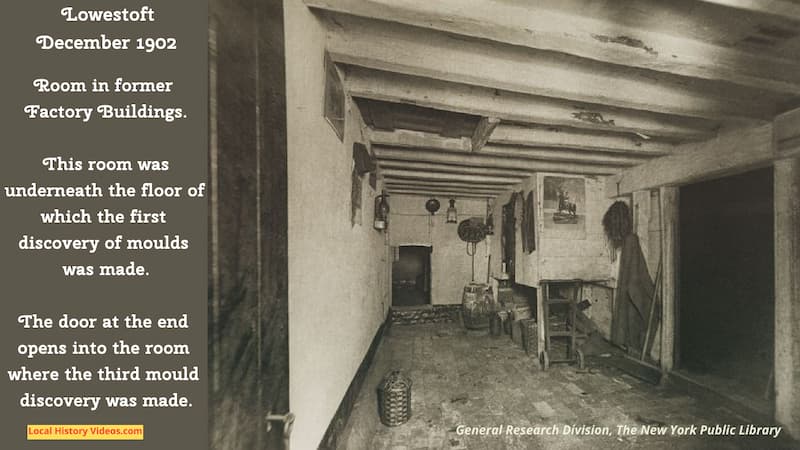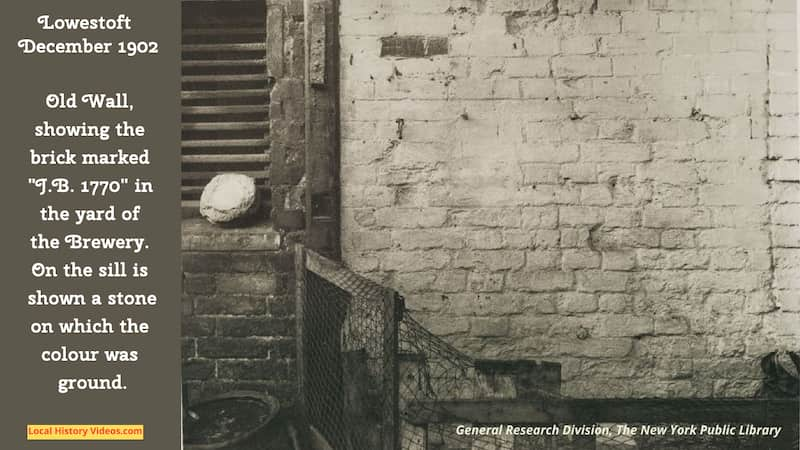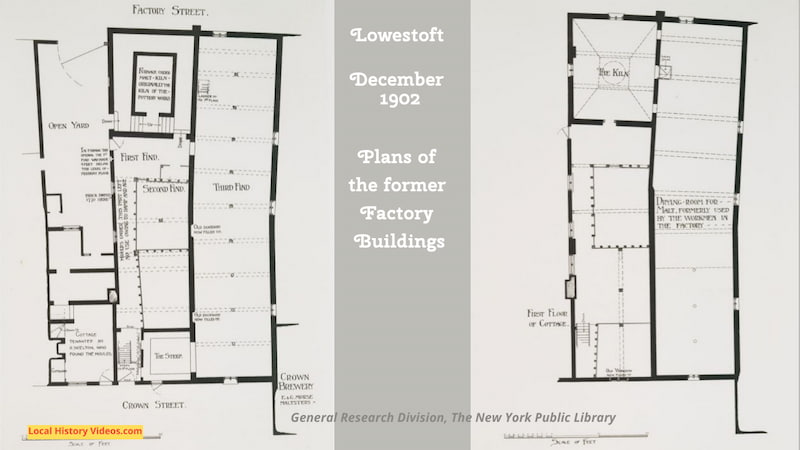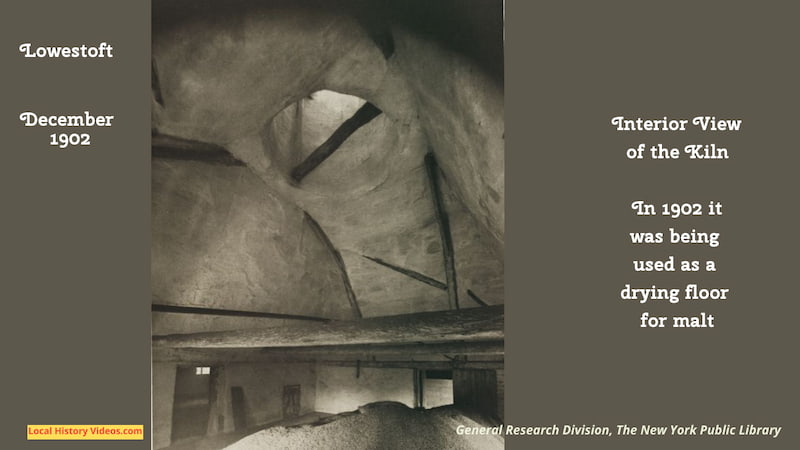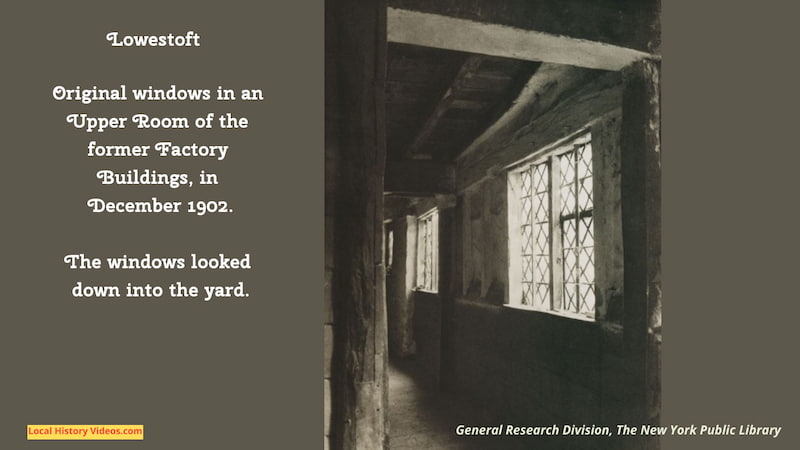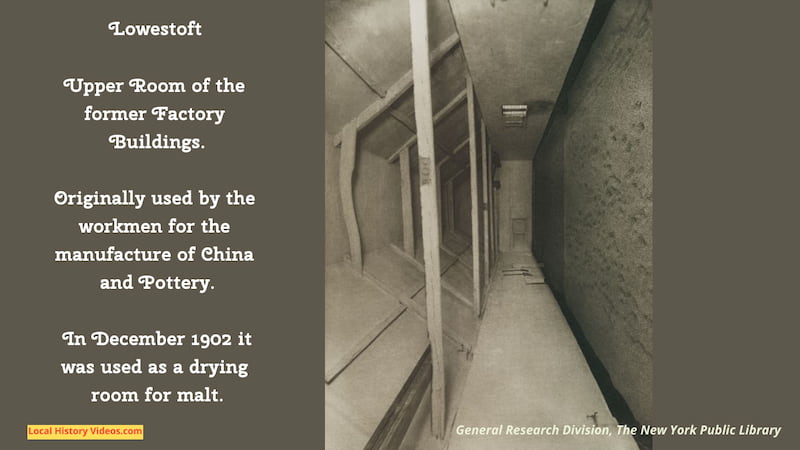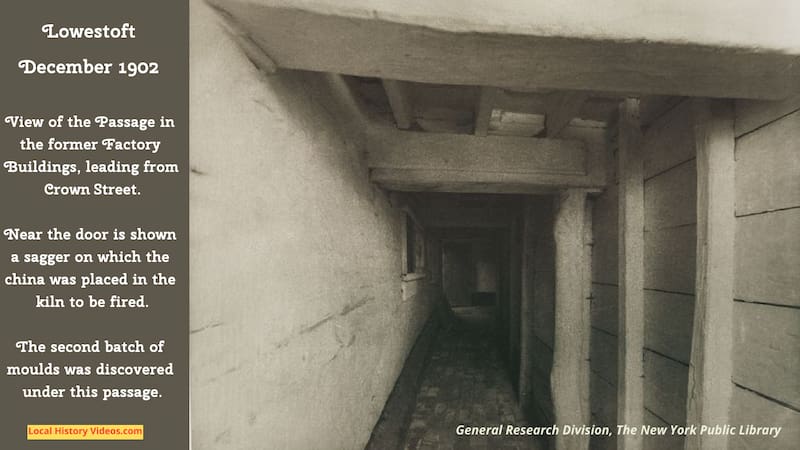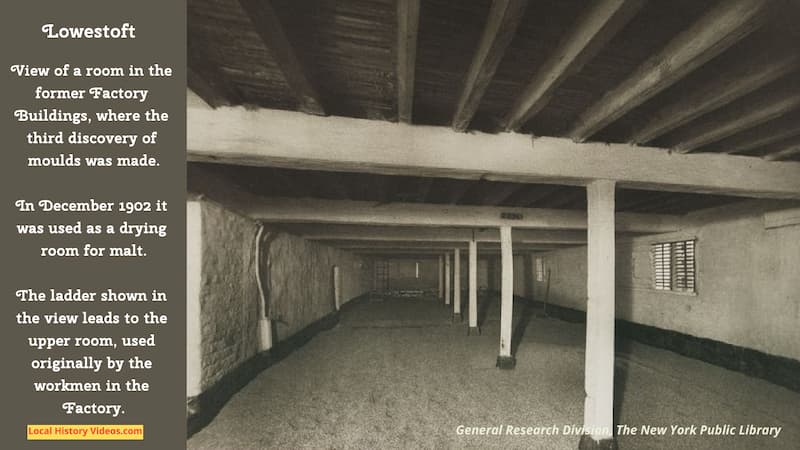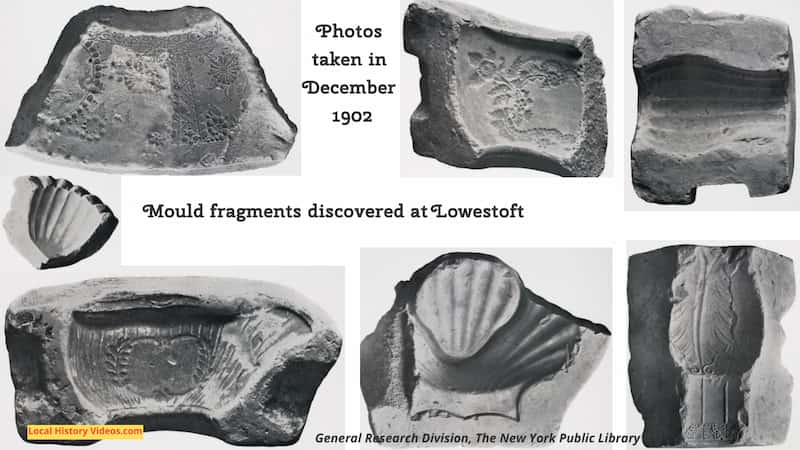 You may also like