Glimpse history through old images of Lewisham, in Southeast London, England.
War Guns 1916
In 1916, midway into the Great War, the 20th Regiment was filmed parading guns they had captured at Loos down a Lewisham street.
The businesses seem to include the Lewisham Timber Co Ltd, the Obelisk Dining Room with its workers in white aprons, and a Peppercorns wagon outside.
All the vehicles in this street are horse-drawn, both for people and goods. 
Lewisham's Pride (1916) – British Pathé on YouTube
---
Hilly Fields
This is a vintage photo postcard of Hilly Fields, a natural park with fields, meadows and woods which is still enjoyed by Lewisham's residents today.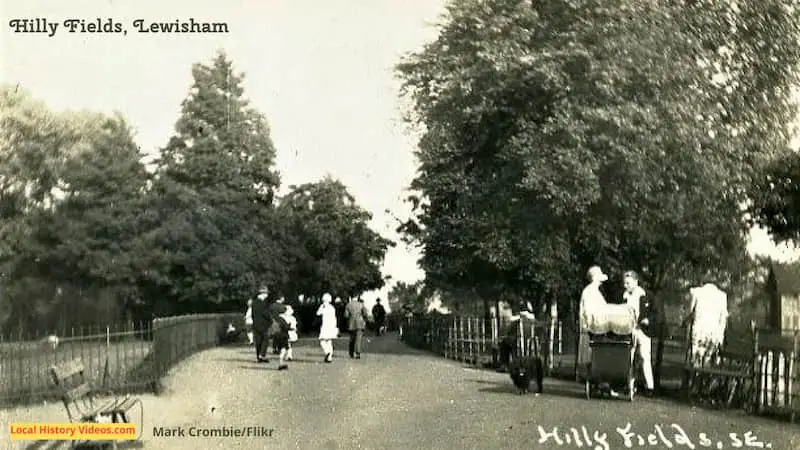 ---
Queen's Visit to Lewisham Hospital 1943
On 20 January 1943, Sandhurst Road School was hit during a Luftwaffe daytime bombing raid. 
There are two memorials at Hither Green Cemetery on Verdant Lane to the 38 children and 6 teachers who died in the tragedy.
The injured children were taken to Lewisham Hospital, where they received a visit from Queen Elizabeth, wife of King George VI. She gave them bananas, brought back from Casablanca by Louis Mountbatten for Princesses Elizabeth and Margaret, who in turn donated them to the injured children.
After filming the ward visit, the camera moved outside to film the car leaving the hospital.
Queen visits children at Lewisham Hospital injured in German bombing (1943) – British Pathé on YouTube
---
Churchill's Visit 1945
On 4th April 1945, a month before VE Day and four month before VJ Day which brought the Second World War to an end, Prime Minister Winston Churchill toured Lewisham and Wandsworth.
It was a political move with an eye to the elections due that summer. Churchill sought to use his popularity as a wartime leader as part of his campaign to keep the Conservatives in power. A wartime coalition had been in place since 1940.
It was not plain sailing, with plenty of booing heard along with the cheering.
In this newsreel, the streets are packed with huge crowds. Luckily that meant a lot of local streets and businesses were included in the newsreel, plus interesting shots with a tram and a bombed out street.
CHURCHILL'S TOUR – LEWISHAM AND WANDSWORTH – SOUND – British Movietone on YouTube
---
North Lewisham Election 1957
On 18th February 1957, newsreels recorded that Labour's MacDermot had won the by-election. It had been a hotly contested election campaign fought by Conservative Mr Farmer and Independent Loyalist Leslie Greene.
This newsreel includes many shots across different locations, each of the election candidates, the ballot paper count, and many local people.
LEWISHAM BY-ELECTION – British Movietone on YouTube
---
Lancaster Park Hostage 1957
On Sunday 21st April, 1957, Mrs Agnes Hutchinson Marshall was handinging out washing when she noticed a note in the side of the corrugated iron shed side which rested  against her fence. The note claimed to be from Miss M Jordan of Elmer's End in Beckenham, and said she was a prisoner in a large shed in a room under the ground.
Her neighbour, Alan Marshall, went to the police. They arrived at 29 Lancaster Park to find that 26 year old labourer John Bridal was happy to show them both the room, 14 feet below the garden shed via a manhole cover, and his captive,  Marjorie Jordon.
Bridal claimed he brought 28 year old greengrocer's assistant Marjorie Jordan willingly to the premises on his motorcycle, and she was there for several days by choice.
But Marjorie said the complete stranger kidnapped her from her bedroom at lodgings in Wimborne Way, Beckenham, binding her mouth and hands and then carrying her on his motorcycle to the hole in the ground in the back of his home. 
Her landlady, Lily Spashett, last saw Marjorie at 11pm on 7th January 1957. At 5am the next morning, the landlady found the front door open. She discovered Marjorie's bed empty, and reported her disappearance to the police. 
Marjorie's parents were both dead, and her sister was a married woman living in Ancaster Road, Elmer's End.
Marjorie told police that during the almost four months of captivity, Bride never tried to make love to her, but either beat her or made her undress as punishment if she tried to escape again, continue to refuse food, or refused to follow his orders. Those orders, the court was told, were mainly to help him enlarge the hole in the ground so he could carry out some experiments on a new invention, and to do his laundry. 
Each day, when he emptied out the buckets of soil from her work on the hole enlargement, he let her wait in the shed. On six occasions, she pushed notes through the corrugated wall of the shed.
Detective Inspector Leonard Herbert told the courts that the experiments involved a long piece of wire connecting circular metal discs buried in the earth. 
Bride's mother, divorced from a cruel husband, had stayed at the flat a few days before Marjorie was found. She had no idea anything was amiss. None of the neighbours in the flats above or around Bride's flat noticed anything either.
In May 1957, the Times reported that Bridal received three months' imprisonment for the theft of the electric fire and radio, which were found in the room he kept Marjorie hidden in.
The News & Courier newspaper reported on July 17 1957 that John Raymond Bridal was sentenced to three years in jail for keeping a girl imprisoned in a hole in the ground for 3 and half months. 
Two months before, Bridal had told The Daily Mirror that he and Marjorie had discussed his inventions when she worked in the green-grocer's shop, and she had come to help him with his inventions. He claimed Marjorie had been a willing guest in his shed, sleeping there because it would be inappropriate for them to live together.
He'd previously received two convictions for larceny, and was a patient in a mental hospital for nine months in 1952.
Captive In A Cave (1957) – British Pathé on YouTube
---
Rail Crash 1957
On the evening of 4 December 1957, heavy fog in the London area caused trains to run late and out of sequence. In addition to commuters, the South Eastern Main Line was heaving with Christmas shoppers and children.
Just before 6:20 pm, an electric train travelling from Charing Cross to Hayes had stopped at a signal under Lewisham bridge. The driver had to speak on the signal telephone to the Parks Bridge Junction signalman, who needed to confirm the train's identity and destination. There were about 1,500 passengers on board.
The steam train to Ramsgate, carrying around 700 passengers, came up behind. Because the driver hadn't slowed down at two caution signals, he did not have enough distance to stop when he saw the danger signal. 
The steam train crashed into the electric train, destroying the eighth of the ten carriages and causing the bridge to collapse down onto the steam train.
Two minutes later, a train due to pass over the railway bridge arrived. Luckily its power was cut out by the accident below, meaning it stopped inches short of the collapsed section of bridge. However, iits leading coach was tilted, showing how close this was to an even bigger disaster.
Rescue workers toiled throughout the night, and local residents stripped their homes of spare sheets and blankets. Between the Fire Brigade, Ambulance, Police, doctors, nurses, the Salvation Army, the Women's Voluntary Service, St John Ambulance Brigade and local residents, all the injured were taken to hospital between 6:25 pm and 10:30 pm. 
Transport Commission Chief Sir Brian Robertson and Southern Region Chairman Sir Philip Warter visited the site the next morning, when many bodies were yet to be pulled out of the wreckage.
At the time of the newsreel 70 people had died but that figure would rise to 90. A further 200 were injured, with 109 of them admitted to hospital.
The driver of the Ramsgate train was acquitted of manslaughter charges after two trials. 
It was the worst rail crash since the one at Harrow & Wealdstone in 1952, and the use of an Automatic Warning System would have prevented the collision.
Rail Crash – Many Killed And Injured (1957) – British Pathé on YouTube
More about Greater London