Glimpse history through old images of Evensham, Worcestershire, England, UK.
Evesham Bell Tower
Evesham Bell Tower, built in the 16th century, is the 4th freestanding belfy on the same site since the year 1208.
It is the only surviving part of Evesham Abbey, which was founded by Saint Egwin between 700 and 710 AD. Dissolution happened in 1539, with the Abbey's church and buildings destroyed in the following years.
The bell tower sits in the centre of Abbey Park, next to the churches of All Saints and St Lawrence.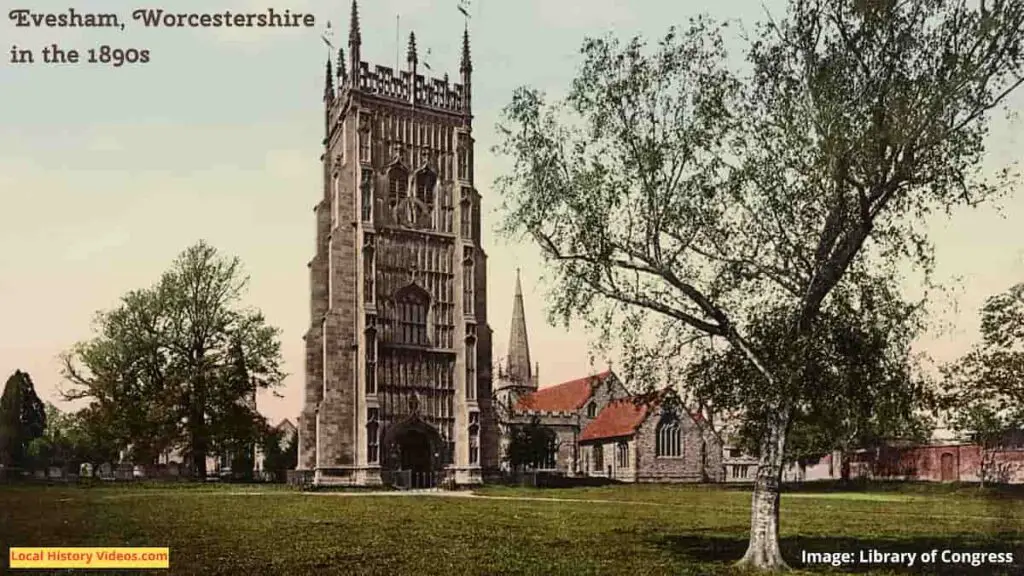 ---
Plum Picking 1937
This newsreel films nomadic families working as plum pickers at Evesham in 1937.
Although the narrator says it is a couple of centuries since the Yellow Egg plum was found growing in the Worcestershire countryside, it was 1827 when George Crooke from the Butcher's Arms pub made his momentus discovery in Tiddesley Wood. But by 1937, the domesticated tree variety covered 50,000 acres and produced a million pounds of fruit a year.
---
1965 Carnival
In 1965, local residents Melvyn & Ros Grinnell made a good quality home movie on 8mm cine film, recording the Evesham Carnival.
In addition to the floats, participants and spectators, there are some nice glimpses of the buildings in the background.
---
A Sunny Day in the Early 1980s
Arthur Tolley gave this VHS home recording to John Huntley more than 30 years ago.
The video incudes:
the riverside
Abbey Park
Marine Ballroom (inside & out)
car park (now apartments)
the 'Gaiety' pleasure boat
Abbey Bridge
---
Evesham Fun Day 1998
How time flies! All the children and teenagers watching and performing will have grown up many years ago.
---
Flooding 2007
Mobile phone cameras were in their infancy when this 2007 recording of the floods was made.
---
More about Worcestershire