Vintage film and old photos of Amble in Northumberland take us back in time to a thriving community. Work could be hard and backbreaking, but the streets drew in men, women and children going about their daily lives.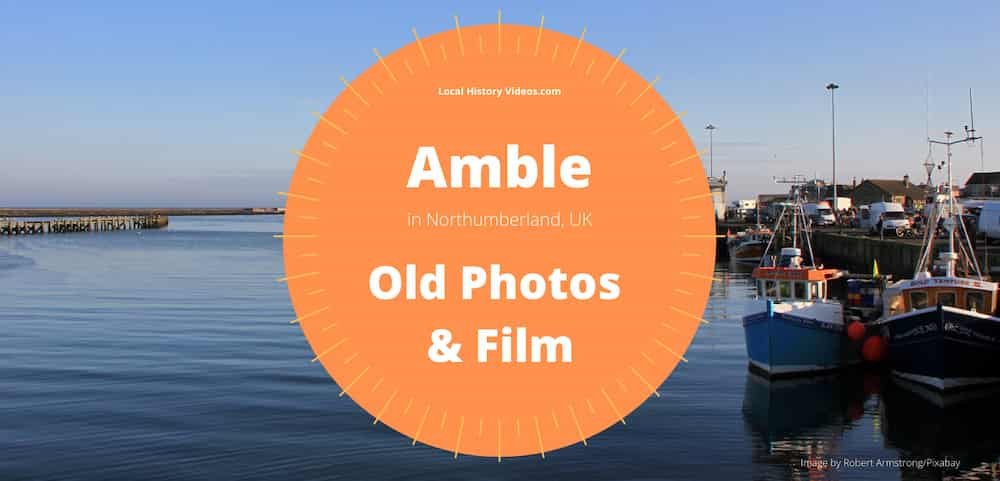 Miners resume work at Amble (1921)
It was 1921, not long after the Great War (World War I) ended. The coal miners in Amble were producing more than 100 tons of coal every day. It was an amazing feat, bringing Gaumont Graphic News out to film the Northumbumbrian pitmen at their backbreaking work.
What's so wonderful about this footage is seeing the men load the coal onto small boats at the jetty in a way that disappeared very soon after. And then, suddenly, the jetty is full of local people, curious about the camera.
Posted to YouTube by British Pathé
Coal miners in Amble and Dudley (1926)
The Gaumont Graphic News team must have been pleased with their 1921 footage, because they were back again five years later. 
Posted to YouTube by British Pathé
Here they capture the heavy digging as miners extract coal from the sandy beaches and load it into a simple wooden cart. 
Unfortunately it's only a few seconds before the footage jumps across to mining at Dudley.
At both locations, there seem to be very small children on site!
On the day I found this little clip on YouTube, it was several months old and I was only the 32nd viewer. This way of life was gone soon after the filmmakers recorded it. 
Old Photos of Amble
See people go about their daily lives when bonnets and horses were the norm, cars had yet to appear, and Walter Willson's was a local landmark. 
AMBLE IN OLD PHOTOGRAPHS: posted to YouTube by Rod Hardisty
Enjoy more than twenty minutes of fascinating old photos of Amble and discover how this pretty Northumberland settlement changed over time.
There are hard times in the late twentieth century, with boarded up buildings and a notable absence of pedestrians wandering the streets. But plenty of people braved the weather in the 1950s despite the heavy snow!
Filming BBC Countryfile in Amble
A bit of excitement on 19th April 2018 as a film crew turn up with the presenters of BBC Countryfile.
BBC Countryfile comes to Amble: posted to YouTube by judith hardisty
I hope you've enjoyed this look back in history with the vintage films and old photos of Amble in Northumberland. Here are some more pages about Northumberland that you may be interested in: