Glimpse the past through old images of Alnwick, a historic market town and seat of the Duke of Northumberland.
Famed for its large Norman castle which has hosted many film crews including the Harry Potter franchise, the beautiful Alnwick Garden which opened twenty years ago, and Barter Books which is set in the converted railway station, this attractive and historic market town has been captured on film for decades.
---
1926 New Year's Percy Hunt
Duke And Duchess Of Northumberland (1926):  British Pathé on YouTube
---
1927 Historical Pageant
A wide array of men, women and children took part in the 1927 historical pageant.
Northumbrian's Historical Pageant in Alnwick, England (1927): British Pathé on YouTube
---
1932 Shrovetide Football Match
Shrovetide football is an ancient English tradition which is still played each year in the Northumberland town of Alnwick. Back in 1932, British Pathé was there to capture the action.
Shrovetide Football in England
According to Dr Ruth Larsen, senior history lecturer at the University of Derby, Shrove Tuesday football matches began in England sometime in the 12th century. 
At a time of feasting in preparation of fasting for Lent, it was easy to source the pig's bladder needed as a football.
Over several centuries, certain towns across England became known for their annual Shrovetide football matches.
They were rough and tumble events,  often taking place along the high streets and main thoroughfares. 
It was commonplace for shop fronts to be covered with wooden barricades, in an attempt to avoid damage during the event. Most Shrovetide football matches have ended or moved to less busy grounds. 
But even today, shopkeepers in the Derbyshire Dales town of Ashbourne cover their shopfronts in advance of the annual 16 hour Shrovetide football match held over two days.
Alnwick Shrovetide Football Match in 1932
During the 19th Century, the annual Shrovetide Football match in Alnwick moved from the main trading streets into pasture land owned by the Duke of Northumberland. This decision probably saved the tradition, since 1932 saw the outright ban of County Durham's popular and rumbustious game in the town of Chester-le-Street.
Luckily, 1932 was also the year that British Pathé recorded the football game at Alnwick. As a result, we can see how the game looked almost a century ago.
The procession from Alnwick Castle to the pastureland was led by the Duke of Northumberland's piper. It started from the Alnwick Castle gate, into streets lined with spectators.
The procession consisted mainly of men coming to take part in the sporting fun, but some women and the occasional child walked along too.
Hundreds of people arrived at the pastureland, where goalposts covered in leaves were ready. But the action took an unexpected turn, with several men valiantly wading neck deep into the cold River Aln to keep up with the game.
The Duke of Northumberland's Official Piper
The north of England is the birthplace of the Northumbrian smallpipes and less common Border smallpipes. These versions of bagpipes are smaller and quieter than their Scottish counterparts, and are played differently. They are designed to be played inside, and don't have a mouthpiece.
The first official piper to the Duke of Northumberland was appointed more than 250 years ago. Until the retirement of musician James Hall in 1931 this was a full time position.
James Byrnes was then appointed Piper to the Duke. His duties included piping for the Shrovetide football match, and other important events as required.
The British Pathé film of the 1932 Shrovetide football match in Alnwick shows James Byrnes playing the Northumbrian smallpipes as he leads the procession out of the castle gates.
In 1949 Jack Armstrong succeeded James Byrnes as Piper to the Duke.
Today the official piper to the Duke of Northumberland is Richard Butler, and his website can be found at Northumbrianpipes.com
The Alnwick Tradition Continues
Although it receives less media attention these days, Shrove Tuesday football in Alnwick remains an annual event, complete with a procession led by the Piper to the Duke.
---
1937 New Year's Percy Hunt
New Year's Percy Hunt at Alnwick in Northumberland (1937): British Pathé on YouTube
---
1938 New Year's Percy Hunt
Percy Hunt At Alnwick End (1938): British Pathé on YouTube
---
1938 Shrovetide Football
Alnwick (1938): British Pathé on YouTube
---
1941 Nazi Map of Alnwick
This picture is taken from a 1941 series of maps of England, created in Germany during World War II.
It was called the Militärgeographische Einzelangaben über England : militärgeographische Objektkarten mit Objektbildern, and is now held by the US Library of Congress, Geography and Map Division.
I've added images of the key next to the image of the Alnwick area.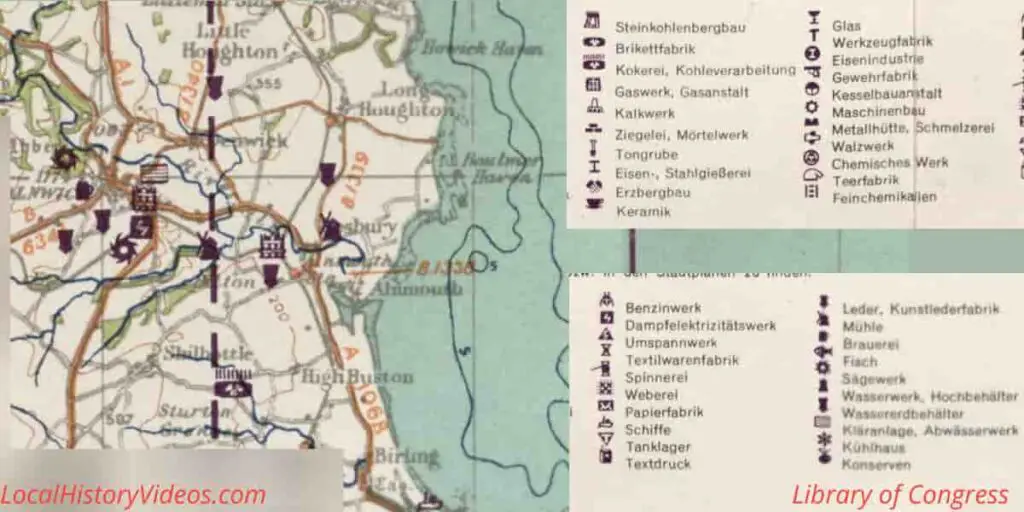 ---
1960 Alnwick Show
Alnwick Fair 1976: sundial12 on YouTube
---
1969 Alnwick Fair
This news segment looking back at the first event in 1969 includes interviews with fair organisers Ken Lewis and Mable Forsythe.
ALNWICK FAIR 1969: JAY 472 on YouTube
---
1976 Alnwick Fair
Alnwick Fair 1976: kellyfan222 on YouTube
---
1977 Shrove Tuesday Football
Shrove Tuesday Alnwick 1977. Jason Sumner. (JAY 472 on YouTube)
---
1978 Alnwick Fair
Although this footage starts with the 1978 Alnwick Fair, we also see John Le Mesurier being interviewed on location of Disney's feature film 'A spaceman and King Arthur'. 
Alnwick Fair 1978: kellyfan222 on YouTube
---
1983 Blackadder Film Crew
A quick, silent home movie clip from February 1983. Scenes from the first series of Blackadder is filming in Hulne Park.
Filming "Black Adder"; Alnwick 1983: Dennis Sisterson
---
1980s Alnwick Fair
Alnwick Fair Week – during the 1980s: Islaymalt1 on YouTube
---
1991 Shrove Tuesday Football in the Snow
It may have been snowing, but nothing was going to stop play! Organiser Philip Egdell is interviewed.
ALNWICK SHROVE TUESDAY FOOTBALL-1991. – Jason sumner (JAY 472 on YouTube)
---
Alnwick Fair in the mid-1990s
Alnwick Fair Once More: Dorothy Curtis on YouTube
---
2011 Queen Elizabeth Visit
Queen Elizabeth II and Prince Phillip officially visited Northumberland's famous market town on 22nd June 2011.
The Royals opened the new Youth Hostel. Then they attended an event at The Alnwick Garden to to celebrate the work of carers and volunteers.
But here we see the streets looking very smart, and the local community coming out to greet the Royal visitors.
Her Majesty The Queen and Prince Phiip in Alnwick: Quentin Field-Boden on YouTube
---
2011 Wilkinson Store Opening
On 19th August 2011, the Mayor arrived to officially open the new Wilkinson Store. The Alnwick Playhouse Concert Band provided the jolly trumpet fanfare.
Wilkinson Store Opening – Alnwick: Quentin Field-Boden on YouTube
---
More about Northumberland
.