Glimpse history through old images of Acton, in Greater London, previously a town in Middlesex.
The Pitiless Mother of Acton 1616
We start with an image published in the year 1616, part of a real-crime booklet called 'the pittilesse Mother'. That's not a spelling mistake, written English has changed considerably over the years.
Gentlewoman Margaret Vincent murdered her two children on 9th May 1616, and eventually admitted the crime under 'Examination'. The penalty was death, with the execution taking place just nine days later.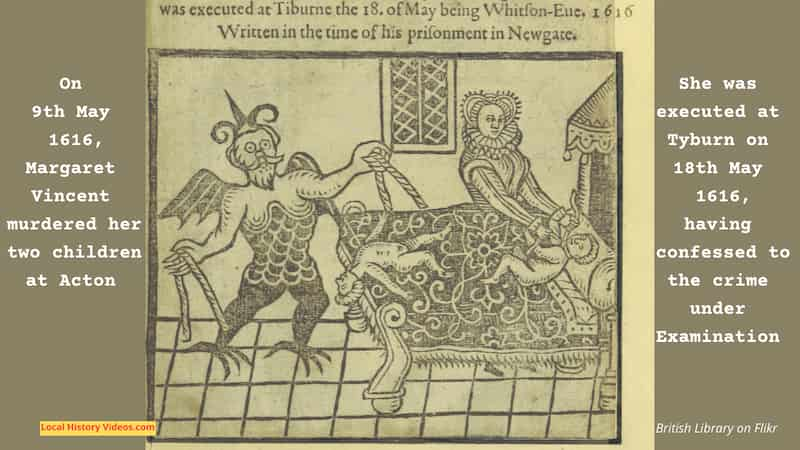 ---
Wartime Gift of Acton Park
Once an ancient village, and then the bolthole of comfortable Londoners, Acton was gradually absorbed into London.
In the late nineteenth century the Goldsmiths' Company bought Acton land with the intention of constructing large houses on the land bounded by Churchfield Road East, East Acton Lane and Uxbridge Road.
But after building just a few homes, in 1888 they sold 21 acres to the local board for Acton park. The local board also bought four acres from the Ecclesiastical Commissioners for the same project. Between Churchfield Road East and Uxbridge Road, Acton Park was established, along with sports facilties and grounds landscaped by the Cheal family of Gatwick.
Then sometime during or just after the Great War, later known as World War I, Acton Park was gifted to the Ministry of Pensions, and the formal event commemorating it was caught on film.
There's a lot of dignitaries seen, along with a number of older men in officer's military clothing.
Gift Of Acton Park To Ministry Of Pension (1914-1918) – British Pathé on Youtube
---
Fire! 1935
On 21st February 1935, a fire broke out at a factory in the early hours of the morning. Strong winds fanned the flames, and two nearby buildings caught fire.
Unfortunatley, the limitations of filmmaking technology at the time means you can see little in this newsreel beyond the flames.
Big Factory Blaze at Acton – British Movietone on YouTube
---
Charlie Chaplin Crowds 1921
When Charlie Chaplin visited Acton in the London borough of Ealing in 1921, huge numbers of people turned out to see the famous movie star.
Even the police were present to hold back the crowds of excited people.
Ironically, we don't actually see Chaplin in this film clip, but there's so much to enjoy about the scale of his popularity at the time.
Charlie Chaplin at Acton (1921) – British Pathé on Youtube
---
Wilkinson Sword Factory
Swords (1953) – British Pathé on Youtube
In 1965 the men working at the Wilkinson Sword Factory in Acton were still working without safety equipment or even gloves, despite heaving containers of molten metal across rooms, showering great quantities of sparks about as they sharpened the swords, dipping blades into whale oil and molten lead, or painting the blades with chromium.
At the time, they were making about 5,000 swords a year. Newly independent nations were apparently major customers.
Sword Making (1965) – British Pathé on Youtube
---
1960s Adventure Playground
A range of photos and film focused on the play of children, which also captures many local streets and homes.
South Acton Adventure Playground – Heman Yones on YouTube
---
Acton Buses 1987
Filmed in February 1987 outside Acton Tram Depot, we see the Routemasters trundling past the nearby homes, shops, and businesses. A few pedestrians and cars also appear.
London Buses 1987-Routemasters at Acton Tram Depot – Soi Buakhao
You may also like