Glimpse history through old images of Truro, the only city in the South West county of Cornwall, England.
Old Photo of Truro
This old photo looking down on Truro from College Terrace was taken in 1913.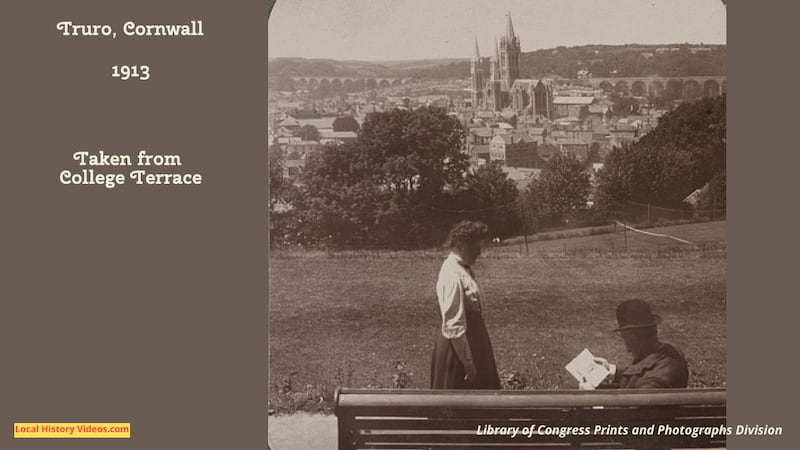 Old Postcards of Truro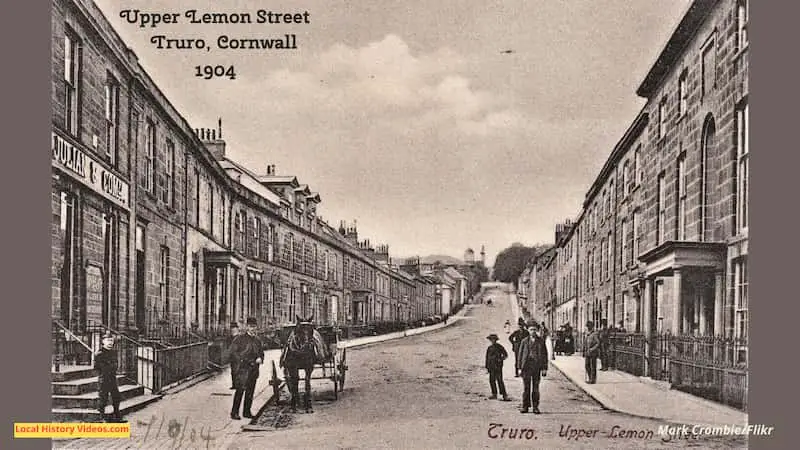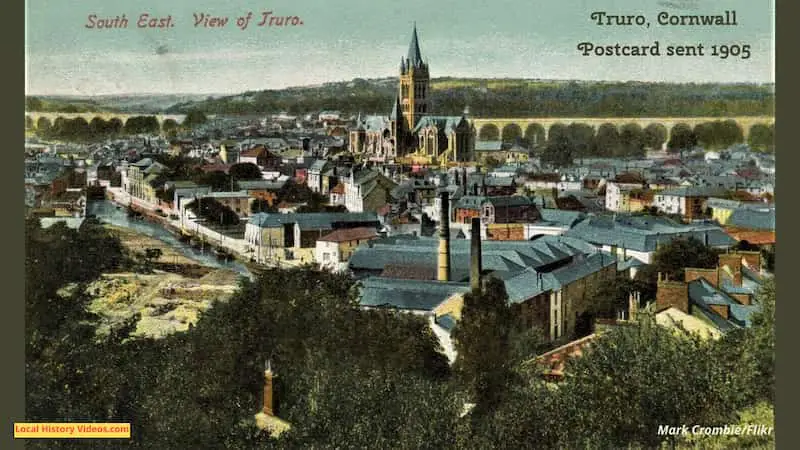 Boscawen Street, Truro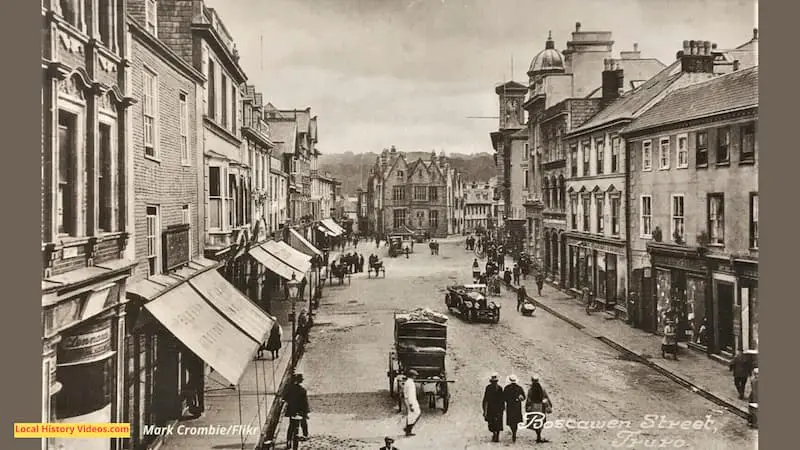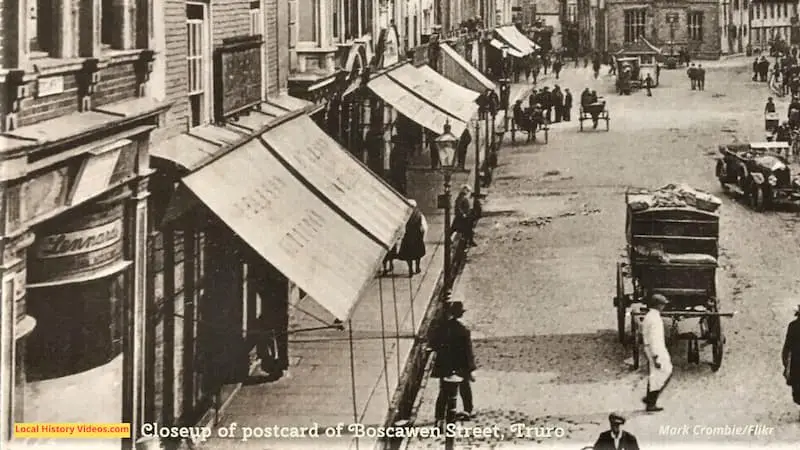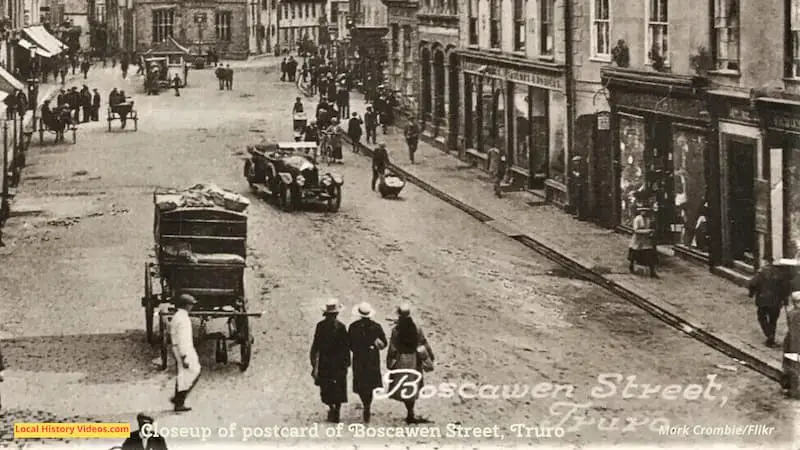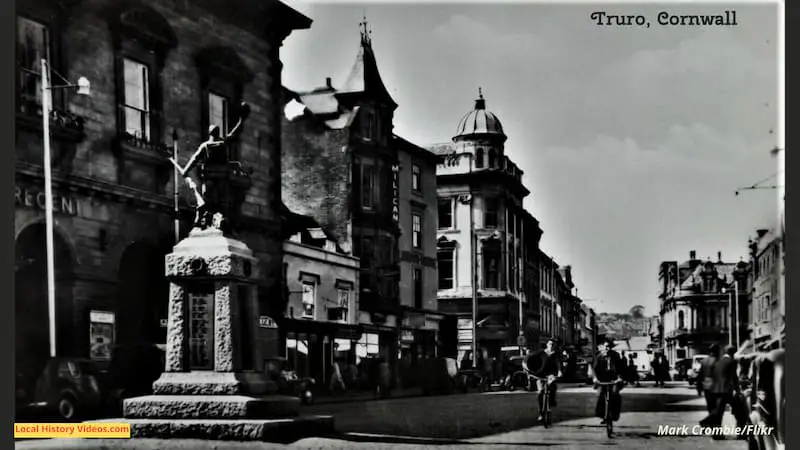 Truro's Time Machine
James Fox creates brilliant videos taking us back in time using old photos and pictures. He adds location titles and dates, so you know when and when you are.
Truro: A Journey Through Time! (2020 to 1816) – The Time Travel Artist (YouTube)
Truro in 1988
This video was made in the centre of Truro on a hot summer's day in 1988.
It focuses on the people walking down the pedestrianised street that day.
The children seen walking with their parents, some of them very young, will have reached adulthood many years ago.
People in Truro 1988. – T Wicket on YouTube
Truro in the 1990s
In 4th June 1990, a home video was made of the centre of Truro, Cornwall.
You'll see the Town Hall, pigs hanging in the back of the butcher's van, bright coloured shellsuits, lots of local people, and a glimpse of the businesses which served the community more than thirty years ago,
Truro / Cornwall the 4th of June 1990 – henryhvideofan on YouTube
Olympic Torch at Truro 2012
To celebrate the London Olympics in 2012, the Olympic Torch was carried in a relay to each area of the UK.
The Olympic Torch arrived in Truro on Saturday, 19th May, 2012.
Lots of people turned out to enjoy the street procession and carnival atmosphere.
The home movie also included lots of local people, businesses, and homes.
London 2012 Olympic Torch relay, Day 1, Truro, Cornwall – The films of PHILL WILLS. Autism, love and life on YouTube
You may also like