Glimpse history through fascinating old images of Carson City, Nevada, in the USA.
Old Photos of Carson City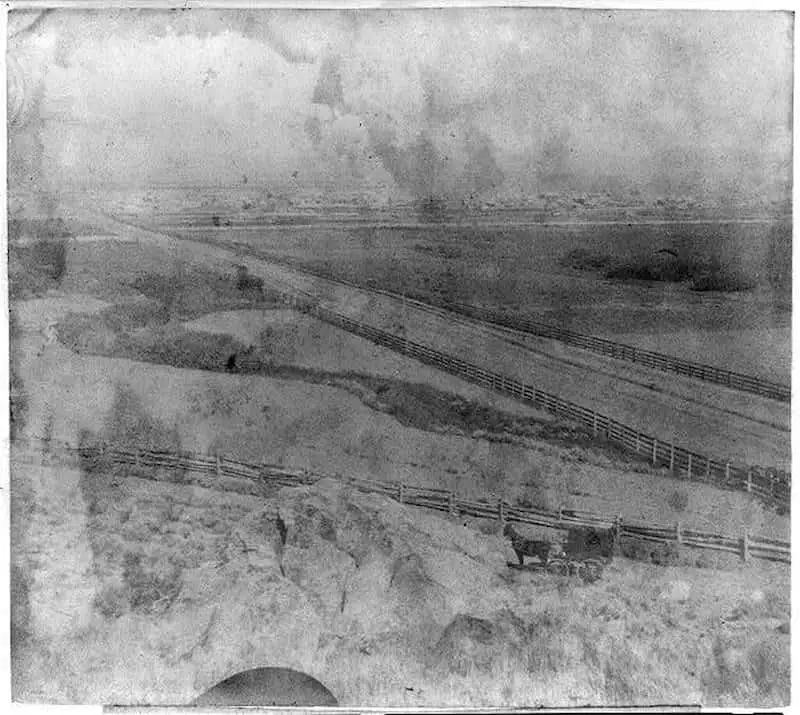 ---
Carson City 1967
This is a quick slideshow of old photos taken in 1967.
1967 Carson City Nevada – Random Photographs on YouTube
---
Nevada History Collection
The City Library in Carson City has an extensive Nevada History Collection.
C-SPAN Cities Tour: Carson City – Carson City Library Nevada History Collection – C-SPAN on YouTube
---
Historic Prison Tours
The Carson City prison is not longer in operation, but now used as a tourist attraction for people interested in historic prison tours.
Nevada State Prison Historic Tours | Carson City, NV – Visit Carson City on YouTube
---
A Bit of Carson City History
Extract from:
Crofutt's New Overland Tourist and Pacific Coast Guide
"Containing a Condensed and Authentic Description of Over One Thousand Two Hundred Cities, Towns, Villages, Stations, Government Fort and Camps, Mountains, Lakes, Rivers, Sulphur, Soda and Hot Springs, Scenery, Watering Places, and Summer Resorts … : Over the Union, Central and Southern Pacific Railroads, Their Branches and Connections, by Rail, Water and Stage …"
By George A. Crofutt
Published in 1879
CARSON CITY – the capital of the State of Nevada. It is situated in Eagle Valley, on the Carson River, at the foot of the eastern base of the Sierras, and contains about 4,000 population; is 31.1 miles south from Reno, and 21.1 miles southwest from Virginia City.
It is the oldest town in the State, and has a good many fine private and public buildings. The town is tastefully decorated with shade trees, and has an abundance of good water.
The United States Branch Mint of Nevada is located here.
The capital is located in the center of a Plaza, and is surrounded by an iron fence. It is two-story and basement, made of cut stone.
Carson is a busy city, has some good blocks of buildings, several good hotels, chief of which is the Ormsby; four churches, five schools, two daily newspapers — the Morning Appeal and the Nevada Tribune.
Here are located the machine shops of the Railroad Company, and several manufactories.
Carson City is in the center of the best farming land on Carson River, and the best in this part of the State, and is the distributing point for a vast amount of freight, destined for the southern mines.
To the south of the city, comes down the large "V" flume from the Sierras, via. Clear Creek Canyon, owned by the Railroad Company through which thousands of cords of wood and millions of feet of lumber are landed at Carson weekly.
Four and six-horse coaches leave Carson daily, carrying passengers, mails, and express. From Carson to Monitor, the distance is 46 miles, and to Silver Mountain, in Alpine county, Cal., 54 miles; to Bishop's Creek, 192 miles; Benton, 150 miles in Mono County, Cal., Sweetwater, 73 miles, Aurora, 105 miles, Bodie, 119 miles, Mariette, 145 miles, Bellville, 155 miles, Candelaria, 165 miles, Columbus, 173 miles, and Silver Peak, 228 miles in Esmeralda County, Nevada. To Independence, is 234 miles; Lone Pine, 252 miles, and Cerro Gordo, 274 miles, in Inyo County, Cal.
The fare to these places averages about 15 cents per mile.
A stage also runs to Genoa and Markleville, and in the summer to Lake Tahoe, at Glenbrook, 15 miles. This line connects at Tahoe City, with stages for Truckee, the Summit, and also with the new line over the mountains to the Calaveras Grove.
Leaving Carson, our course is to the northeast, across a broad bottom. To the right, about two miles distant, beside a round butte, is a large building – a huge boarding-house conducted by the State. The guests are numerous and are not inmates of their own free will, but by due course of law, and when the law is satisfied, it is hoped they will leave this STATES PRISON and become better citizens.
Near the prison are the Carson Warm Springs, where ample accommodations for bathing are available.
---
More about Nevada