Glimpse history through old images of Eastbourne, East Sussex, England.
---
Old Pictures of Eastbourne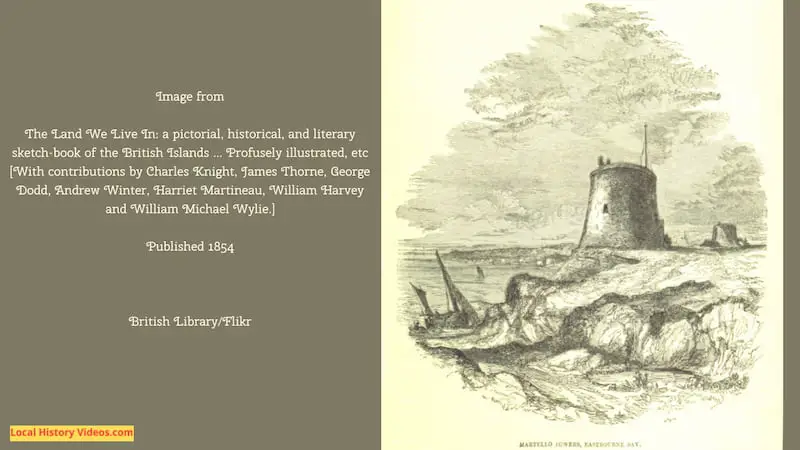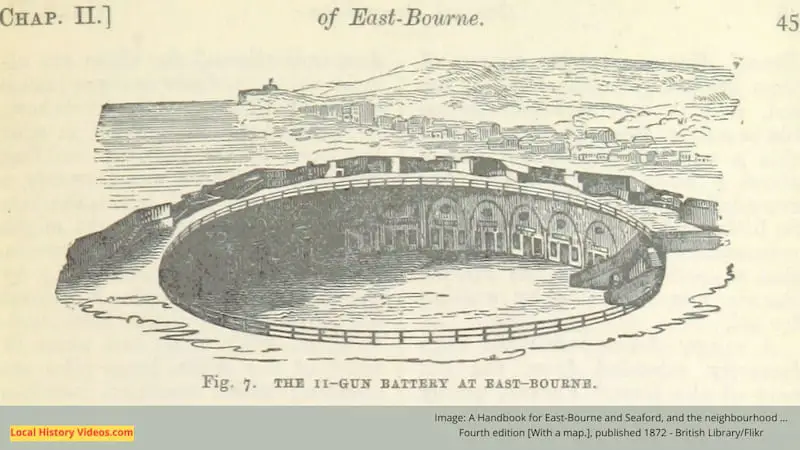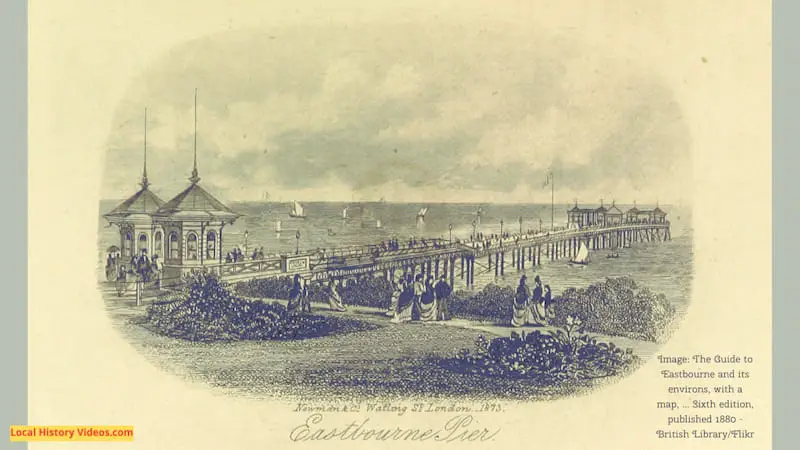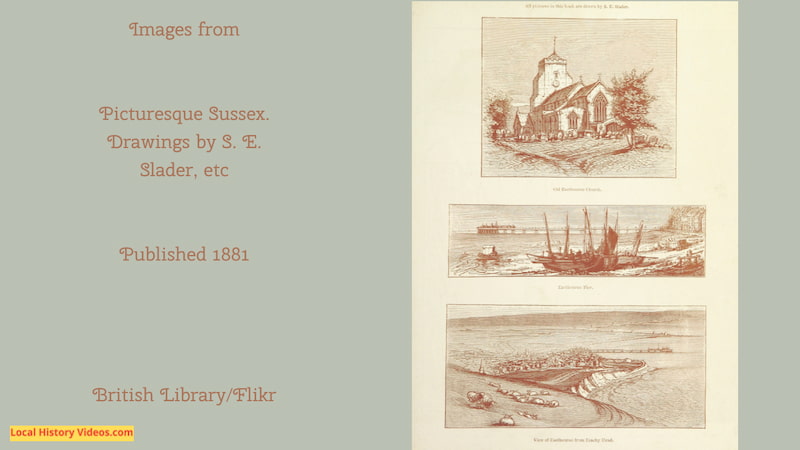 ---
Old Photos of Eastbourne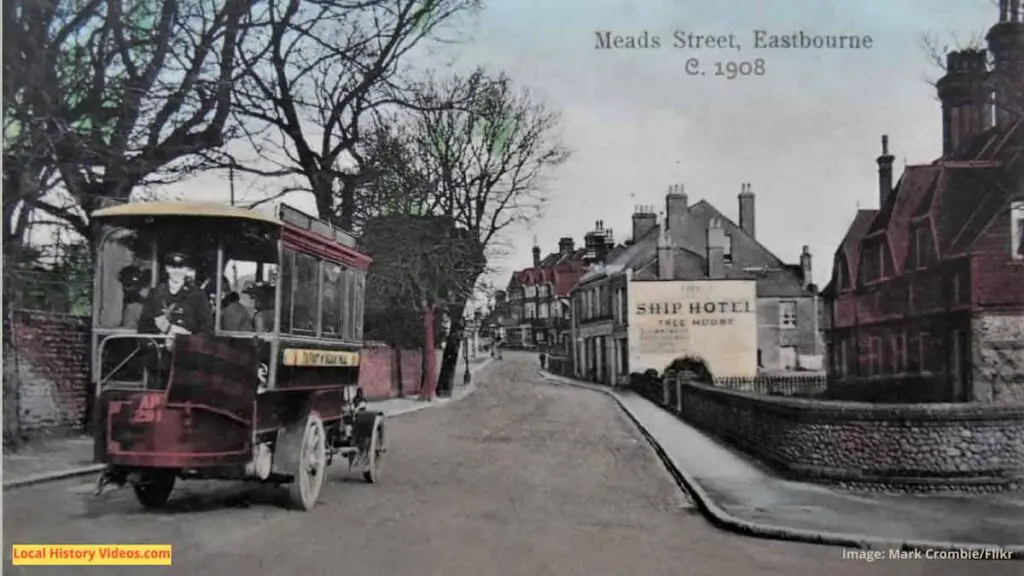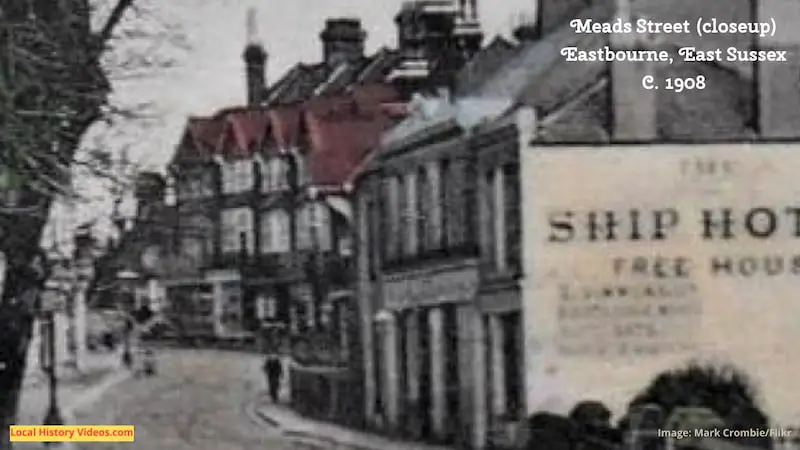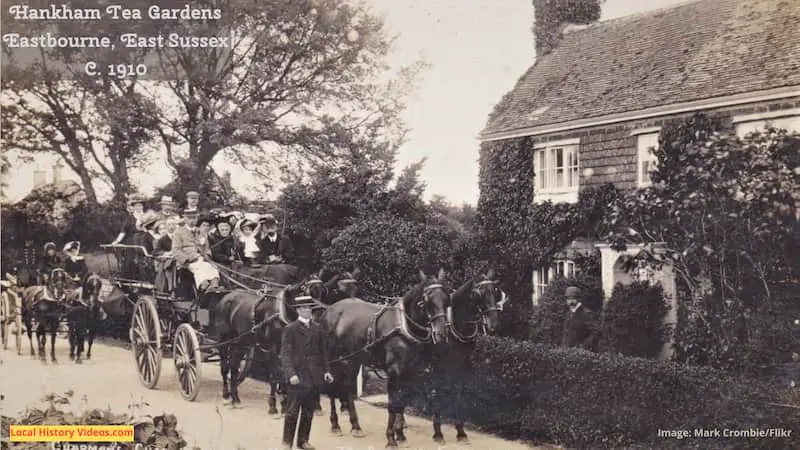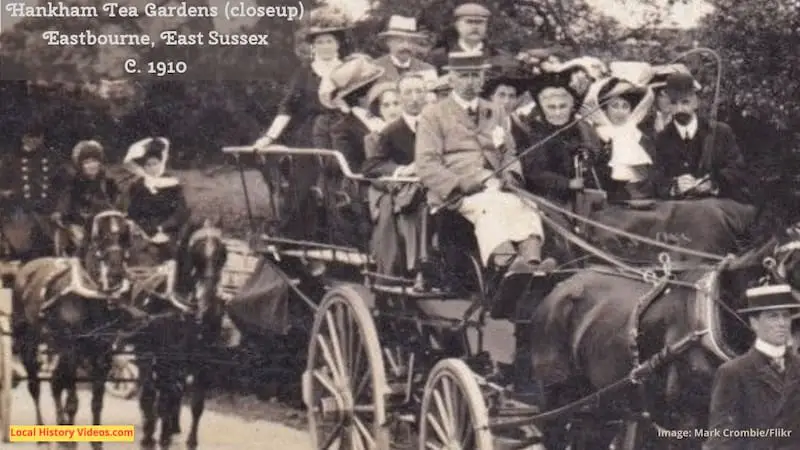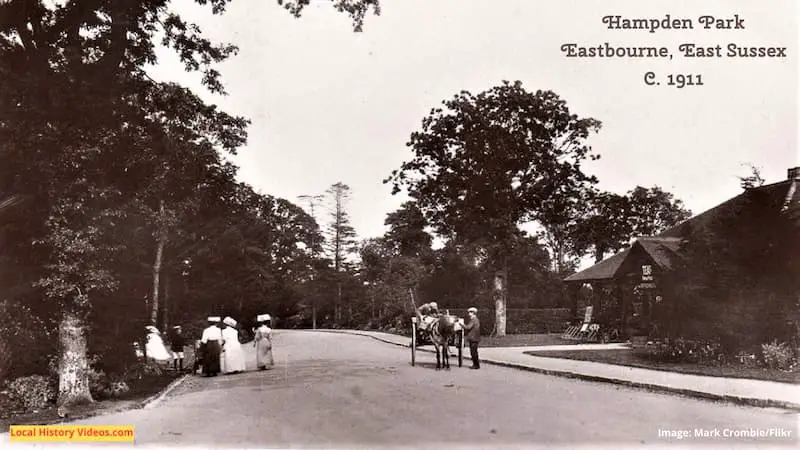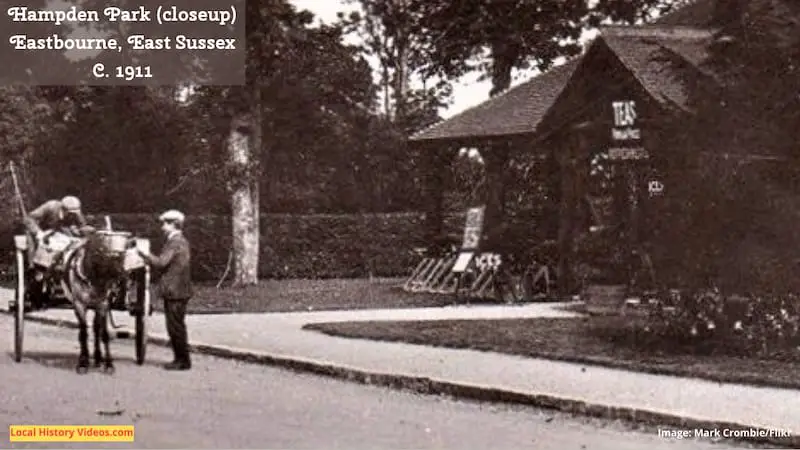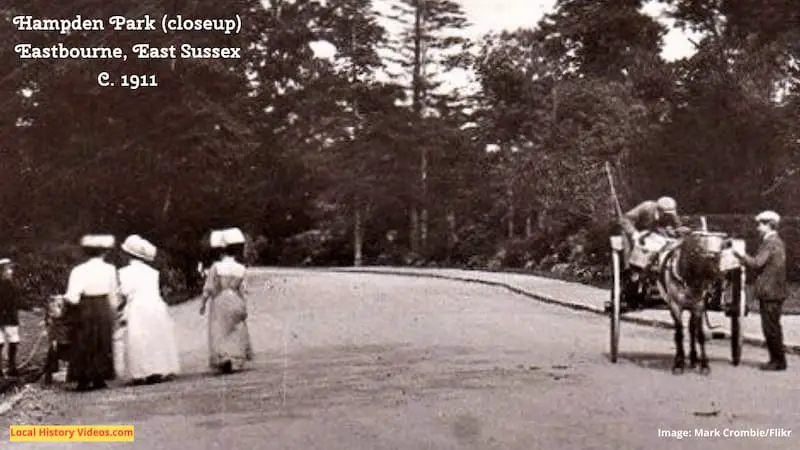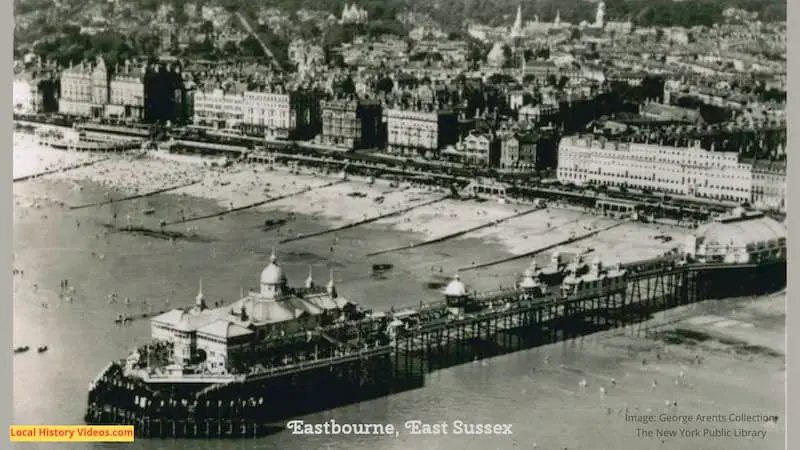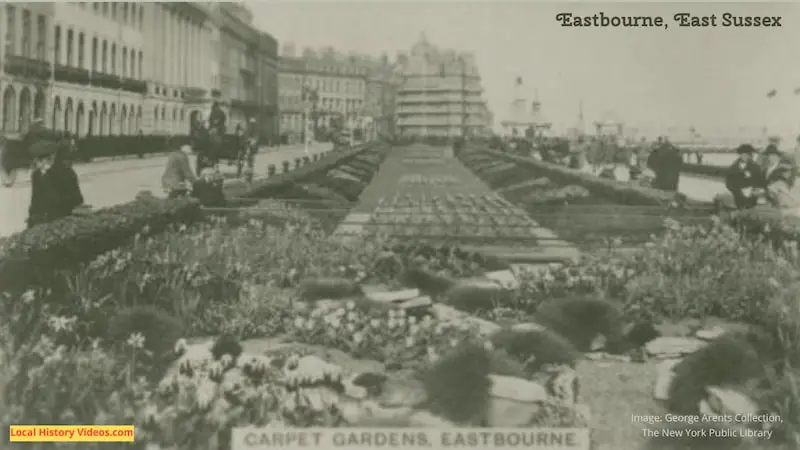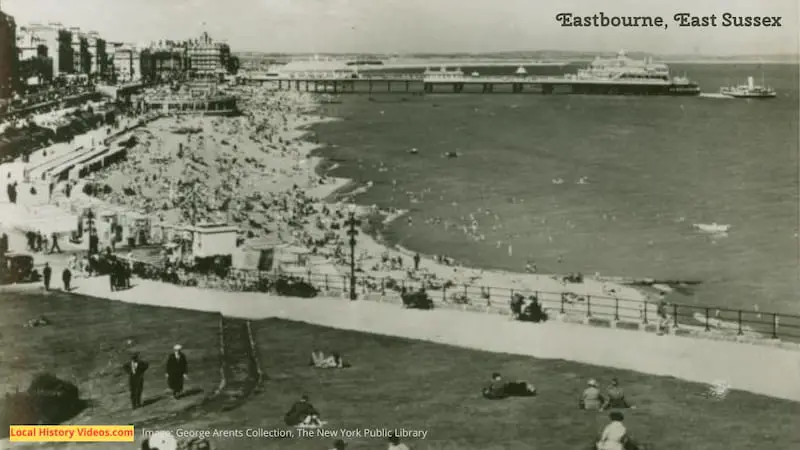 ---
Old Map of Eastbourne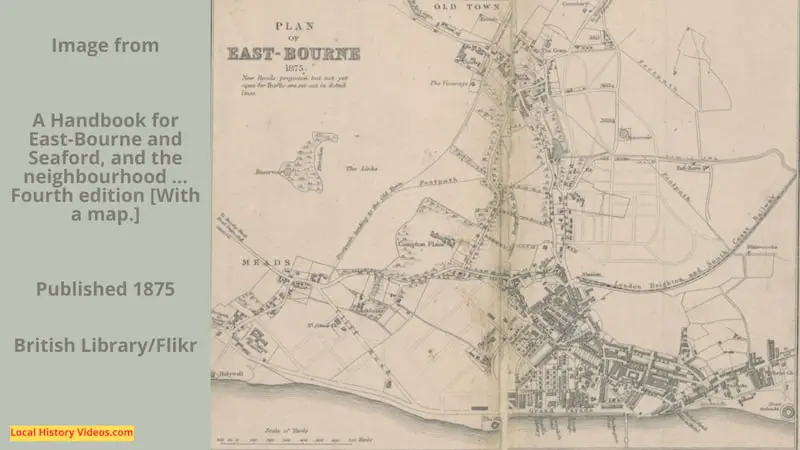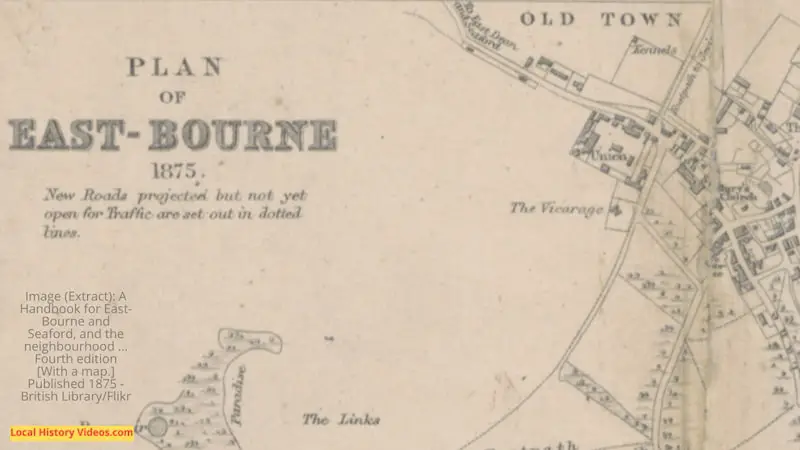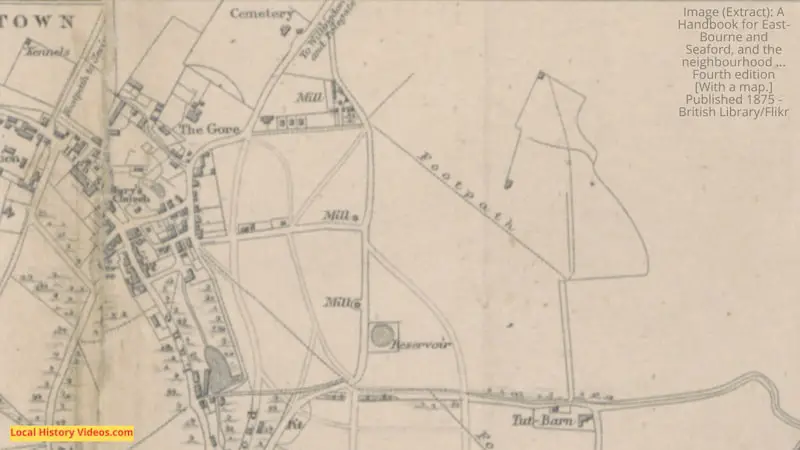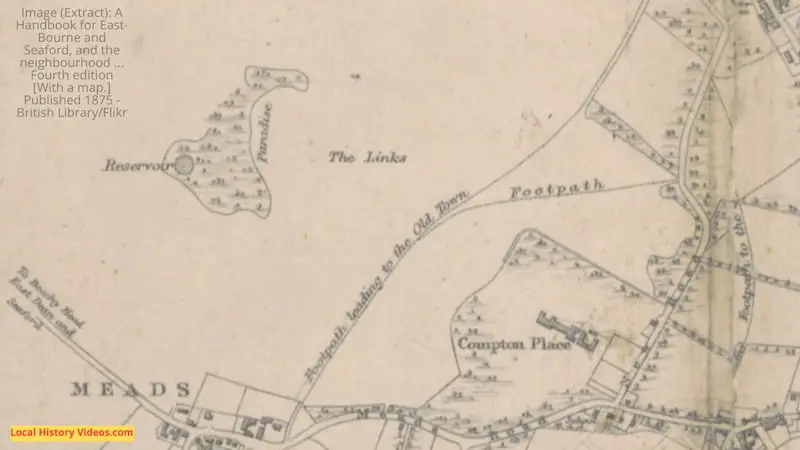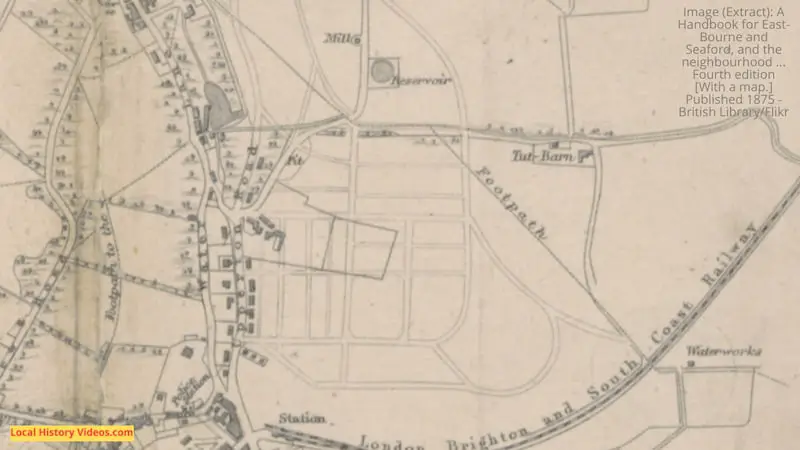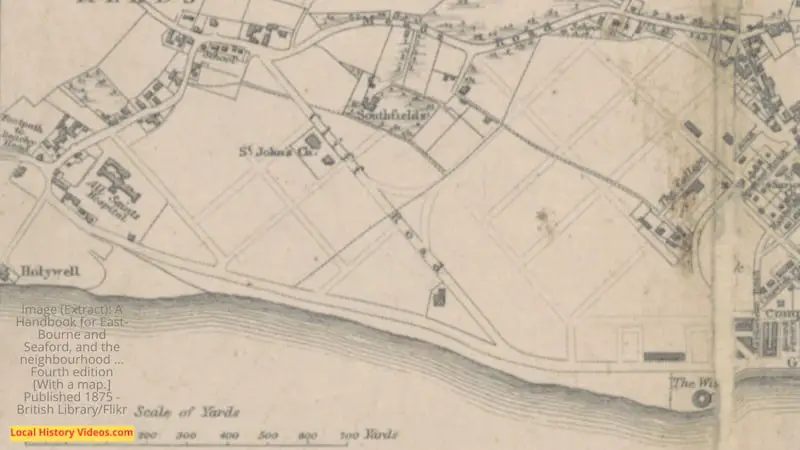 ---
Eastbourne Pier Through Time
Eastbourne Pier: A Journey Through Time – The Time Travel Artist (YouTube)
---
World War I Funeral 1916
Lord Kitchener is famous for the 'Your Country Needs YOU' posters of the First World War, in which the moustached Major-General looks out with a pointed finger.
But did you know how he died? On 5 June 1916, he was on board HMS Hampshire, travelling to Russia to attend negotiations with Tsar Nicholas II. In bad weather the ship struck a German mine 1.5 miles (2.4 km) west of Orkney, Scotland, and sank, losing all 737 on board.
Less than a hundred bodies were recovered from the waters, buried at mass grave at Lyness Royal Navy Cemetery, Orkney. Only two were buried elsewhere, including one of Lord Kitchener's friends, Lt. Colonel Oswald Fitzgerald, who was the son of Sir Charles Fitzgerald.
The body of Oswald Fitzgerald was taken to Inverness and then transferred to London for burial at the Eastbourne (Ocklynge) Cemetery in Sussex. The funeral procession was filmed.
Burial Of Lt. Col. O.A. Fitzgerald, AKA Kitchener's Friend (1916) – British Pathé on YouTube
---
Church Congress 1925
Some nice exterior shots as a procession of Bishops and priests mark the opening of the churches' annual parliament.
Church Congress Opens (1925) – British Pathé on YouTube
---
Women's Bowling 1931
A 1931 newsreel about the first women's bowling competition in Eastbourne also captures nice shots of some of the nearby houses.
Women Can Bowl! (1931) – British Pathé on YouTube
---
St John's Ambulance Parade 1932
Eastbourne's residents turned out to see the 1932 St John's parade, which involved more then two and a half thousand ambulance workers from across Sussex, Kent and Surrey.
Over 2,5000 St. John's Ambulance Workers (1932) – British Pathé on YouTube
---
Jubilee Celebrations 1933
A Carnival and the Battle of Flowers marked the 50th anniversary of Eastbourne's Incorporation. Old cars were already a source of fascination.
Eastbourne's Jubilee (1933) – British Pathé on YouTube
---
Grand Hotel 1933
A previous Tom Jones, who played with an orchestra, was filmed performing at the Grand Hotel in 1933. You can see the elegance of the famous White Palace.
Tom Jones (1933) – British Pathé on YouTube
---
Royal Visit (1935)
In 1935, King George V of Great Britain (1910-1936) and Queen Mary (1867-1953) attended Divine Service in Eastbourne.
Crowds of local people turned out to cheer them. There's a nice shot of a nearby street lined with people.
King George V died the following year and his son Edward abdicated a few months later.
King's Arrival In Eastbourne (1935) – British Pathé on YouTube
King and Queen attend church in Eastbourne; Second son of ex-King Alfonso marries in Rome:…(1935): British Pathé (YouTube)
Royal Worshippers (1935) – British Pathé on YouTube
---
Devonshire Park 1935
The Brititsh Professional Lawn Tennis Championships held in Devonshire Park in 1935 can be seen in this brief film clip.
British Professional Lawn Tennis Championships in Devonshire Park (1935) – British Pathé on YouTube
---
New Bandstand 1936
New Bandstand And Garden (1936)- British Pathé on YouTube
---
Angling Contest 1936
Angling competition at Eastbourne (1936) – British Pathé on YouTube
---
Amy Johnson Visit 1937
A newsreel from 1937 records the visit of Amy Johnson, the pioneering English pilot who was the first woman to fly solo from London to Australia, arriving for Eastbourne Flying Club's meeting.
Amy Johnson Opens Eastbourne Flying Club Meeting (1937) – British Pathé on YouTube
---
Unexploded Bomb 1946
World War II and its deadly bombing raids may have ended by 1946, but unexploded bombs were still lying around waiting for discovery.
These were deadly, even if the children poking their heads over the wall for the peek at the bomb disposal operations make it seem otherwise.
In fact, despite all the precautions and sandbags, the windows of the local homes were smashed by the explosition, and grey mud was thrown across a great distance.
Not only is this an interesting bit of local history, but some of the children may still be around (as very old people now), and there are some lovely shots of local homes.
Eastbourne (1946) – British Pathé on YouTube
---
Beach Guards 1949
Beach Guards (1949) – British Pathé on YouTube
---
School Trip 1949
A 1949 newsreel about a school trip to a lighthouse included shots of Eastbourne's beach and seafront.
School Visits Lighthouse (1949) – British Pathé on YouTube
---
HMS Superb 1949
Royal Navy crew members of HMS Superb entertained children by dressing up as pirates and taking them out for boat rides.
Navy At Home (1949) – British Pathé on YouTube
---
Housekeeper's Inheritance 1949
Hubert Palmer was a solicitor, who lived in Granville Road, Eastbourne.
When he died, he left his estate to his housekeeper, Mrs Elizabeth Dick.
The 1949 newsreel focuses on some of the items on antique treasures she had inherited, including Captain Kidd's gold watch and treasure chest, some pieces of eight, and Calico Jack's pistol knotched to show the number of men killed with it.
She shows them to youngsters David and John Hume, although unfortunately we don't know their connection to Mrs Dick.
Pirate's Treasure (1949) – British Pathé on YouTube
---
Flower Show 1951
Eastbourne Flower Show (1951) – British Pathé on YouTube
---
Don Cockell 1953
Don Cockell was a British light-heavyweight boxer, and is shown here in training. He became most famous for his match against Rocky Marciano in May 1955, shortly before he returned to his former profession as a blacksmith in London.
News Flashes – Cockell In Training (1953) – British Pathé on YouTube
---
Model Churches 1956
Model Churches (1956) – British Pathé on YouTube
---
Train Accident 1958
At 7:27 a.m. on 25 August 1958, a sleeper-car steam train which had originated from Glasgow ran past a red light towards Eastbourne Station.
Driver Alfred Wembridge didn't see the home signal was set at 'danger', but was later acquitted of manslaughter at Sussex Assizes in December 1958.
A 12-coach, electric passenger train was just departing Platform 4, about to continue its journey from Ore to London Bridge station. It was running a few minutes late.
The steam train was travelling at about 25 miles per hour when it collided into the electric train.
Five people died in the accident. The motorman and three passengers on the electric train died instantly, with another passenger dying in hospital.
41 others were injured.
5 Die In Rail Smash (1958) – British Pathé on YouTube
---
Model Railway 1959
A model railway exhibition at the Winter Garden in 1959 displayed model railways representing the railways and cable car systems of half a dozen countries. It had been designed by Betram Otto, and the miniature rolling stock cost £3,000 to buy.
There was a railway station named Eastbourne included too.
The City of the Future had spaceships and an atom plant, with separate levels for cars and pedestrians. (They tried that for real in the centre of Newcastle-upon-Tyne in the 1960s, and it didn't work).
World Railway And City Of The Future (1959) – British Pathé on YouTube
---
Kings Drive Playing Field 1961
Autoball (1961) – British Pathé on YouTube
---
Beachy Head Rescue 1963
Cliff Rescue Beware – Other Colour Pics Share This Title (1963) – British Pathé on YouTube
---
Oil Tanker Blaze 1968
A few moments of silent footage of an oil tanker on fire includes a couple of shots of the buildings along the seafront.
Oil Tanker Blaze (1968)- British Pathé on YouTube
---
Tanker 1969
This is 1969 footage about the salvage operations following the fire on board the Norwegian tanker Sitakund.
Half A Tanker On Tow (1969) – British Pathé on YouTube
---
More about East Sussex