Glimpse history through fascinating old images of Denver, Colorado, in the USA.
Old Photos of Denver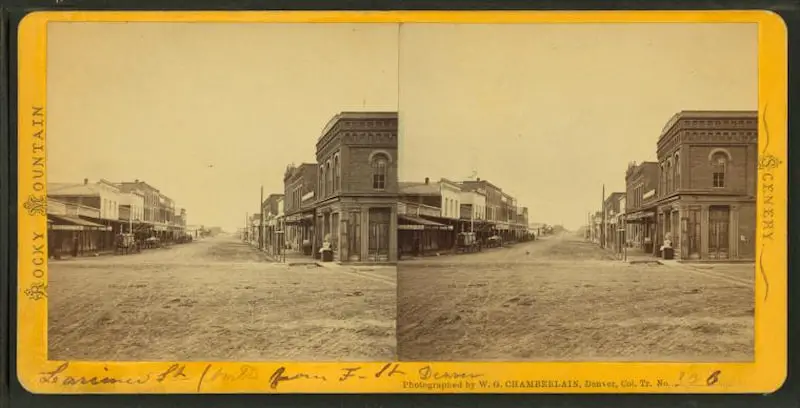 ---
How Denver was Founded
Denver was originally founded 1858 at the site of today's Downtown Denver, by gold prospectors from Kansas who called it Montana City.
But the gold deposits were all quickly exhausted, and the site abandoned within months of arrival.
Then on 22nd November that same year, General William H Laramie, a spectulator from Kansas, used a mixture of whisky, promises and death threats to obtain the square mile claim known as the St. Charles claim.
He renamed it Denver City after James W Denver, the infamous Kansas territorial governor, in the hope it would become part of Kansas. But his timing was wrong, coinciding with James W Denver's resignation.
---
Old Photos 1897-1915
The first video, showing some of Denver's earliest old photos from the years 1897 through to 1915, includes clear labelling of the events or loactions, along with the year.
Old Photos of Denver (Colorado)1897-1915 – oldstuff4all – YouTube
---
Denver in 1962
This home movie from a sight seeing tour in 1962 includes
State Capitol building
"mile high" marker step
Broadway/Brighton Boulevard viaduct
Hilton hotel in background
Observation platform on top of the First National Bank on 17th Street
May D&F (Daniels & Fischer) store on 16th Street
Plaza on 16th Street, with Walgreens behind
1962, sightseeing and a view from an observation platform, Denver Colorado – Reel Life / CanadaMotorSport on YouTube
---
Old Images of Denver
Steven Opp runs the Facebook Group called Old Images of Denver, which has quickly attracted thousands of followers.
In this interview with CBS Denver, he mentions that Curtis Street used to have more than 100 theatres, all lit up at night.
The Past Comes Alive With Old Photos Of Denver – CBS Denver on YouTube
---
Map of Denver 1887
By the time this illustrated map from 1887 was created, Denver City was a well established supply, mineral processing and transportation hub for the mining and agricultural industries in the region, with help from the railway.
You'll see the railway lines next to the smelting lines, hotels, the Battle of Gettysberg Cyclorama, the post office and many other buildings.
The Battle of Gettysberg Cyclorama was the work of French artist Paul Dominique Philippoteaux, depicting the failed infantry assault know as Pickett's Charge, which was the climax of the Battle of Gettysburg. The 360° cylindrical painting had several versions placed in cities across the US.
Denver Colorado History and Cartography (1887) – Bravura Media Company on YouTube
---
More about Colorado