Glimpse history through old images of Worcester, Massachusetts, USA.
Old Pictures of Worcester MA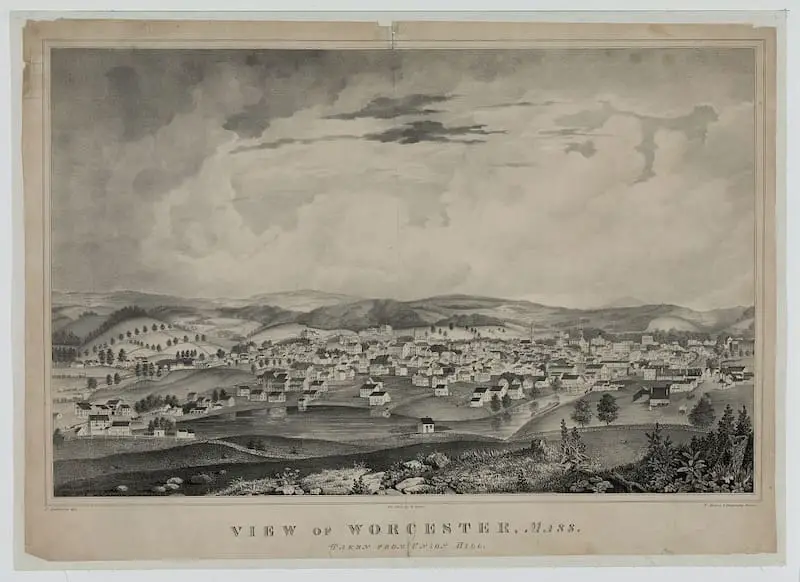 ---
Old Photos of Worcester MA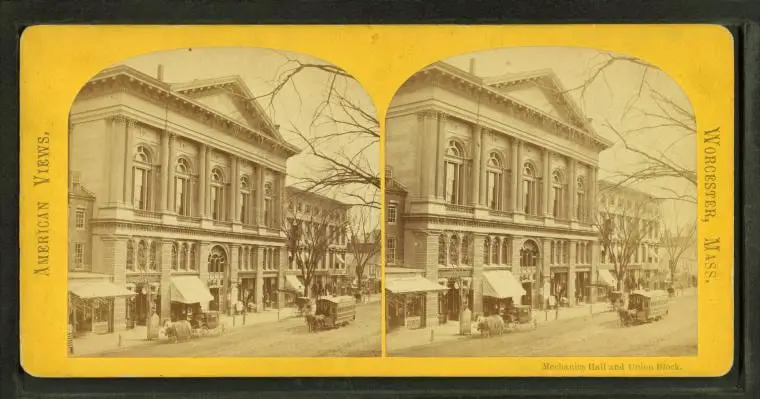 ---
Downtown Worcester MA in 1989
WGBH: Worcester, MA: 1989 – Worcester Heritage Society on YouTube
---
History of Worcester MA
Did you know that Worcester played a significant role in American baseball history? In 1880, Jay Lee Richmond pitched the first perfect game right here! It forever cemented the city's place in the baseball hall of fame.
But that's not all! Worcester is also the birthplace of the iconic baseball poem, "Casey at the Bat." Ernest Del Fair penned this timeless piece right here in 1888, capturing the spirit of the game and its beloved characters.
Ever visited the Bancroft Tower? This stunning memorial, built in 1900, is a tribute to George Bancroft. It's part of Stephen Salisbury III's incredible development of Massachusetts Avenue and a must-see for history buffs!
Step back in time at Worcester's Union Station, completed in 1911. After a renovation in the late 20th century, it now serves as a major transportation hub connecting the city with Boston – a gateway to new adventures.
Did you know that Worcester has been a transportation hub since the 1830s? From railroads to roadways, the city has always been at the forefront of connectivity. And let's not forget the infamous traffic flow at Kelly Square!
In the Worcester Canal District, you'll find a legacy of improved transportation. The Blackstone Canal connected us with Providence, transforming the city with new opportunities. Let's celebrate our past while looking forward to an even brighter future!
Discover the rich history of Worcester at the Worcester Historical Museum. For 142 years, this incredible institution has been preserving and interpreting the city's captivating story. From the 7 hills to the birth of diners, our history comes alive here!
Speaking of diners, Worcester's charming night lunch wagons transformed into beloved dining cars. These gathering places were not only about comfort food but also the hub for neighborhood gossip and news before the rise of social media.
Have you noticed Worcester's iconic three decker housing? These lovely buildings provided affordable and cozy living spaces for the hardworking population. They're a symbol of our city's commitment to quality living for all.
Fun fact: Worcester is the proud home of the all American smiley face! Created in 1963 by Harvey Ball, that cheerful grin has been brightening up our days ever since. Spread that smile far and wide!
William Wallace, Executive Director of the Worcester Historical Museum, talks about Worcester's history in this 25 minute video.
It includes many old photos and pictures, along with contemporary footage of the same sites today.
Exploring Worcester's History – Center for Community Media at WSU on YouTube
Topics discussed in this video include:
Worcester Landmarks
Bancroft Tower, a memorial to George Bancroft, offers a panoramic view of Worcester and represents the city's history and creativity. Union Station, built in 1911, symbolizes Worcester's growth as a major city and serves as a transportation hub connecting Worcester to Boston. Worcester's transportation infrastructure, particularly the railroad, has played a crucial role in the city's development and continues to facilitate commuting to Boston.
Worcester History
The Worcester Historical Museum was organized in 1875 and continues to be the Library and Museum of the History of the City of Worcester. Worcester history encompasses all time periods and subject areas, serving as a family scrapbook and album for the community. The Seven Hills of Worcester, although there are more than seven, hold historical significance and were part of a marketing campaign to promote the city.
Diners and Lunch Wagons
Diners are a significant phenomenon in Worcester, originating from Providence and brought to Worcester by Samuel Messer Jones in 1886. Lunch wagons evolved into dining cars and eventually diners, serving as gathering places for comfort food and neighborhood gossip. The number of diners in downtown Worcester has decreased due to urban renewal, but the remaining diners are iconic and celebrated.
Worcester Inventions
Worcester has a history of creative inventions, including the Monkey wrench, steam calliope, and the assembly line for Valentine's Day cards. Worcester also played a role in the evolution of the birth control pill and continues to contribute to medical discoveries. Worcester's baseball history includes the first perfect game and the creation of the iconic poem 'Casey at the Bat. '
Blackstone Canal
Challenges and potential for replication
Union Station
A historic landmark and transportation hub
Worcester's Name
Origins and connection to English history
Parks in Worcester
Recreational spaces for the community
Worcester Canal District
Revival of creative economy
Kelly Square
Organic growth and unique identity
---
More about Massachusetts