Glimpse history through old images of Tucson, Arizona, in the United States of America.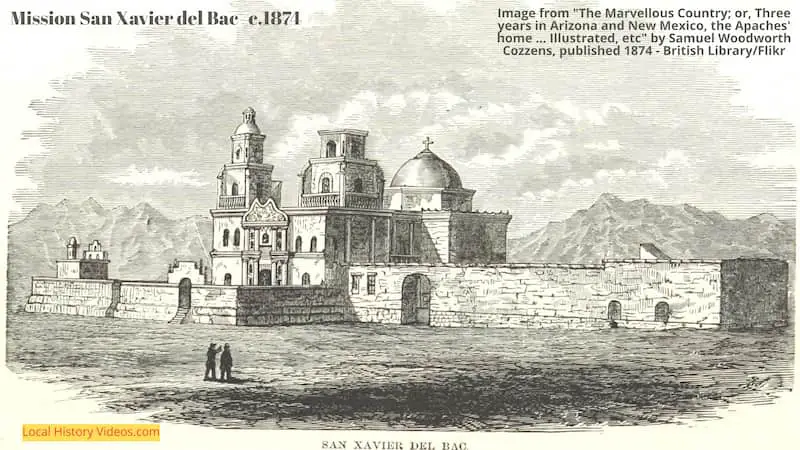 ---
1940s Images
This 1940s home movie footage is part of the Periscope Film Archive collection on their YouTube channel.
It was filmed during the University of Arizona's 4-H Convention.
About half of the six minutes show students walking about in fancy dresses, and anyone with an interest in vintage clothing will love these outfits.
Then half way through we see the set of the movie Arizona. Later, it was to be expanded and become the Old Tucson Studios.
1940s TUCSON ARIZONA HOME MOVIES #2 OLD TUCSON 20764a – PeriscopeFilm on YouTube
---
1950s Home Movie
Two and a half minutes long, this home movie from about 1959 records big, colourful cars on the streets, and people busily rushing about on their errands.
The images are a bit blurry, but it's rare to find moving images of ordinary life from this era.
Driving Around Tucson, Arizona, about 1959 – louielouieohh on YouTube
---
1970s Tucson
This video clip was first broadcast on 9th January, 1975.
USA | Vintage Arizona |Tucson | 1975 – ThamesTv on YouTube
The next 1970s clip is a home movie recorded from a moving car.
1970s Tucson, Arizona, Driving POVs, Home Movies, HD – thekinolibrary on YouTube
---
Old Tucson Studios 1988
This is a home movie recorded in October 1988, on a family trip to the Old Tucson Studios.
The buildings can be seen in movies and TV shows including:
Gunfight at the OK Corral (1957)
Cimarron (1959)
Rio Bravo (1959)
Little House on the Prairie (1977-1983)
The High Chaparral (1967-1971)
Gunsmoke(1972-1974)
Unfortunately, most of the site was destroyed in a big fire on 25th April, 1995.
Old Tucson Studios before 1995 fire – Roberto Solans on YouTube
---
Historic Books about Tucson
The following books were published in the 19th Century, and are available to read for free on Google Books:
---
More about Arizona