Glimpse history through fascinating old images of St Paul's Cathedral, London.
The famous St. Paul's Cathedral standing today is very old. Construction started in 1675 to a design by Sir Christopher Wren. 35 years later, in 1710, the new Anglican cathedral was completed and began its long life of serving the local Church of England community.
But it stands on the site of the Old St Paul's, which was consecrated in 1240 after almost two centuries of building. The construction took so long, in part thanks to a fire in 1135, that the style of the building changed from Romanesque to Gothic! And just 16 years later the next lengthy project started, as the building was enlarged over a number of decades.
Although a new west front was added to Old St Paul's to a design by Inigo Jones, the site was badly used during the Cicil War and Commonwealth. The material from razed churchyard buildings was sent to be used in the construction of Somerset House, for example.
When the old St Paul's was gutted in the Great Fire of London of 1666, the site was cleared ready for Sir Christopher Wren's famous design we know and love today.
---
Tribute to Nurse Cavell 1915
Edith Cavell was a British nurse who ran a clinic and nursing school in Brussels. During the Great War, later known as World War I, she treated any wounded soldier regardless of the side they were fighting on.
She was arrested and found guilty of helping some 200 Allied soldiers (British, French, and Belgian) escape from German-occupied Belgium, for which she was executed by firing squad on 12 October 1915. She was 49 years old.
Nurse Cavell Tribute At St. Paul's, 1915 AKA A Nation's Tribute (1915) – British Pathé on YouTube
---
Bomb Damage WWII
As the Lufftewaffe dropped bombs and incendiary devices on London as part of the Blitz campaign of 1941, St. Paul's Cathedral was hit on more than one occasion.
In this 1941 newsreel, we see how seriously the north transept was damaged, although apparently religious services were continuing in this very dangerous environment.
St. Paul's bombed in 1941 (1941) – British Pathé on YouTube
The next newsreel is from 1944, and focuses on the work of the ARP guardians who spent their nights in the crypt, preparing to save the historic cathedral in the event of an air raid.
There are numerous shots of the nearby streets, which are literally cleared bombsites. It's a reminder how much history was lost in this area from the incendiary fires, and how close the nation came to losing its great cathedral.
It's a great shame that the many old pictures of the cathedral further down this page rarely include a glimpse of the buildings in the surrounding streets, since they disappeared in such tragic circumstances.
Guardians Of St Pauls Aka Guardians Of St Paul's (1944) – British Pathé on YouTube
---
Roof Cleaning 1965
If you work in Health and Safety, this newsreel from 1965 will chill you to the bone.
And if you don't like heights, DO NOT PRESS PLAY!
Workers clambered along the scaffolding of the cathedral roof, 365 feet high above the City of London, had no hard hards, gloves, or ropes to stop them falling.
Only waterproofs seem present, for those balanced on scaffolding poles as colleagues direct jets of water to the stonework with hosepipes.
If you can cope with the heights, this newsreel gives a nice aerial shot of the nearby streets as they were in 1965.
St. Paul's New Face (1965) – British Pathé on YouTube
---
St Paul's Cathedral Through Time
London: St Paul's Cathedral Through Time (2021-1543): The Time Travel Artist
---
St Paul's in the 1980s
For just a few seconds, we can see the streets and buildings around St Paul's as they were in 1982, thanks to this silent footage recorded for local television news station.
City of London Aerials | St Paul's Cathedral | Reporting London |1982 – ThamesTV on YouTube
On 14 September 1987, Thames tV broadcast a programme called "Two Cathedrals". This clip without audio, just 47 seconds long, shows St Paul's Cathedral, lots of tourists outside having a rest or eating, and a brief glimpse of nearby buildings.
St. Paul's Cathedral | 1980s London | City of London | Two Cathedrals | 1987: ThamesTv
---
The Old St Paul's
As explained above, the cathedral we know today was a replacement of a Norman building gutted by the Great Fire of London in 1666.
On 4th June 1561, the spire of Old St Paul's was hit by lightning and the resulting fire caused the spire to crash through the nave roof. The irony was, the spire was the 1462 replacement for a previous spire which had also been destroyed by a lightning strike.
Here are a selection of pictures and book illustrations to show us what the long lost Norman building looked like.
The New Cathedral
Old Pictures of St. Paul's Cathedral
Pre-Victorian Era Pictures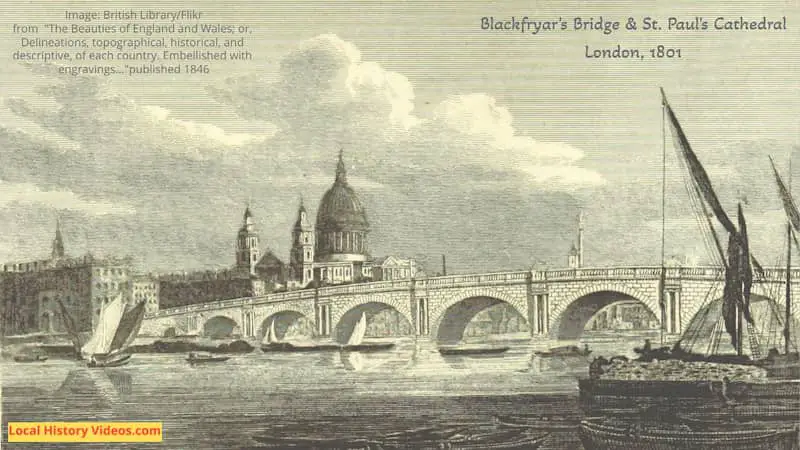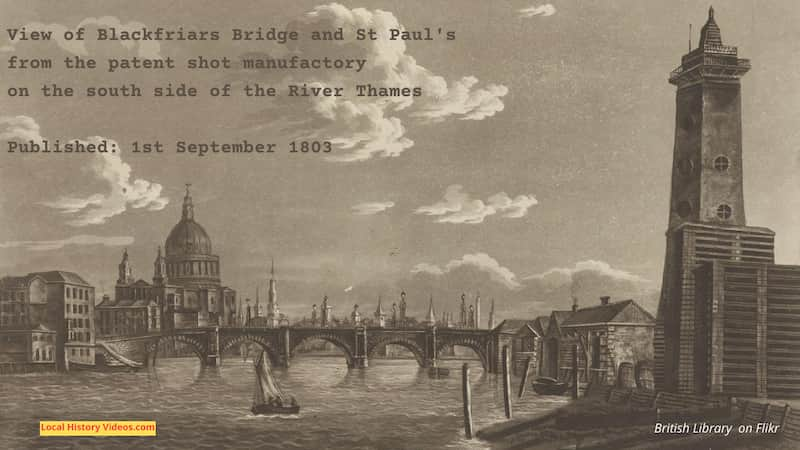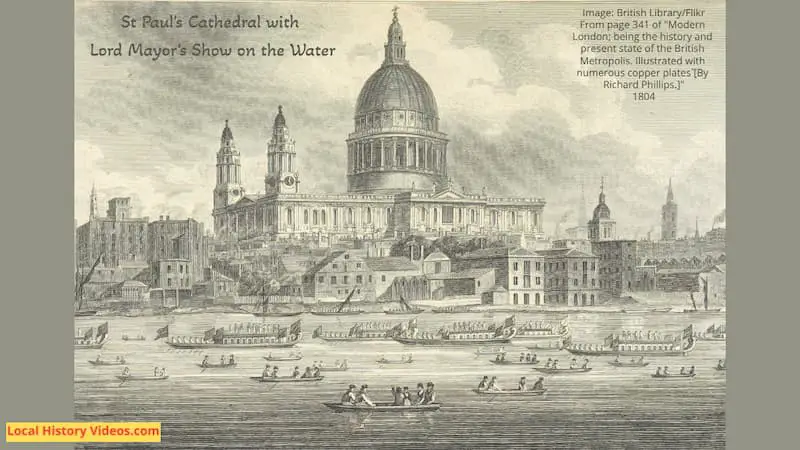 Early Victorian Era Pictures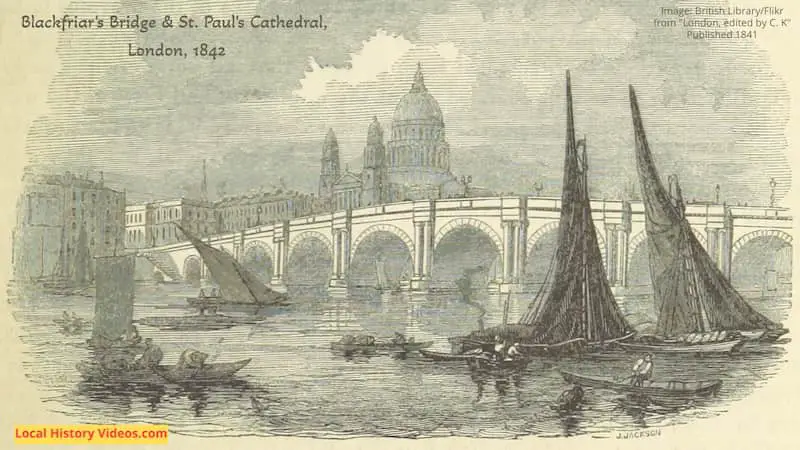 Late Victorian Era Pictures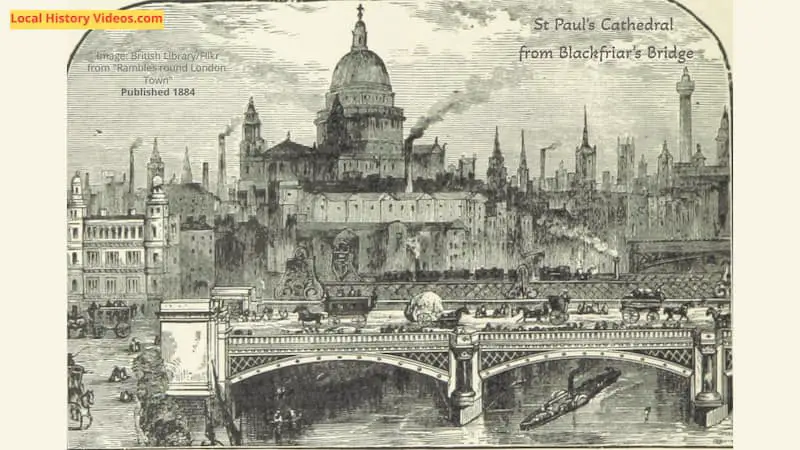 Old Photos of St Paul's Cathedral
More about the City of London