The term Durham can refer to both the city and the county. But this small University city dominated by a Norman Cathedral and castle has its own distinct history and character from the wider county.
Old Photos of Durham, England
Even more than a century ago, the historic Durham Cathedral and Castle attracted interest around the world.
Sometime in the 1890s, three photochroms were taken in Durham and became part of the Detroit Publishing Company's collection in the USA. They are now held in the archive of the Library of Congress.
I've added a few closeups of these images too, to see a little bit more detail.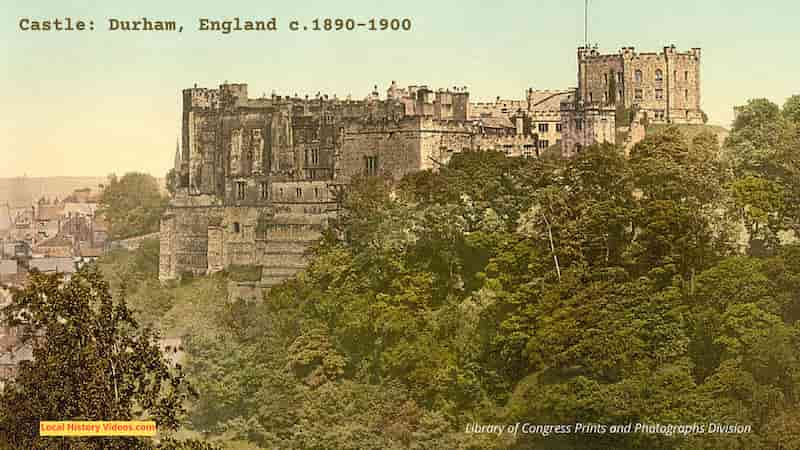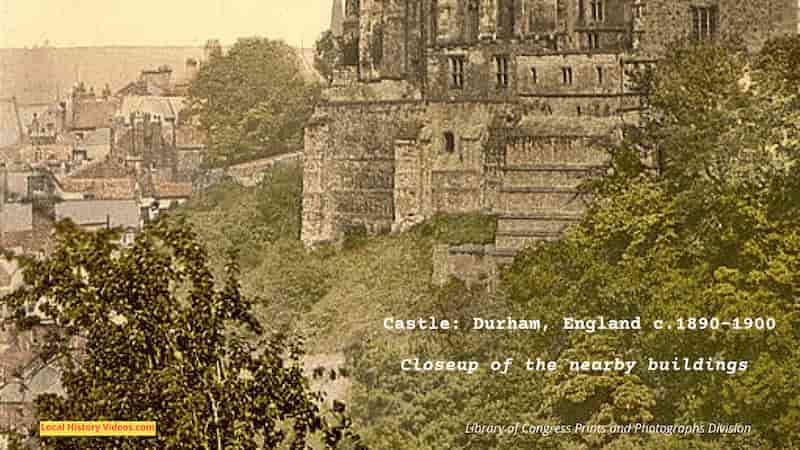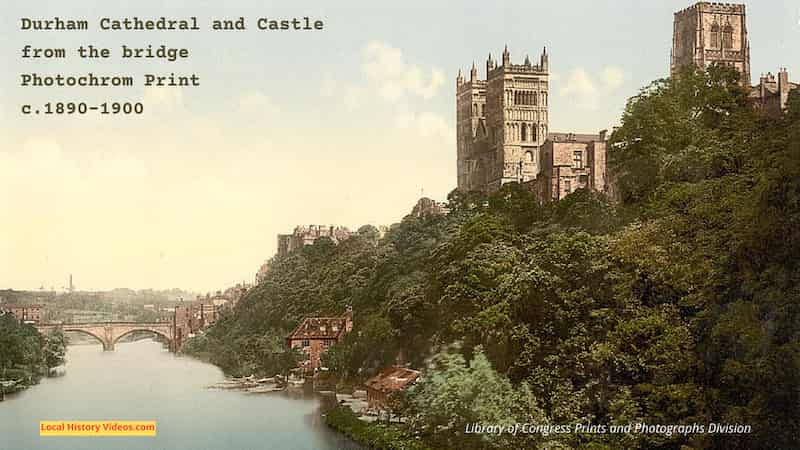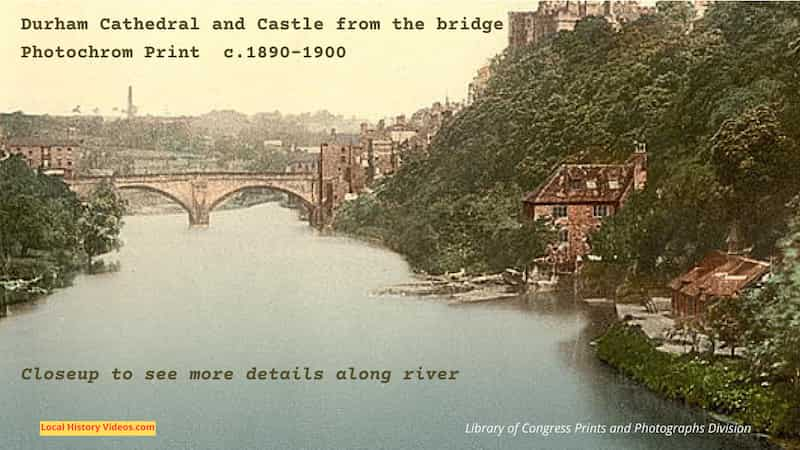 Durham In The 1940s
This film clip records a 1940s trip through Durham by the famous Flying Scotsman.
1940s Train Ride Through Durham, UK, Flying Scotsman – Thekinolibrary on YouTube
Durham In The 1960s
An upbeat man with a posh accent describes traffic problems with great condescension. All accompanied by a jolly musical background.
Tv Traffic Control Aka Durham (1960) – British Pathé on YouTube
A short 1960s report about the video traffic conducting system in the marketplace. Included are outtakes from the shoot.
Durham 1960 – With Byrdsongs – Paul Lewis on YouTube
Shopping street filmed from a car in the 1960s.
Durham Shopping street, 1960's – HuntleyFilmArchives on YouTube
Durham In The 1970s
This 1970s film footage shows how County Durham was battling with environmental and pollution problems, including the slag heaps from coal pits.
Although it focuses on coal mining around the county, there's a opening shot of a train passing through the city, with Durham Cathedral on the hill.
The film footage also shows a meeting taking place at County Hall, where Councillors are considering whether to dump waste in the sea or on the land.
Durham, 1970's – Film 16549 – HuntleyFilmArchives on YouTube
The film includes many different locations:
Train passing through city, Durham Cathedral
Map of Northern England, showing sites of collieries and coal mines
Coastal mines tipped spoil onto the beaches
Coal Board & Department of the Environment at experimental site, where waste will be piped to the edge of the beach & washed out to sea
Boys play on the steep banks of waste
Children swim close to where the waste is dumped
Pitmen leaving work
A gleaner picks coal from the waste
After seeing a dumping beach, we then see a clean beach with a small caravan site next to it
Trucks removing waste
Some buildings embedded in the waste are demolished
Durham County Hall Council meeting
At sea, concerns that the mining waste will affect fish
The derelict Haswell Colliery with a dismal landscape
Reclaimed spoil tips, installing essential drainage so the area can be landscaped and grassed over
Experimenting on the spoil at Imperial College, London
In Cornwall, where they are producing English China clay, experiments are made on Durham spoil to determine the optimum velocity for suspended particles
The experimental pipeline in County Durham is now working, mixing spoil with 2000 gallons of water and pumping it 1.5 km away to the beach
Blackhall Beach, which has been treated for a year, already sees signs of improvement
Stanley's Travels: Stanley Richardson filmed these scenes on his cine camera around County Durham during the 1970s.
Posted by the Great Nephew of Stanley Richardson (1912-1988).
Stanley's Travels: County Durham (1970s) – Adnylak on YouTube
Converted from reels of film bought on eBay, these home movie clips were recorded in Durham City in the mid 1970s.
RIVER WEAR, DURHAM, mid-1970s (8mm Amateur Footage) – GuildfordGhost on YouTube
Originally broadcast 12 January 1972. This film depicts various scenes, interviews, and references to the Durham coal mines and lives of the miners and their families/ communities including Wearmouth Colliery, Sunderland.
Norman Dennis – Presenter; Contributors George Bestford, Edward Cowen, Gertrude Robson, and Lady Helen Walsh. Two people in the film are related to the Youtube poster.
Durham Coal Miners BBC Documentary – Paint Your Wagon on YouTube
Helicopter views of Durham, Newcastle, and working North East mines.
John Mills, the man in charge of British coal production, gets into a small helicopter with the pilot. Good aerials of Durham and Durham Cathedral. 
Mining News, 1970's – Film 7515 – HuntleyFilm Archives on YouTube
Other shots include:
Lampton coke ovens from the air
Passing the Tyne Bridge with barges passing underneath
St. James's Park football stadium
Village of Ashington
Ashington Colliery
Shots of surface work at pits in North East England
Aerial shots of open-cast coal mining
The land returned to agriculture and a golf course
Aerials of a large smelter
Mines and miners
Station box of Lynemouth Sidings
Bates Colliery, Westoe Colliery, Dorton(?) Colliery
Beamish Museum with people looking at industrial heritage
A man shovels coal into the locomotive boiler
A poster advertises the Stockton and Darlington 150th Anniversary at Shildon 
Aerials of Jordan Colliery
Durham In The 1980s
This home movie of a drive around Durham City was recorded in the mid 1980s.
Durham city car drive. Mid 1980's – Alan Freeman on YouTube
Electrification of the ECML through Durham Station 1980s – ageofthetrain on YouTube
A montage of student photos, taken in Durham in 1986, set to music.
Durham 1986 – Cheleif on YouTube
Durham In The 1990s
▶ "Durham Station 1990 Rare Footage"
Kris Nelson uploaded this video to YouTube on 2 Sep 2011. The upload settings of this video means you'll have to watch it directly on YouTube.
Kris was aged just 15 in the Spring of 1990, when he visited his grandparents in Durham and borrowed his Grandad's video camera to make this film.
Durham In The Past
A video montage of black and white photos of Durham City set to music.
Old Durham Town – Steve Toon on YouTube
More County Durham pages
.
Back to the County Durham page.
Thank you to long-standing Durham resident FP for much appreciated advice.