Glimpse history through old images of Derby, in Derbyshire, England.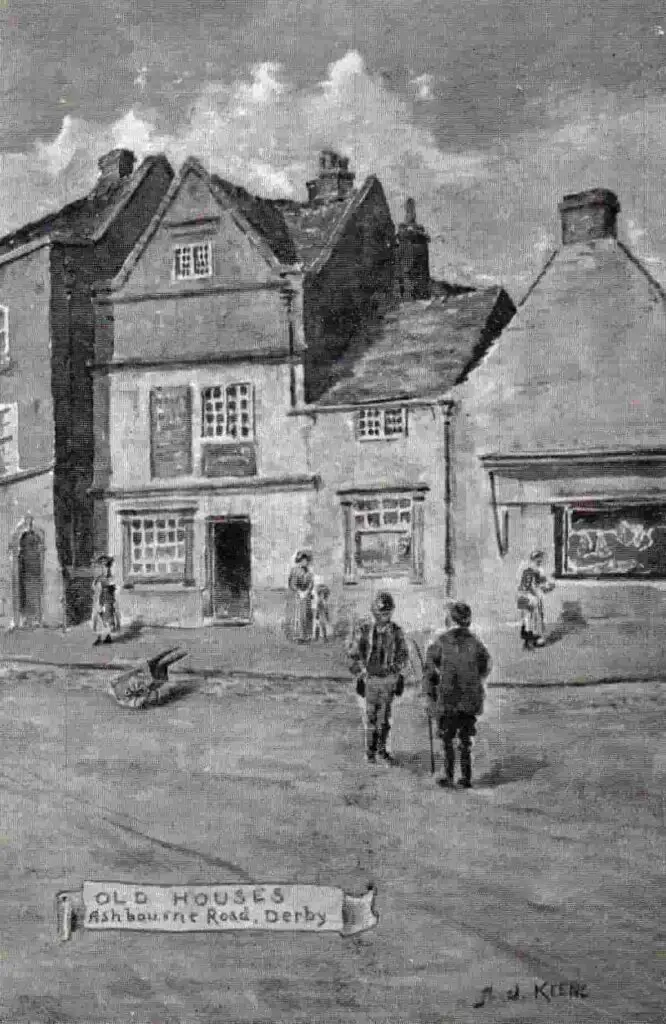 ---
Derby in 1931
In 1931, His Worship the Mayor Councillor Wm Harold Hoare provided the commentary for a film about Derby.
The locations seen include:
Street scenes with trams and awnings
Derby Cathedral
View of the city from the cathedral
Electric power station
Market place – 'Mecca of the thrify housewife'
Old Mayor's Parlour
bands playing in the arboretum
artificial boating lake
the River Derwent
Derby railway works
Rolls Royce factory
Views of Derby
At the Derby railway works people work on steam engines and locomotives, while ar Rolls Royce we see workers making cars and airplane engines.
The Old Mayor's Parlour is revered for its ancient wooden timbers in this 1931 film. Unfortunately someone let it be ripped down in the late 1940s so the area could become a car park. Even that didn't last long, because it became a Corporation bus depot from 1958-72, and then a site known as 'The Hole' because of a failed redevelopment scheme.
Cities Of Great Britain No. 4 – Derby Aka Derby – Scenes Of City & Its Surroundings (1931) – British Pathé on YouTube
---
Derby in 1959
The 1959 short film about Derby starts at St Mary's Bridge and the location at the east side of the bridge where Derbyshire Martyrs Nicholas Garlick, Robert Ludlam, and Richard Sympson were drawn and quartered on 24th July 1588, for being Catholic priests during the reign of Elizabeth I when it was illegal to follow the Catholic faith.
Next up we see the railways busy with steam engines and their freight trucks.
After a glimpse of a Royal Crown Derby Pottery van, we see the comparitively new Council Offices, and the older County Hall.
Derby Cathedral makes way for the high street, which has electric wiring above. In the final scene we see a dark street with people walking towards the lit up cinema foyer.

Hometown – Derby (1959) – British Pathé on YouTube
---
Time Travel
A fascinating look at Derby through time, thanks to the clever use of old images.
Derby: A City Through Time: The Time Travel Artist (YouTube)
---
Execution at St Mary's Bridge
A poem about the execution of Derbyshire Martyr Richard Sympson, who was found to have worn a hairshirt to his death. He was supposed to die first, but Nicholas Garlick pushed himself forward to the ladder before him.
The poem was perhaps written by an eyewitness, but author unknown.
When Garlick did the ladder kiss,
And Sympson after hie,
Methought that there St. Andrew was
Desirous for to die.
When Ludlam lookèd smilingly,
And joyful did remain,
It seemed St. Stephen was standing by,
For to be stoned again.
And what if Sympson seemed to yield,
For doubt and dread to die;
He rose again, and won the field
And died most constantly.
His watching, fasting, shirt of hair;
His speech, his death, and all,
Do record give, do witness bear,
He wailed his former fall.
More about Derbyshire