Glimpse history through old images of Chesterfield, in Derbyshire, England.
Once an important part of the industrial midlands, the large market town of Chesterfield in Derbyshire sits near the Peak District National Park and retains many of its historic buildings.
Old Images of Chesterfield
We start with a vintage sketch, published in a book about the area back in 1894.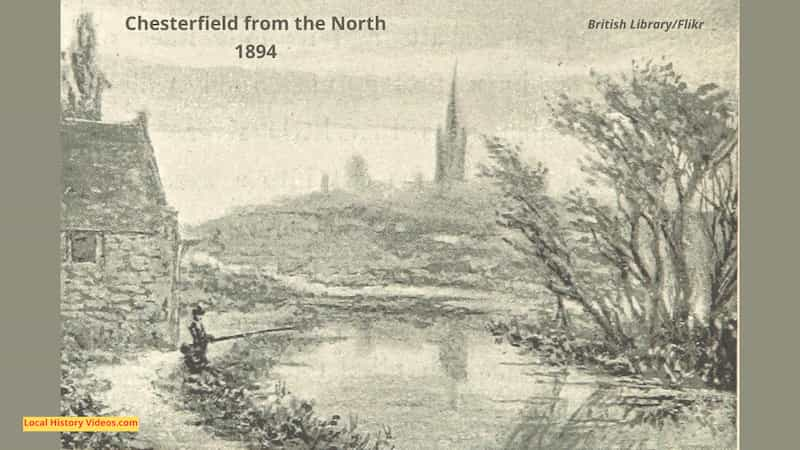 The next illustration is from an Italian book, published in 1897.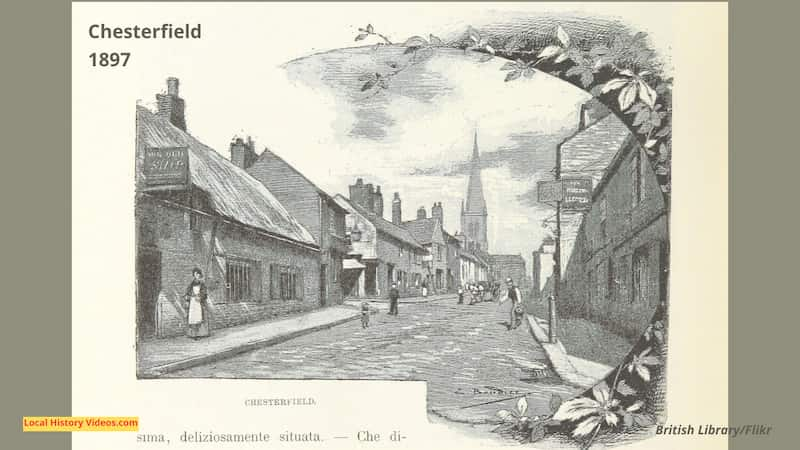 Chesterfield 1956-1980
Compiled and narrated by George Martin, this video montage shows old images of Chesterfield from 1956 to 1980.
Chesterfield – PauliosVids on YouTube
Old Photos
Andy Slack opens this video montage with a humorous mock imitation of the London Underground map, showing Chesterfield's key locations. Most of the old photos are from family albums.  
Old Chesterfield mostly vehicles – Andy Slack on YouTube
Chesterfield Races 1933
This silent footage from 1933 shows one of the last races on Whittington Moor.
The races were held every year from about 1685. They were usually run the two days before Goodwood.  After 1871 they were run as flapper races and not under the Jockey Club rules. The Corporation (local council) bought the area for housing in 1924.
The course ran down what is now Stand Road and down Pottery Lane, up East Side, on to Brimington Road North, adjacent to Sheffield Road, up Racecourse Road, and ended at the Grandstand's site close to the Cricketers Pub.
Chesterfield Races (Barlow point-to-point) 1933 – Sky is Blue- Chesterfield FC history on YouTube
Crooked Spire 1951
In 1951 work started to set Chesterfield's famous Crooked Spire straight.
Chesterfield 1951 – PauliosVids on YouTube
New Sports Stadium 1953
In 1953, the new sports stadium was opened with great fanfare.
In addition to crowds of spectators and athletes, footage includes:
Mayor and Mayoress of Chesterfield, Alderman and Mrs Frank Hadfield
Mr S.W. Martin Managing Director of Stavely Iron and Chemical works
Lord and Lady Burghley
Mr T. A. McKenna, Chairman of Stavely Iron and Chemical works
R.J. Hawley, organiser
No 8 W.T. Hulatt, winner of the mile race
Mr Crooks times the cyclist races
Mrs Powell presents upper fourth Cup to men's cycle team
Unnamed winners of the women's cycle race stand on the platform
No 282 I.J. Smith, winner of the 120 yards hurdles
Joe Smith photographer, Derbyshire Times
Mr. Turner, deputy managing director Stavely Iron and Chemical works
Norris wins the 6 mile race
Unnamed 4 women in the relay
Miss G. Newbolt wins women's 100 yard race
MacDonald Bailey and other runners
The Don Cossack riders 
Chesterfield's Big Day! (1953) – British Pathé on YouTube
Chesterfield In The 1960s
Trimmed from a tour of Britain film, this footage shows Chesterfield's best known streets as they were back in the 1960s.
Chesterfield 1962 – Andy Slack on YouTube
Chesterfield In The 1970s
This Super 8 film, recorded in 1974, includes:
Chesterfield Town Hall
Foljambe Road
Barker Lane,
Kennings Remould Tyre Factory
Queens Park Boating Lake
Chesterfield Crooked Spire
Chesterfield Derbyshire 1974 – Onefiveninevideo on YouTube
Queens Park Annexe in the 1970s
A 1970s video of Queens Park Annexe (as well as a girls guide jamboree at Cutthorpe and a Skegness family holiday).
Chesterfield, Derbyshire 1970s – Dean Smith on YouTube
Chesterfield In The 1980s
Photographs from the Facebook Group 'Dirty Stop Out's Guide to 1980s Chesterfield' were collected for a book and this video.
Dirty Stop Outs Guide To 1980s Chesterfield – DirtyStopOuts1 on YouTube
Royal Visit 1981
This is a home video recording the day in 1981 that Prince Charles and Lady Diana visited Chesterfield.
It also captures many local people and businesses of the time.
Chesterfield Royal Visit ( 1981 ) – Lee Hedley. on YouTube
Chesterfield Trains 1988
Roy Harrison shot this video on standard Video 8 on a dull overcast day in September 1988.
It shows class 56 & 58's on merry go round trains with class 20, 37 and 47's on other freight at Shirebrook, Creswell, Chesterfield and Clay Cross.
Trains at Shirebrook & Chesterfield – 1988 – Roy Harrison on YouTube
Ireland Colliery Band
This is a compilation of images of the old Ireland Colliery Chesterfield band, taken in the 1980s and 1990s.
Old Ireland Colliery Chesterfield Band – Ian Knapton on YouTube
Chesterfield Station 1994
Recorded at Chesterfield railway station on 11th May 1994, this home videos shows class 37,47,56,58,60 all on freight, plus plenty of intercity hsts.
CHESTERFIELD STATION 11/5/94 – RUSSANDTILLY on YouTube
Nightlife 2010
A video montage of revellers enjoying a night out on 3rd & 4th December 2010.
Chesterfield Nightlife Video – SmatchedUK on YouTube
High Street 2012
In 2012, top retail consultant and TV personality Mary Portas wanted to revamp Britain's high streets, which were struggling to cope with general economic conditions and the rise of internet shopping. So high streets across Britain bid to become a Portas' Pilot town.
In March 2012, Destination Chesterfield worked in partnership with Chesterfield Borough Council to submit a bid for Chesterfield to become a Portas' Pilot town.
Chesterfield Town Centre Portas Pilots – Actions Speak Louder Than Words – Chesterfield Borough Council on YouTube
Chesterfield Floods
A three minute sample taken from the "Fire & Flood: Chesterfield A Week of Misery" film DVD, showing flooding in Chesterfield.
Fire & Flood: Chesterfield a Week Of Misery – The Flood – Paul Kaye on YouTube
Chesterfield Donut Car Park 2019 
In 2019 archaeological excavation work took place at part of the Donut (Holywell Cross) car park, before work on the new enterprise centre could start.
16th century pottery had previously been found on the site.
Glyn Davies of ArcHeritage gives an update on the progress of the dig.
Archaeological dig update, Chesterfield Donut car park – Chesterfield Borough Council on YouTube
More Derbyshire pages
.
Frequently Asked Questions
Is Chesterfield a town?
More than a quarter of a million people live in Derbyshire's only city,  Derby. Chesterfield is the largest town in Derbyshire, with about 104,000 resident. Bakewell is the largest Derbyshire settlement in the Peak District National Park, but with a tiny population of roughly 4,000 people.
What is Chesterfield famous for?
Chesterfield is famous for its Crooked Spire on the Church of St Mary and All Saints, and its markets, which offer thrice-weekly general markets, a monthly farmers' market and a weekly Flea/Antiques market.
Why is Chesterfield called Chesterfield?
In AD70 the Roman army built a fort in the area as part of their advance across Wales and the North. The Anglo Saxons used the word 'caester' for fort, and added their word 'feld' to describe the grazing land near the fort.
How far is it from Chesterfield to Bakewell?
Chesterfield to Bakewell by car is 13 miles, which takes about 27 minutes by car. Travelling through the hills and small roads of the Peak District National Park means driving is much slower than you may be used to.
Back to Derbyshire page
Back to Local History Videos Home page
Thanks to Alan Wright for use of the image of Chesterfield's famous Crooked Spire on the Church of St Mary and All Saints, shown at the top of this page.