Glimpse history through old images of Old Kent Road in London.
Old Kent Road is one of Birtain's oldest roads, sitting on part of a route first established some 2,000 years ago. Obviously we don't have images going back that far, but even a few decades ago the buildings along this famous street were very different to the ones today.
---
Tragic Teenage War Hero in 1918
In the summer of 1918, the Great War, later known as World War I, was still raging. It had started in 1914, and would not end until November that same year.
Able Seaman Albert Edward McKenzie was serving in HMS Vindictive when he took part in the Zeebrugge raid on 23 April 1918.
Two of three blockships were scuttled in the narrowest part of the Bruges–Ostend Canal and one of two submarines rammed the viaduct linking the shore and the mole, to prevent German vessels , including U-boats, from leaving port.
Although the blockships were sunk in the wrong place, meaning that the Germans had opened the canal to submarines at high tide within a few days, it had been a daring and dangerous mission for the Royal Naval servicement.
Young Albert was selected by his shipmates for the Victoria Cross (VC) award, the highest and most prestigious decoration of the British honours system awarded for valour "in the presence of the enemy" to members of the British Armed Forces.
He not only received his honour from King George V, but he was also celebrated in a huge public gathering led by the Lord Mayor. He's walking with crutches, so was presumably injured in the Zeebrugge raid.
Albert doesn't look happy in this footage. He was a teenager serving in deadly conflict, suddenly surrounded by huge and noisy crowds. He's clearly overwhelmed by the occasion.
Sadly, Albert's life would end before the war, thanks to the flu pandemic which was already taking hold in both Kansas and Spain.
Able Seaman Albert Edward McKenzie VC died at Chatham Naval Hospital in October 1918, just a few weeks after this footage was recorded. He was nineteen years old.
Reception Of Naval V.C. In Old Kent Road (1914-1918)- British Pathé on YouTube
---
Pearlies' Harvest Festival (1934)
In 1934, the Harvest Festival at St Mary Magdalen's Church was well attened by the costers dressed in their full Pearlie costumes.
Pearlies' Harvest Festival (1934)- British Pathé on YouTube
---
Pancake Race (1963)
A quirky event of women in a pancake race not only shows us how the local residents looked in 1963, but also includes a nice couple of shots of the street too.
Race With Pancakes (1963)- British Pathé on YouTube
---
Old Kent Road in the 1970s
This silent footage from the 1970s includes a school, nearby road systems, many blocks of flats, and dozens of local independent shops.
There are also a lot of cars, vans and pedestrians throughout the five minutes of old film.
Old Kent Road (1970-1979) – British Pathé on YouTube
---
East Street Market in 1971
The fashions and market shopping habits of local residents were captured by cameraman Mike Dodds in 1971.
East Street Market (1971)- British Pathé on YouTube
---
1970s Harvest Festival
Recorded between 1970 and 1976, this footage shows the children of Bacon's school singing in a church for the Harvest Festival. The archive footage record states the church is on the Old Kent Road.
Josiah Bacon was a wealthy leather merchant. He left a large sum of money in his will to build a free school for poor boys in his home town. They were to be taught 'spelling, arithmetic & merchant's accomplishments'. Bacon's School started out above the porch of the church of St Mary Magdalen, Bermondsey, in 1703.
At the time this footage was recorded, the school was based at Page's Walk & Delaford Road.
Please note there is no sound to this footage, but a lot of pupils are seen clearly on screen.
Old Kent Road – Children Singing (1970-1976)- British Pathé on YouTube
---
Comedy Song from 1894
A comedic music hall song written and performed by Albert Chevalier in the final years of Queen Victoria's reign was regularly revived over the following century for an array of performers, including Shirley Temply and later The Muppets.
Last week down our alley came a toff
Nice old geezer with a nasty cough
Sees my missus, takes his topper off
In a very gentlemanly way
Wot cher! all the neighbors cried
Who yer gonna meet, Bill
Have yer bought the street, Bill?
Laugh! I thought I should've died
Knocked 'em in the Old Kent Road
Ev'ry evenin' at the stroke of five
Me and the missus takes a little drive
You'd say, Wonderful they're still alive
If you saw that little donkey go
Wot cher! all the neighbors cried
Who yer gonna meet, Bill
Have yer bought the street, Bill?
Laugh! I thought I should've died
Knocked 'em in the Old Kent Road
When we starts the blessed donkey stops
He won't move, so out I quickly hops
Pals start whackin' him, when down he drops
Someone says he wasn't made to go
Wot cher! all the neighbors cried
Who yer gonna meet, Bill
Have yer bought the street, Bill?
Laugh! I thought I should've died
Knocked 'em in the Old Kent Road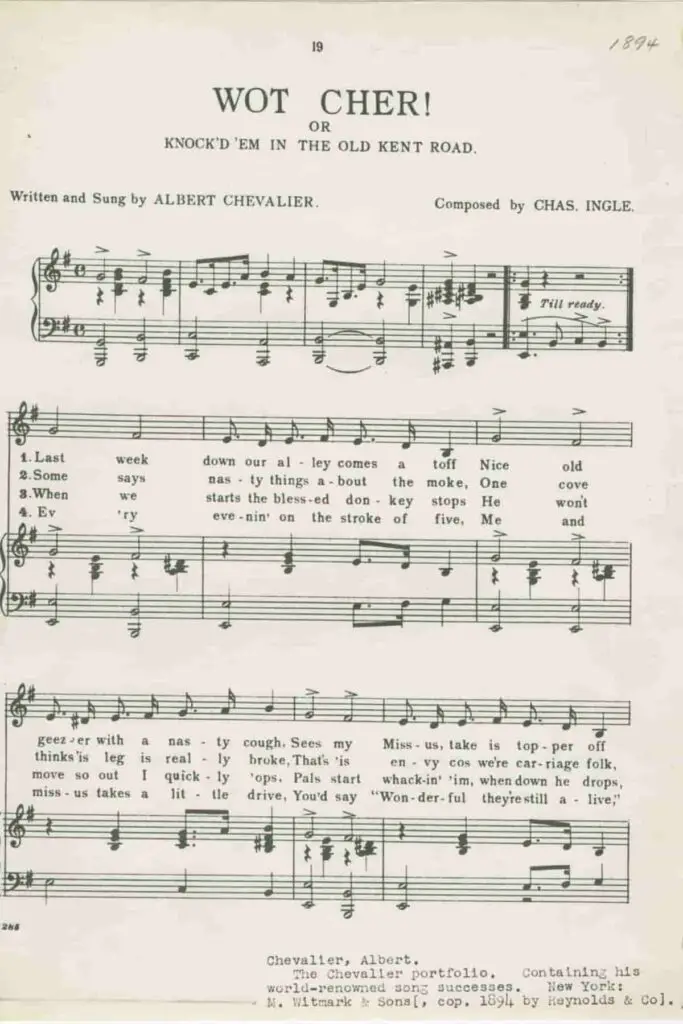 ---
More about London