Glimpse history through fascinating old images of Madison, Wisconsin.
Madison in the 1880s
In 1829, former federal judge James Duane Doty purchased over a thousand acres of the swamp and forest land in what was to become Madison, Wisconsin. Development got underway in the 1830s and '40s, boosted by the building of the University of Winconsin in 1849.
The Milwaukee & Mississippi Railroad arrived in 1854, providing an important transport connection to a town which was still two years away from becoming a city.
Yet by the time this photo was taken from the Capitol dome in the 1880s, Madison was a substantial and mature city.
The photo was taken from the dome of Madison's second Capitol. The first existed from 1837, until planned replacement in 1863. The second burned down in 1904.
Third time lucky – the Capitol completed in 1917 is still standing.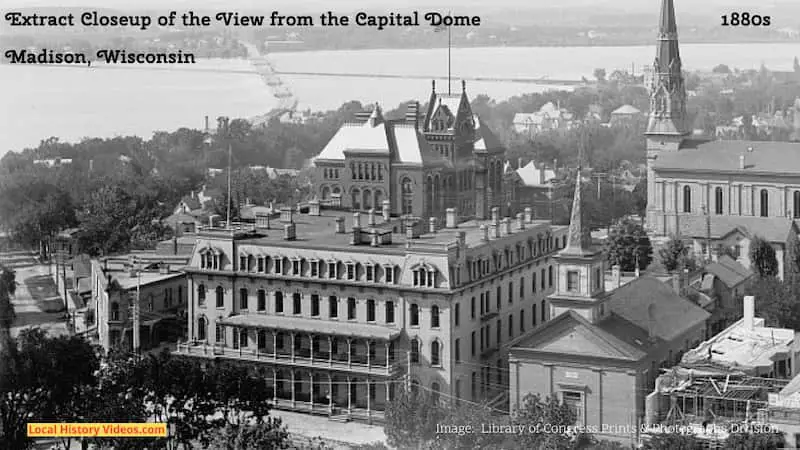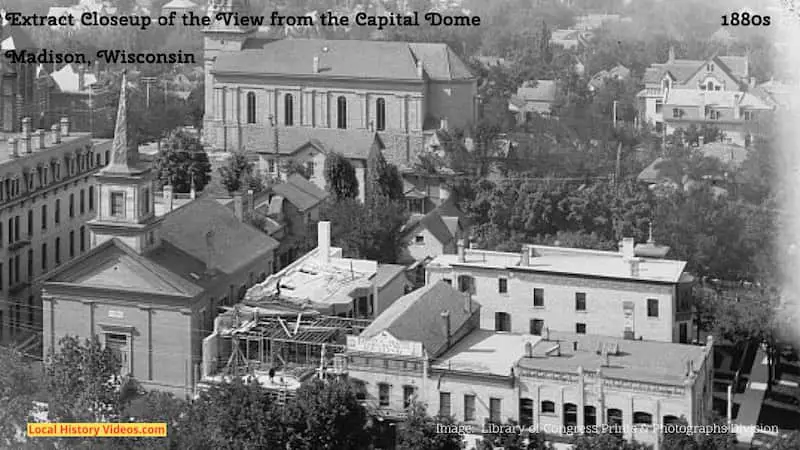 ---
Carroll House
Carroll House, at 423 North Carroll Street, was built in 1853.
The street was named after U.S. Constitution signatory Daniel Carroll, a plantation owner from Maryland.
The attractive property still stands today, and little has changed about its outward appearance. It's a large family home, offering 7 bedrooms, 3 bathrooms, and a basement.
It has been mentioned that Carroll House was built for Louis Hobbins. Is this correct? It was the same year Dr. Joseph Hobbins and his brother arrived in Madison, and Dr. Hobbins had a son called Louis. See the end of this page about the notable man's life.
---
Pinckney Street
James Doty, having purchased more than a thousand acres for development, named his new settlement Madison after the former fourth President of the United States and principal author of the U.S. Constitution, James Madison.
He then named 30 streets after signatories to the U.S. Constitution.
Two of the signatories, both from South Carolina, were called Charles Pinckney. One of them was to later serve as the U.S. Secretary of War and as the Secretary of State. And so Pinckney Street got its name.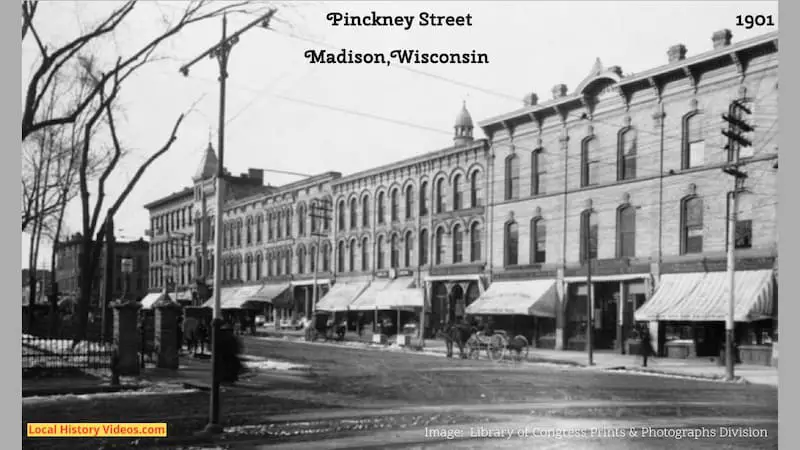 The U.S. Constitution signatories who gave rise to Madison's street names are:
Abraham Baldwin – Baldwin Street
Richard Bassett – Bassett Street
Gunning Bedford, Jr. – Bedford Street
John Blair – Blair Street
William Blount – Blount Street
David Brearly – Brearly Street
Jacob Broom – Broom Street
Piece Butler – Butler Street
Daniel Carroll – Carroll Street
Jonathan Dayton – Dayton Street
John Dickinson – Dickinson Street
William Few – Few Street
Nicholas Gilman – Gilman Street
Nathaniel Gorham – Gorham Street
Alexander Hamilton – Hamilton Street
James McHenry – Henry Street
Jared Ingersoll – Ingersoll Street
Daniel of St. Thomas Jenifer – Jenifer Street
William S. Johnson – Johnson Street
Rufus King – King Street
John Langdon – Langdon Street
William Livingston – Livingston Street
Thomas Mifflin – Mifflin Street
William Paterson – Paterson Street
Charles Pinckney (x2) – Pinckney Street
Roger Sherman – Sherman Avenue
Richard D. Spaight – Spaight Street
George Washington – Washington Street
Hugh Williamson – Williamson Street
James Wilson – Wilson Street
---
Madison c.1908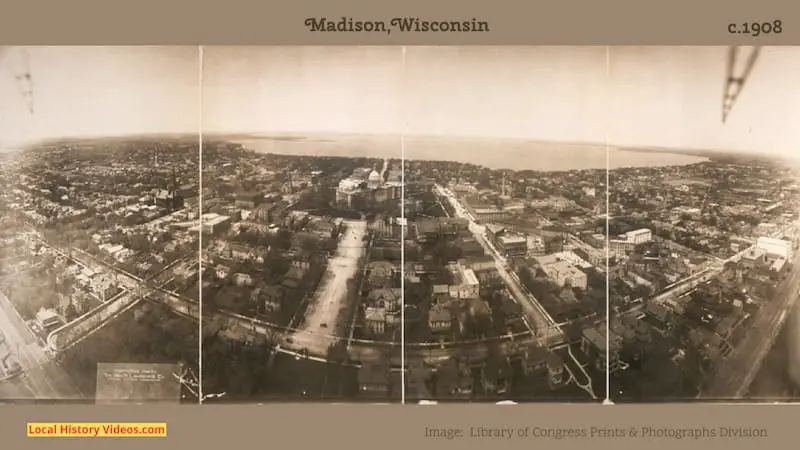 ---
Old Photos of Madison WI
Each of these old photos of Madison was taken between 1890 and 1915.
The black and white images are labelled clearly with location and date, so you always know where and when you are.
Old photos of Madison(Wisconsin)1890-1915 – oldstuff4all on YouTube
---
Madison WI in 1992
Enjoy a home movie filmed on Madison's streets in 1992, capturing a wide variety of local people, places, and businesses.
People on the street 1992 Madison Wisconsin – Growing up 80's & 90's on YouTube
---
Dr. Joseph Hobbins
I couldn't find information about Louis Hobbins when looking at the building of Carroll House, but stumbled across a curious newspaper item from 11 May 1925, about Madison's Dr. Joseph Hobbins.
In 1853, Dr. Joseph Hobbins and his brother Dr. William Hobbins arrived in Madison as part of a group of 40 English families.
The experiences of the first hard winter meant that everyone went back to England, apart from the Hobbins brothers who permanently settled in their new home.
Dr Joseph Hobbins was a very busy man, serving as president of the Madison Horticultureal Society, president of the State Horticultural Sociert, founder and president of the Madison Literary club, one of the city's first aldermen, in charge of the medical department at Camp Randall during the American Civil War, Professor of Surgery at the local University of Wisconsin, and first Dean of the Medical School there.
He even established the city's first health department.
Recognising the need for a city hospital, he was involved with the $400 purchase of a block of land on East Gorham Street, extending from Gorham to Lake Mendota.
Somehow, instead of the land being used to build a hospital, it was later traded by the city for a stone quarry and steam roller. Surely there must be a record of how and why that happened? The newspaper was very scathing, saying that the lost site was now worth hundreds of thousands of dollars…and that was in 1925.
Dr. Joseph Hobbins had a son called Louis McLane Hobbins. In 1925, he donated $5,000 to the Methodist hospital fund as a memorial to his late father.
It meant that the fund for the new Methodist hospital unit had so far reached $165,000. 216 workers at campaign headquarters would be gathering for dinner at the Y.M.C.A to make their final reports, optimistic that they would meet the $250,000 target. The Rev. F. W. Harris was in charge of the campaign opened by the West Wisconsin Conference of the Methodist Church.
The newspaper item notes that Dr. Joseph Hobbins was the grandfather of "the present Doctors Jackson".
---
More about Wisconsin