Glimpse history through old images of Guildford, Surrey, England.
Guildford in Surrey has been a town since the early 10th century, and before that was a long standing Saxon village beside the guilden (golden) ford. The period between 1930 and 1961 saw the creation of a Cathedral on Stag Hill, visits from royalty and ministers, carnival processions and flooding, captured on film.
Old Pictures of Guildford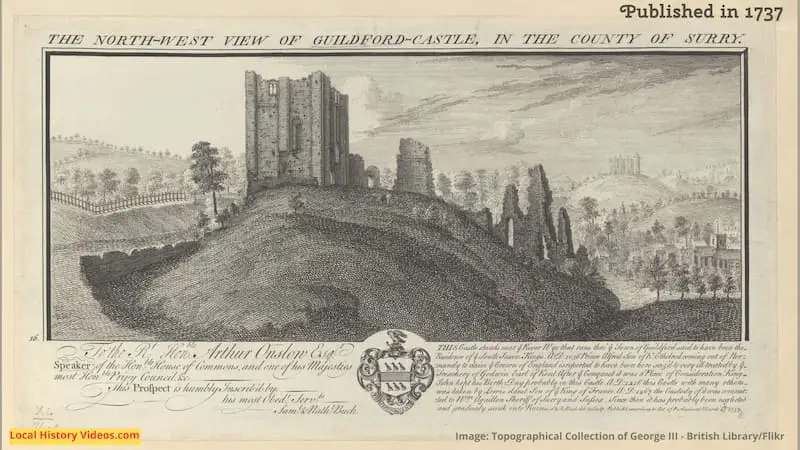 Old Photos of Guildford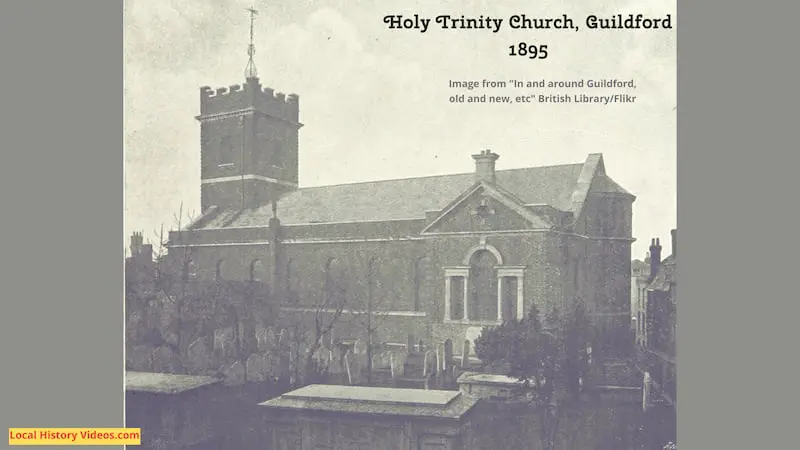 ---
Guildford Then and Now
Enjoy two videos which show you familiar streets as they are today, and were in the past.
Guildford Through Time (Then & Now) – The Time Travel Artist on YouTube
Guildford Then and Now – Nick Armstrong on YouTube
---
Guildford-Godalming Bypass Road Opens (1934)
Even as far back as 1934, traffic was a problem! The sound and visual quality of this very short footage is impressive. 
The Minister of Transport, Hore-Belisha, delivers a speech to a large but quiet and well-behaved audience. Even the long lines of children sit with astonishing levels of self control!
Hore-Belisha's joke that Guildford is a "perpetual motor show in the streets" gets a laugh.
Notice several policemen standing on and at the front of the VIP platform. They draw the eye more than the minister. 
After he's cut the ribbon and opened the road, we see a procession of cars watched by many people.
Full title reads: "THE TRAFFIC PROBLEM – Minister of Transport opens new Guildford – Godalming By-Pass Road.": British Pathé on YouTube
Who was Leslie Hore-Belisha?
Leslie Hore-Belisha, 1st Baron Hore-Belisha, PC (7 September 1893 – 16 February 1957) was a British Liberal, then National Liberal Member of Parliament (MP) and Cabinet Minister. He later joined the Conservative Party.
In 1934, the year this event was filmed, there were less than two million vehicles in the UK. Yet road traffic accidents cost the lives of 7,343 people and caused 231,603 injuries. 
Compare that to 2018, when there were 38.2 million vehicles and 1,784 road accident fatalities.
When Hore-Belisha's Road Traffic Act 1934 introduced a speed limit of 30 mph for motor cars in built-up areas, many people denounced the new regulations as a removal of "an Englishman's freedom of the highway".
In the next three years he went on to have the Highway Code rewritten and introduced the driving test. The Belisha beacon, introduced in that period, was named after him. 
---
Guildford's New Cathedral (1936)
The Archbishop of Canterbury, William Cosmo Gordon Lang, 1st Baron Lang of Lambeth, GCVO, PC (31 October 1864 – 5 December 1945), walks in a procession in front of a crowd of spectators.
We can't actually see what he or anyone else is doing with the foundation stone, because he's in the centre of a huddle of clergymen.
Next we're shown a pen drawing of what the Cathedral will look like when it's built.
Finally, we see the crowd again. Stag Hill is a just a piece of open land with the crowds and some tents on it. In the background, nothing but hills, trees and fields are seen.
Guildford's New Cathedral (1936): British Pathé on YouTube
---
Queen Mary Visits Guildford Cathedral's Building Site (1937)
Building of the Cathedral has started! 
Stag Hill now looks like a muddy field covered in bits of wood, dominated by a giant wooden cross.
Mary of Teck (Victoria Mary Augusta Louise Olga Pauline Claudine Agnes; 26 May 1867 – 24 March 1953), known as Queen Mary after her husband became King George V, was the lucky royal to visit this early stage building site.
At the time of this visit to the building site of Guildford Cathedral, Queen Mary was now 69 years old, recently bereaved, and having watched the fall from grace of her eldest son.
However, she rose magnificently to the challenge of her duties that day. The workmen, dignitaries and crowds of people looked happy to see her.
Queen Mary At Guildford (1937): British Pathé on YouTube
Who was Queen Mary?
Queen Mary was the great-grandchild of George III. As the only unmarried British princess at the time who was not descended from Queen Victoria, she was a suitable bride for Prince Albert Victor, Duke of Clarence and Avondale.
He was her second cousin once removed, grandson of Queen Victoria and the eldest son of the Prince of Wales. Six weeks after their betrothal in 1891, Prince Albert Victor died in a recurrence of the worldwide 1889–90 influenza pandemic.
Two years later, in 1893, she wed her late fiance's younger brother, Prince George, Duke of York, who later became King George V. They had a long and happy marriage, and five children.
The King suddenly died on 20 January 1936. There are suggestions that his physician, Lord Dawson of Penn, gave him an injection of morphine and cocaine that may have hastened his death.
That same year saw the brief reign of King Edward VIII, before he abdicated for his marriage to Wallace Simpson. 
.
.
---
Flooding In Guildford (1951)
A short news reel about 22nd November 1951.
The extensive flooding in Europe looks severe, and then 35 seconds in we come to Guildford. 
Despite the scary and intense music, what we see on screen is a big puddle at the bottom of the High Street!
However, there are a few other nearby locations which do seem badly affected.
FLOODS – SWISS LAKE and GUILDFORD: British Movietone on YouTube
---
The Queen's Royal Regiment (1953)
Alderman Wilkins, the Mayor, is one of the dignitaries watching the first battalion, the Queen's Royal Regiment, (West Surrey), march down the High Street.
The Regiment had just returned from Germany, and for the first time exercised its right to walk down the street with bayonets fixed as the flag flew and band played.
This was the first time for 26 years that the entire unit had been in England at the same point. They were scheduled to leave soon for Malaya.
The Queen's at Guildford – 1953: British Movietone on YouTube
---
Queen Elizabeth II (1957)
When Queen Elizabeth II and Prince Philip arrived in Guildford for an official visit in June 1957, it was apparently the first visit by a reigning monarch since King Charles II came in 1660!
She arrived to commemorate the 700th anniversary of the Granting of the first Charter to Guildford by Henry III.
The streets are crammed with people, leaving only a small area clear for the royals' car thanks to the line of arm linking policemen.
The Mayor, Alderman Harold Kimber, presented the Loyal Address, a rolled document, while the High Steward, the Earl of Onslow, presented an 8lb plum cake.
The Royal couple then drive to the new Guildford Cathedral, still being built. Heavy scaffolding surrounds the front elevation of the building. Bricks were signed by their Royal Majesties, to be added to the Cathedral.
ROYALTY: The Queen visits Guildford (1957) – British Pathé on YouTube
The Queen In Guilford (1957) – British Pathé on YouTube
---
Queen Elizabeth II Consecrates Guildford Cathedral (1961)
In 1957, Queen Elizabeth II was the first reigning monarch to visit Guildford since Charles II visited in 1660. However, just four years later she was back to consecrate the newly completed Guildford Cathedral.
This was the first Cathedral to be built on a new site in the South of England since the Middle Ages.
The Archbishop of Canterbury, William Cosmo Gordon Lang, 1st Baron Lang of Lambeth, GCVO, PC (31 October 1864 – 5 December 1945), laid the first foundation stone 25 years earlier. 
Queen Elizabeth II and Prince Philip (the Duke of Edinburgh), arrived for the formal ceremony in the new Cathedral. 
With them were the Queen's younger sister Princess Margaret and her husband Armstrong-Jones (Antony Charles Robert Armstrong-Jones, 1st Earl of Snowdon GCVO FRSA RDI, 7 March 1930 – 13 January 2017).
They were greeted by the 5th Bishop of Guildford, George Raindorp. (11 December 1911 – 20 April 1990).
Cathedral Consecrated (1961): British Pathé on YouTube
.
The 5th Bishop Of Guildford
George Raindorp took up his position as the 5th Bishop of Guildford on 25 March 1961, shortly before this royal visit.
Later, in 1973, he became Bishop of Salisbury. He retired in 1982.
The Bishop Reindorp Secondary school in Guildford was named after him, although the school was demolished in 2003 to make way for Christ's College Church of England secondary school and sixth form.
.
---
WRAC's New Barracks (1964)
The new, modern WRAC's barracks block was now in use.
Guildford – Wrac's New Barracks (1964) – British Pathé on YouTube
---
More about Surrey