Step back in time with old images of Anchorage, Alaska, Western United States of America.
Quick History
The first video is a quick history of Anchorage, told in just under three minutes.
It includes footage of the devastating earthquake damage suffered by the city on Good Friday, 1964, and construction of the transa-Alaska pipeline following discovery of the largest oil field in North America four years later.
History of Anchorage – KathiJohnsonAlaska on YouTube
Photo of Tent City 1915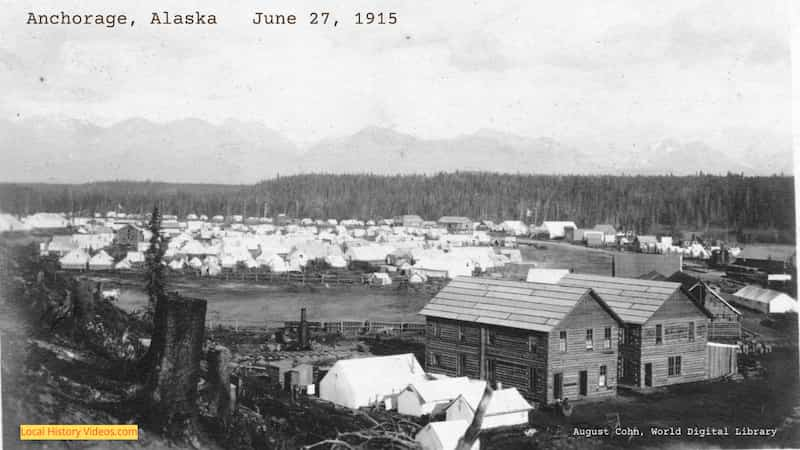 Earthquake 1964
On March 27, 1964, Alaska was hit by a magnitude 9.2 earthquake, the strongest earthquake North America had ever recorded, quickly followed by several further tremors.
At that point, the damage to building was estimated at £200 million (it's a British newsreel).
The injured were taken to the local hospital even though it had also been damaged.
Alaska Earthquake – 1964 | Today In History | 27 Mar 17 – British Movietone on YouTube
Anchorage in 1987
At the time this half hour film was made in 1987, Anchorage was just 70 years old and its resident population was roughly 250,000.
The history starts with the tent city of 1915, which sprang up because Alaska Engineering Commission chose the location as the headquarters of the Alaska Railroad.
That means the largest city in Alaska was founded on the railway, rather than the fur trade or gold rush that typified the creation of most Alaskan settlements.
By 1987, poor transportation corridors, an outdated land-use system and lower revenues meant the city was in a period of adjustment.
Interviews include:
Mike Carberry, senior planner for the Municipality of Anchorage
Bob Atwood, publisher of the Anchorage Daily Times
George Sullivan, former mayor of the Municipality of Anchorage
Walt Parker, former member of the Anchorage Assembly
Bill Luria, municipal planning director
Greg Jones, Anchorage planning commissioner
Barry Quinn, director of capital projects for the Municipality of Anchorage
Tony Knowles, Anchorage mayor
Scott Hawkins, economist.
This film is part of the Alaska Review collection held by the Alaska Film Archives, a unit of the Alaska and Polar Regions Collections & Archives Department located in the Elmer E. Rasmuson Library, University of Alaska Fairbanks.
Anchorage in Changing Times (1987) – Alaska Film Archives – UAF on YouTube
More pages about Alaska